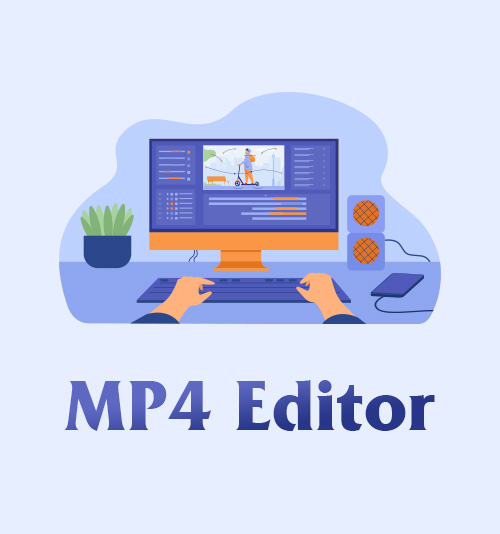 The advancement of video-sharing platforms like Facebook, Instagram, and TikTok brought a high demand for video-making skills. Through videos, creators can establish the message of their content in a retentive manner.
Therefore, in this generation, where people are fond of maximizing the use of technology, everyone has the potential to create spectacular videos. There are many free MP4 editor out there that you can use whether you want to create demo videos, educational videos, product videos, or vlogs.
However, with the vast number of video editing software in the market, it may be hard for you to find what suits your preference and skill level.
Luckily, we have provided you with a top-10 review of the best MP4 editors that work regardless of what system you are in. Each video editor is listed from the best functions they can offer, distinctive features, installation package, and platforms they support.
In addition, you can also examine which tool you should consider under your level of mastery in editing videos as we provide a comparison chart that indicates the level of mastery, watermark in the trial, and the latest version of each MP4 editor.
1. AmoyShare Video Editor
Distinctive Features: It is a simple MP4 editor with an intuitive interface that suitable for beginners. It allows users to utilize its editing features effortlessly. Aside from MP4, it also saves formats including MKV, AVI, MPEG, MTS, AAC, etc. In addition, it secures MP4 files from fake video codecs that are viruses.
Installation Package Size: 41.1 MB
Supported Platforms: Windows and Mac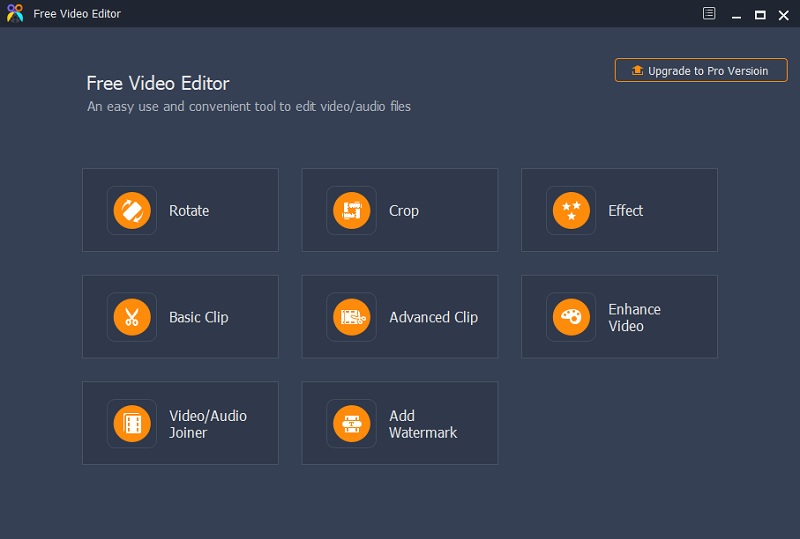 Most of the online videos have gone through some editing, whether for reducing size, improving quality, or even detaching unwanted sections. Interestingly, AmoyShare Video Editor is a reliable application that you can rely on to perform the mentioned operations.
Processing MP4 files come very handy with this application from basic editing features like crop, rotate, effects, up to enhancing, joining, advanced clip, and adding watermarks. Its video editing effects allow users to adjust their videos' brightness, modify their contrast, hue, and even set saturation according to their preference. It also enables users to protect their content ownership by creating their watermarks before uploading them to different video-sharing platforms. On top of that, it also has a preview window which gives users a favorable moment to check their edited videos and make further adjustments.
Video Editor
Rotate, cut, merge, and enhance video quality easily
for Windows 10/8/7
for Mac OS X 14+
for Android
It adjusts videos automatically
Reduces video shaking
Allows users to merge video and audio files
Export watermark-free video for free
No transition and filter effects
2. Avidemux
Distinctive Features: It is entirely free to use and is packed up with essential editing tools that perfectly fit intermediate users.
Installation Package Size: 37.3 MB
Supported Platforms: Windows, Mac OS X, BSD, and Linux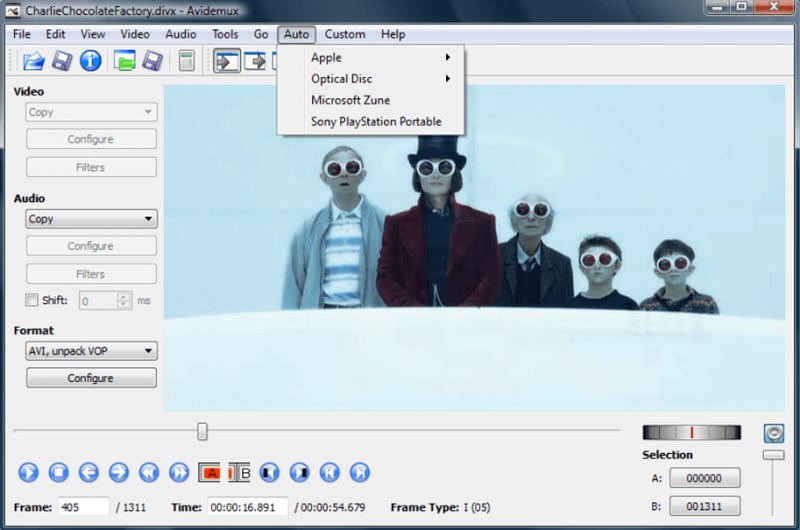 Avidemux is an open-source MP4 editor designed for users who create videos. Its functions primarily revolve around cutting, encoding, and filtering. In addition, it is also built with features such as distinct filters, flexible decoding options, functional processing tools, and frame rate configuration. One of the advantages of utilizing this program is that it is relatively simple to be familiarized with its functions. It provides aesthetically pleasing scenes, enabling users to choose from its wide selection of filters. This program also provides users with a feature where they can automate their tasks using job queues and projects. It is advantageous for advanced users since they are provided with a command-line interface. However, one of the drawbacks of using this, it may occasionally drop users' frames in indefinite formats and might be complicated to use for beginners.
3. Windows Movie Maker
Distinctive Features: Video effects, titles, and transitions are customizable, making users quickly build a personalized video or movie.
Installation Package Size: 13.99MB
Supported Platforms: Windows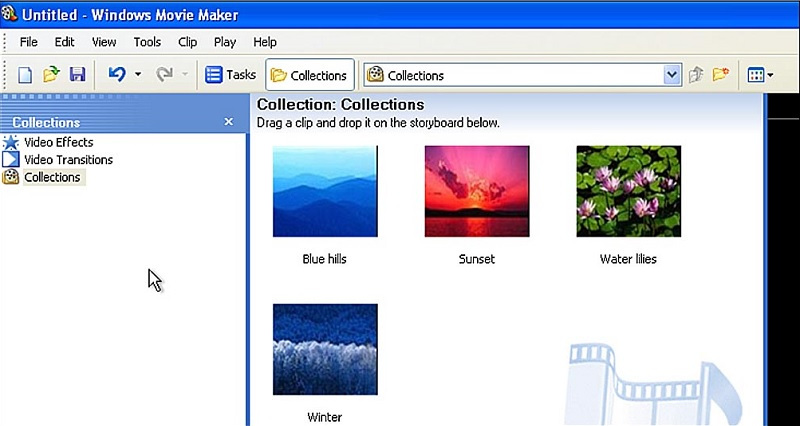 For Windows users, this program is an exceptional video editing tool. For years, Windows Movie Maker has been a significant part of Windows as it provides its users an easy and hassle-free video editing experience with its drag and drop functionality. As one of the best free MP4 editor for Windows 10, it allows users to effortlessly attach video clips from their files and drop them to the program. It has numerous video editing options that allow users to comfortably integrate their photos and videos and apply such transitions, effects, sounds, and music. With this program, users can edit MP4 videos before uploading them on Facebook, Tiktok, Instagram, etc.
However, it has recently been no longer accessible for download since Photos on Windows 10 replaced it. Looking on the brighter side, Photos could offer several video editing software in creating or even editing videos with text motions, music, filters, motion, and even three-dimensional effects.
4. Hitfilm Express
Distinctive Features: Allows users to merge contents from various photos, clips, and also audio files, which is satisfactory for
Installation Package Size: Minimum of 1.2GB
Supported Platforms: Windows and Mac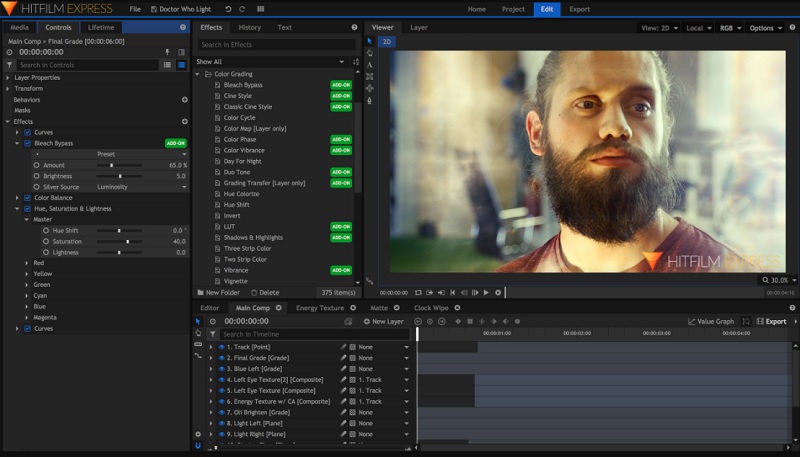 Hitfilm Express is equipped with professional-grade VFX tools that are advantageous in creating and editing MP4 videos. This program is designed for beginners and professional users since it comprises basic and advanced features. One of the conveniences that this program offers is a voguish user interface that enables users to create scenes and effects that appear incredibly realistic. It works best as an MP4 editor on mac. And it offers comprehensive video editing options, including color correction, 3D model importation, file handling, and particle simulators. More interestingly, this MP4 editing tool allows its users to emphasize explosive and shattering scenes by administering advanced tracking techniques. Aside from offering more than 400 distinct effects, including 3D effects, users can also take advantage of this program's animations, visuals, and audio editing features.
5. Clipchamp
Distinctive Features: Enables users to access fine editing tools like screen recording and video-resizing, and even offers Green Screen to replace the green background with other images or videos.
Installation Package Size: There is no Installation Package Size since it is a web-based tool.
Supported Platforms: Any (Online)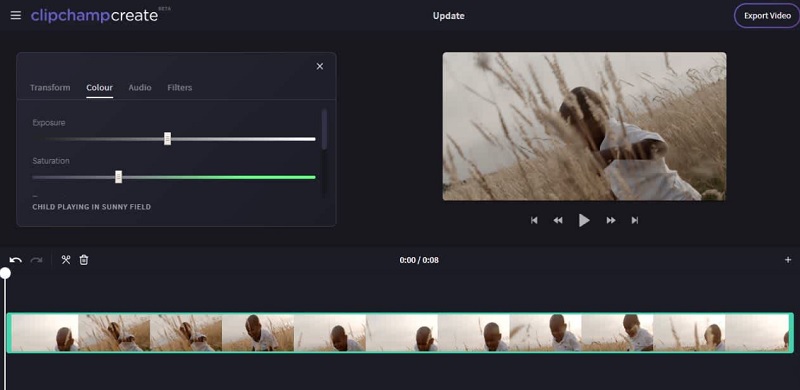 Clipchamp is your go-to MP4 editor as it provides an online service and is known for being the best MP4 editor for windows 10. It is suited up with a full video editing features set, making it appropriate for beginners. If you are still undecided about downloading software, it might be good to come across this free MP4 editor that you can directly use from your web browser.
Its easy-to-use yet modern interface enables users to access shallow learning, which offers beginners tools for cutting and customizing videos. In addition, this MP4 editor online is provided with a huge library of video templates and filters. Clipchamp also gives its users the privilege of exporting media directly to various social media platforms or other online cloud storage accounts. However, it only allows 480p quality without a watermark for free account users. Additional features will only be unlocked once users acquire a paid account.
6. VSDC Free Video Editor
Distinctive Features: It offers multi-color Chroma Keying functionality for editing MP4 files.
Installation Package Size: 300 MB
Supported Platforms: Windows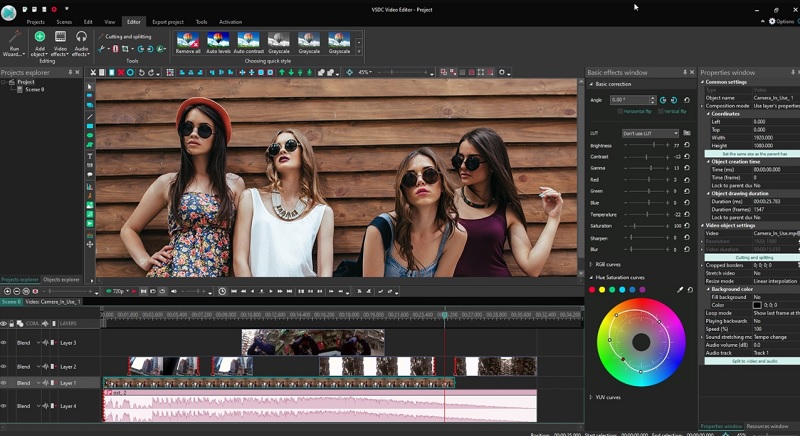 VSDC Free Video Editor is considerably one of the best free MP4 editor for Windows 10 users can maximize. It provides numerous helpful video editing tools such as plentiful useful filters, annotations, transitions, audio, and visual effects. It is furnished with a non-linear interface that allows users to place clips, effects, and filters at speed. It is suitable for active social media users as this program is equipped with "Instagram-like" filters to enliven social media accounts' appearance. On top of that, it supports several video formats, including 4K resolution. It provides exceptional features and special effects, including built-in video capturing, tracking, and stabilization. These professional tools can be maximized free from any charges; however, if you are looking for more advanced features, it is a requisite for you to upgrade to the Pro version.
7. DaVinci Resolve
Distinctive Features: Its latest version supports 3D audio editing, HDR support for color setting, and Al-powered video advancements.
Installation Package Size: 8 GB
Supported Platforms: Windows, Mac, and Linux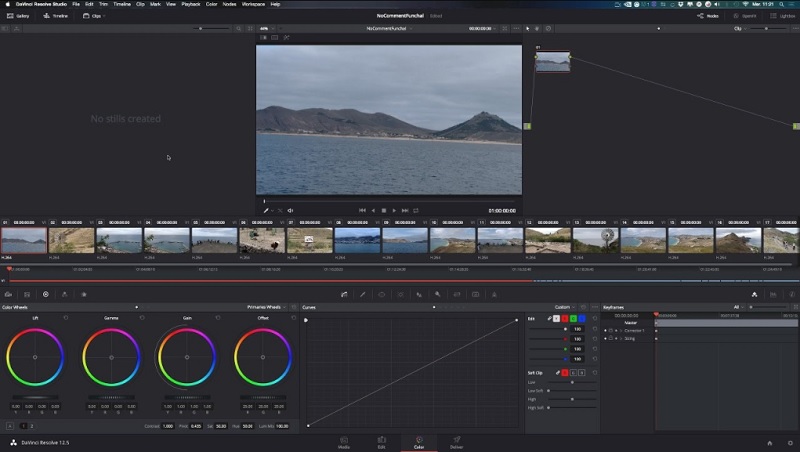 DaVinci Resolve is an award-winning and Hollywood favorite video editor since it supports major video resolutions to the extent of 8K. Its advanced color grading software is one of its most significant contributions to the film industry. This excellent MP4 Editor software introduces the addition of color grading features that video creators can execute for creative and technical changes of their videos or films. Although it is available to other platforms, DaVinci Resolve works best as an mp4 editor on Mac. It comes with a price, but it can surely provide every editing tool that a professional editor would look for. No wonder it gained an award-winning video editing tool, DaVinci helps video editors ensure if the color palette of their films conveys the atmosphere, emotion, and style that they want to establish.
8. iMovie
Distinctive Features: It is suited up with advanced editing functionalities, including royalty-free templates, Green Screen, and 4K editing.
Installation Package Size: 2.87GB
Supported Platforms: iOS and Mac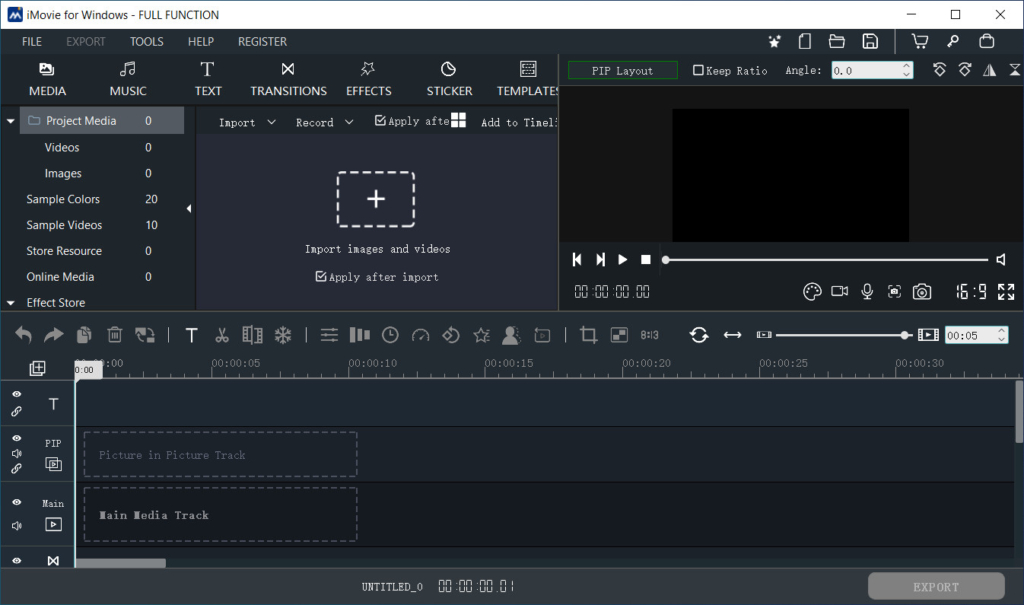 iMovie is one of the best free MP4 editor Mac users can use as it allows them to turn a simple set of videos into a major production. It has exceptional green screen controls. Due to its timeline-based function for editing, users are provided with an all-inclusive yet straightforward user interface. With that, users can enhance their MP4 files easily and arrange video clips on the timeline. It allows users to impeccably edit their ongoing iMovie Projects on Mac and iPhones using iCloud. It is equipped with basic editing features that are capable of editing MP4 files and has a professional-looking appearance. However, one of its limitations is its time-consuming transcoding and pre-processing.
9. Movavi Video Editor Plus
Distinctive Features: It contains all-inclusive and advanced MP4 editing functionalities which touch up with the majority of users.
Installation Package Size: 2 GB
Supported Platforms: Windows and Mac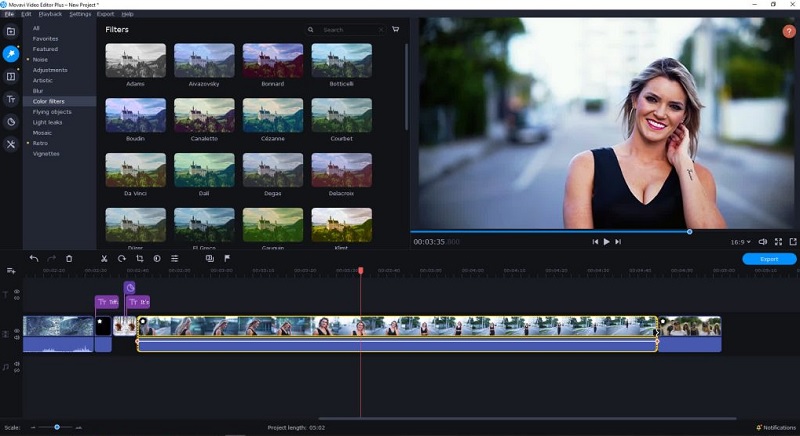 Movavi Video Editor Plus is one of the best MP4 editor that Windows 10 and Mac users can take advantage of. It has a broad-spectrum of editing features more than just rotating, cropping, and trimming functions. As it can also make MP4 files to achieve appealing output with its transitions, special effects, sound tracks, wide selection of stickers, and more. In addition, this MP4 editing tool also has a built-in chroma key for replacement of background. Its functionalities also include supporting outside video capture. However, users are able to optimize these features in a restricted time only as its trial version is only limited for 7 days only.
10. Lightworks
Distinctive Features: It has a significant number of video editing features, including support for GPU-powered encoding of videos.
Installation Package Size: 93 MB
Supported Platforms: Windows, Mac. and Linux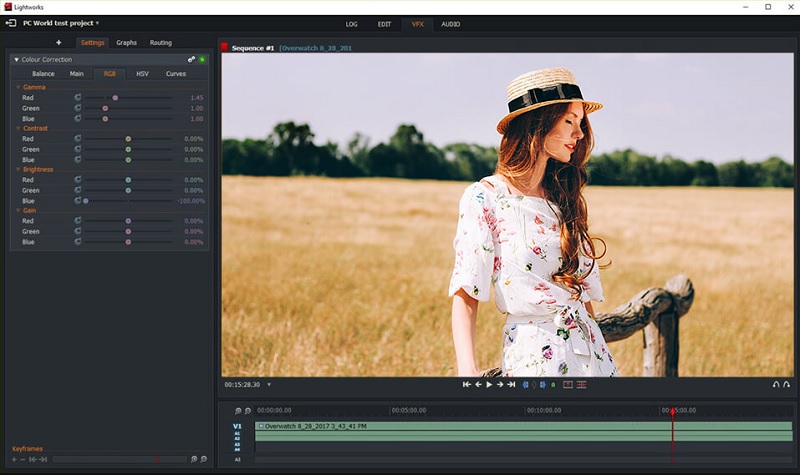 Lightworks is a professional MP4 video editor that provides editing features capable of helping video creators who want to achieve a Pulp Fiction-like film output. It allows users to flawlessly weave video and audio files together in just a few clicks. In addition, it incorporates customizable screen editing selection and supports high video quality. If you want to attain a Hollywood-level video output, Lightworks is the first tool to consider as it has access to several royalty-free special effects. However, some features are limited in the free version. The video output resolution for the free version is only restricted to 1080p Full HD. It also might be complicated for users who are just starting to edit videos as it has a difficult learning curve that may appear hard for beginners to easily go over with.
Conclusion and Comparison Chart
To sum it all up, you are provided with both MP4 editor freeware and even paid ones. Indeed, with the help of MP4 editors like AmoyShare Video Editor, Avidemux, Windows Movie Maker, Hitfilm Express, Clipchamp, VSDC Free Video Editor, DaVinci Resolve, iMovie, Movavi Video Editor Plus, and Lightworks, everyone could be a prominent video creator. You can always look back to this article until you can choose an MP4 editor that will suit your preference and match how you want your MP4 files to look.
| | | | |
| --- | --- | --- | --- |
| MP4 Editors | Level | Latest Version | Watermark in Trial |
| AmoyShare Video Editor | Beginners | v1.0.16 | No |
| Avidemux | Intermediate | v2.7.8 | Yes |
| Windows Movie Maker | Beginners | v16.4.3528.0331 | No |
| Hitfilm Express | Professionals | v7.0.5 | No |
| Clipchamp | Beginners | Online tool | No |
| VSDC Free Video Editor | Beginners | v5.8.6 | No |
| DaVinci | Professionals | v17.1 | Yes |
| iMovie | Beginners | v10.1. 2 | No |
| Movavi Video Editor Plus | Beginners | v21.4 | Yes |
| Lightworks | Professionals | v14.5 | No |
Frequently Asked Questions
What is the best MP4 editor?
There are many MP4 editors, but most of them have a lossy compression format, which makes MP4 files lost during compression. Luckily, the top-10 MP4 editors mentioned above offer high compression without losing files. Each may have distinctive functions, but the top 3 most recommended MP4 editors are Windows Movie Maker, Avidemux, and of course, AmoyShare Video Editor. You can find each of their functions above and see what makes them the best MP4 editors.
What is the best MP4 video editor without a watermark?
AmoyShare Video Editor is the best MP4 Video editors without watermark. It enables you to enhance your videos with various editing tools and export them without watermark. All these are completely for free. Give it a shot.