Pentatonix Songs - Best 10 Songs by Pentatonix (Free Download)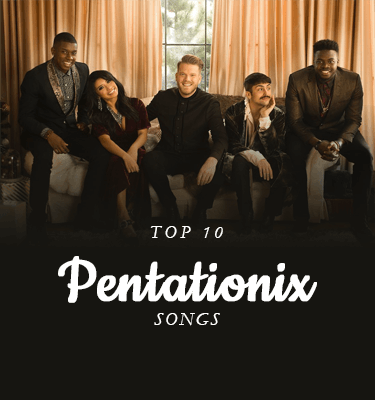 Who is the A cappella champion in the U.S?
Pentatonix!
They are a two-time Grammy-winning American A cappella group.
Their chorus is beautiful enough to match the bands.
However, there is a crushing news caused great grief on May 12th.
An important member Avi Kaplan left the band.
But they shouldn't be a pity,
It's known to all that they have already led the trend of a cappella in the world.
We've handpicked best 10 Pentatonix songs.
Let's feel the unbroken band once again!
Get down and enjoy it!
1. Daft Punk
"One more time
We're gonna celebrate
Oh yeah, all right
Don't stop the dancing"
What do you feel about "Daft Punk"? I have to remind you that it's pure vocals, it's truly A Cappella!
You know what?
"Daft Punk" was awarded for Best Arrangement, Instrumental or A Cappella in 2015. The album topped many Billboard charts, including US Billboard 200 Top10 and US Billboard Independent Album Top 1.
What's interesting is that there are exactly 64 verbs at the beginning of the song. Maybe it is a special way of expressing their love and respect for technology.
[Official Video] Daft Punk - Pentatonix
2. Can't Sleep Love
"Gimme that can't sleep love
I want that can't sleep love
The kind I dream about all day
The kind that keeps me up all night
Gimme that can't sleep love"
"Can't sleep love" was released on September 4, 2015. The song has reached No.99 on the US Singles Top 100 after released.
For me, I like it more than "Daft Punk". It depicts a status of a relationship: Passionate love.
Maybe all of us would encounter this situation, lost your mind, going crazy and so on. But it feels like set fire to your soul, we stay awake in the midnight, that's can't sleep love.
[Official Video] Can't Sleep Love – Pentatonix
3. Rather be
"We're a thousand miles from comfort
We have traveled land and sea
But as long as you are with me
There's no place I rather be"
It's a cover song by PTX. The song awarded for "Best Country Duo/Group Performance" in 2016.
I would follow the beat unconsciously every time I listen to it. It's full of love and passion! But when we get into the lyrics, we can only feel the complicated emotions in it.
But we can hardly feel anxious and cruelty through the melody. Maybe that's why the song is outstanding.
[Official Video] Rather Be - Pentatonix (Clean Bandit Cover)
4. Little Drummer Boy
"Little Baby, pa rum pum pum pum
I am a poor boy too, pa rum pum pum pum
I have no gift to bring, pa rum pum pum pum
That's fit to give the King, pa rum pum pum pum"
"Little Drummer Boy" peaked at No.13 on the US Singles Top 100. And it appeared on the album PTXmas.
For me, I fell in love with the song the moment I heard it. It is something like carols.
I can say without boast, you will engross by their remarkable B-Box and wonderful chorus immediately. When you are in a mess, why not try this song?
[Official Video] Little Drummer Boy - Pentatonix
5. Hallelujah
"Well maybe there's a God above
But all I've ever learned from love
Was how to shoot somebody who outdrew ya
And it's not a cry that you hear at night
It's not somebody who's seen the light
It's a cold and it's a broken Hallelujah"
As we all know "Hallelujah" is an old beautiful carol wrote by Leonard Cohen. It is been covered into many versions.
But the netizens highly recommended it as the best version of "Hallelujah". No wonder it ranked No.1 on Billboard the week after released.
We can find peace in mind and take you to the church. But the peace is definitely different from soft music. It is a bit lively than traditional carols.
[OFFICIAL VIDEO] Hallelujah - Pentatonix
6. That's Christmas to Me
"I've got this Christmas song in my heart
I've got the candles glowing in the dark
I'm hanging all the stockings
By the Christmas tree
Oh, why
Cause that's Christmas to me"
"That's Christmas to Me" is included in the third of PTX's album and it's the PTX's second album about Christmas. It was reached No.7 in US Billboard Top 200.
It is a song that not only shows the always-present style and emotion of PTX but also a great piece to make you feel the warmth and love in your family.
[Official Video] That's Christmas To Me - Pentatonix
7. Somebody I Used To Know
"No, you didn't have to stoop so low
Have your friends collect your records
And then change your number
Guess that I don't need that though
Now you're just somebody that I used to know"
"Somebody I used to know" was released on 2012. It won many lovers now.
This is quite different from "Dancing on my own" although they are the same topic. PTX almost cried out the lyrics in the song: "But you didn't have to cut me off!"
When a couple finally comes to an end, I just can't help thinking about her, but she just turns her back to me.
Just feel the heart-broken!
Somebody That I Used To Know - Pentatonix (Gotye cover)
8. La La Latch
"I'm covering my ears like a kid
When your words mean nothing, I go la la la
I'm turning off the volume when you speak
Cause if my heart can't stop it, I find a way to block it"
"La La Latch" was appeared on PTX, Vol. III in 2004. It topped many billboard charts at that time.
It's a song kind of strange and you may confuse about what it truly talks about.
The song tells a sad story. It can be inferred from the music video.
Actually "La La" is a boy's internal monologue. To get more details, please enjoy the song.
[Official Video] La La Latch - Pentatonix (Sam Smith/Disclosure/Naughty Boy Mashup)
9. Say Something
"Say something, I'm giving up on you
I'm sorry that I couldn't get to you
Anywhere, I would've followed you"
We are familiar with "Say Something" sang by A Great Big World & Christina Aguilera. And it covered and released by PTX on May.2015. How about listening to it in a cappella this time?
Personally, I think it interprets sadness more deeply than the original singer especially at the end of the song – the most touching part. It just like saying: You don't need to avoid me anyway. I won't bother you anymore.
[Official Video] Say Something - Pentatonix (A Great Big World & Christina Aguilera Cover)
10. Dancing On My Own
"I'm givin' it my all
but I'm not the girl you're takin' home
I keep dancin' on my own
I'm just gonna dance all night"
This is a new song released last month. Soon it climbed to Top 20 in Billboard after released.
To me, I think it's the pure music, it's the "solo dance" of PTX. This is what I feel when I listen to the song.
The mood of a secret admirer is accurately described in it. Be afraid of advance, be unable to retreat. But it doesn't sound like in great sorrow in PTX's version, it sounds like "I just let you go".
Dancing On My Own - Pentatonix (Robyn Cover)
A cappella could be done quite well in PTX which is a treasure to the world.
There is a reason to believe that their magical vocals make Pentatonix one of the Capella's biggest bands.
Do you have any dispute on the list?
And what do you think of the best PTX's songs are?
Just leave comments below and tell me about it!
I'll reply you as soon as possible!
Free download top 10 Pentatonix songs: