Best Katy Perry Songs - Top 10 List of Katy Perry Songs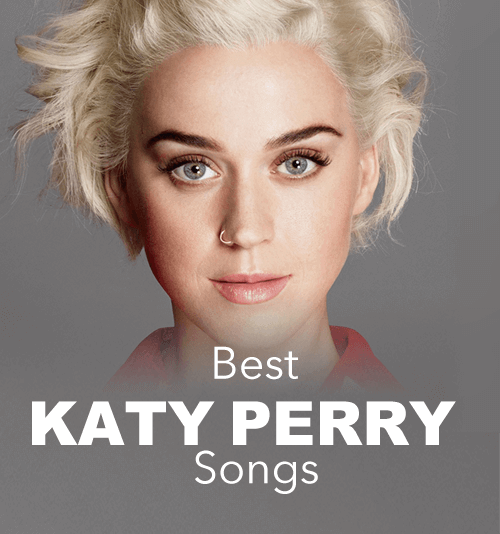 Katy Perry is a popular pop singer,
After release the second album One of the Boys in 2008 then became famous.
But people get familiar with her by California girls or I kissed a girl.
In recent years, she keeps chasing her music career and produces the best music works.
Such as Fireworks, Roar and Dark Horse.
As for hot pop singer, Katy Perry will not be omitted from the list.
Katy Perry songs are always inspiring and energetic.
Today we are going to share Katy Perry songs list with you.
Now let's kick off with the first one.
1. Fireworks
"Baby, you're a firework
Come on let your colors burst
Make them go, "Oh, oh, oh"
You're gonna leave before they know"
Fireworks is a dance-pop self-empowerment anthem with inspirational lyrics. This track means a lot for Perry. It was released as the third single in the third studio album, Teenage Dream on October 26, 2010.
Commercially specking, the song was a great success. It reaches NO.1 on the Billboard Hot 100 and the top 5 on 20 charts worldwide. It has sold 7.1 million copies in the United States. Personally I like this most, for the catchy lyrics and tunes.
2. Hot n' Cold
"Cause you're hot then you're cold
You're yes then you're no
You're in then you're out
You're up then you're down"
Hot n' Cold was released as the second single in her second studio album, One of the Boys on September 9, 2008. The track ranked 3rd on the Billboard Hot 100, becoming Perry's second consecutive top three single, following I Kissed a Girl.
As the lyrics shows, Alexander was in an unstable romantic relationship with Perry. People were puzzled by his mood swings. Sometimes gentlemen can change their minds like ladies change their clothes. But to our satisfaction, Alexander say "I do" finally in the MV.
3. California girls
"California gurls
We're unforgettable
Daisy Dukes, bikinis on top
Sun-kissed skin so hot"
After it released as a single, California Girls reached No. 3 on the Billboard Hot 100. The track is regarded as emblematic of the 1960s California Sound. In 2011, this remarkable work was ranked as No. 72 on the list of the "500 Greatest Songs of All Time" by the Rolling Stone.
When gentlemen see the MV, surely their hearts will melt down like the ice-lolly. Perry was quite creative and sometimes, shall we say naughty. But you gonna love her with a blink of this lovely lady.
4. I kissed a girl
"I kissed a girl and I liked it
The taste of her cherry chapstick
I kissed a girl just to try it
I hope my boyfriend don't mind it"
I Kissed a Girl, a pop rock song with elements of new wave, was released on April 28, 2008. It was unveiled by Capitol Records as the lead single from the record. Perry confessed that the lyrics are "about the magical beauty of a woman". As it showed, it sparked controversy for its homosexual themes.
I dare say, Perry is a quite courageous lady. She is so brave that she would like to speak out the inner voice of those who dare not.
5. Last Friday night(T.G.I.F.)
"Last Friday night
Yeah, we danced on tabletops
And we took too many shots
Think we kissed but I forgot"
Last Friday night(T.G.I.F.) is included in Katy's third studio album, Teenage Dream. The "T.G.I.F." in the title is an acronym for "Thank God It's Friday". This song echoes Bruno Mars' The Lazy Song. Since the Friday is coming, why not just indulge yourself and relax. Bon voyage!
The song yielded chart success worldwide. By topping the US Billboard Hot 100, Perry became the first female solo artist to have five number-one singles on the Hot 100 from a single album. The single had sold over 3.7 million digital copies in America.
6. Roar
"I got the eye of the tiger, the fire,
dancing through the fire
'Cause I am a champion and you're gonna hear me ROAR"
Roar was included in the fourth album, Prism. This album was the most fastest-selling one. This single was recorded as the lead single in 2013. This pop song contains elements of arena rock. Also, lyrics focus on standing up for oneself.
As the MV showed, Perry was trying to adapt herself to the jungle where she survived a plane crash. She also did her utmost to tame a tiger. Roar was nominated for Song of the Year and Best Pop Solo Performance at the 56th Annual Grammy Awards.
7. Teenage dream
"Before you met me
I was alright, but things were kinda heavy
You brought me to life
Now every February
You'll be my Valentine, Valentine"
This song was released in the namesake album on July 23, 2010. Perry confessed the song as reminiscent of her youth when contemplating her future marriage to Russell Brand.
The more times you listen to Perry's song, the more you gonna love her and her songs. This song is no exception. Her music is like a trap. It seems imperfect at first sight, but then you will change your mind. Is there anyone can deny her soft skin, red and kissable lips. Definitely, hard to resist.
8. Dark horse
"So you wanna play with magic
Boy, you should know what you're fallin' for
Baby, do you dare to do this
Cause I'm coming atcha like a dark horse"
Released on September 17, 2013, Dark Horse features the rapper Juicy J and the seductive and mature tone of Perry. It combines the genres of trap and hip hop, replicating Southern rap-techno mashup.
Being interviewed, Perry expressed her wish for the song: to have a "witchy, spell-y kind of black magic-y idea". Therefore, she wrote it from the perspective of a witch, warning a man not to fall in love with her. Once he does, she will be his last.
9. Swish swish
"Swish swish aww I got them upset
But my shooters'll make 'em dance like dubstep
Swish swish aww my haters is obsessed
'Cause I make M's they get much less"
Swish Swish was originally a house-inspired EDM and hip hop song. It soon became an instant hit when it was released. It ranked top 10 in the Philippines, the top 20 in Belgium (Wallonia). On August 27, 2017, Perry and Minaj performed Swish Swish together for the first time during the 2017 MTV Video Music Awards.
The track was included in Perry's fifth studio album, Witness (2017). Swish Swish uses basketball metaphors to talk about overcoming hateful people and thriving. The whole MV lay much emphasis on the basketball. You are expected to be impressed by this singular song.
10. Chain to the rhythm
"Yeah, we think we're free
Drink, this one's on me
We're all chained to the rhythm"
Released on February 21, 2017, Chained to the Rhythm is a dancehall and disco song. The track topped the charts in many countries while reaching the top 5 in Australia, Brazil, Canada, and France.
A live performances by Perry and Marley was displayed at the 59th Annual Grammy Awards. Katy Perry's music will always shed light on freedom. From the lyrics and MV, we can tell Perry as a free-seeking. She is the one that would like to live for herself.
Conclusion
Till now, all top 10 Katy Perry songs are introduced.
Are you thriving on listening to all those Katy Perry songs?
Which one is your favorite?
Also,Katy Perry concerts have gone on sale.
Do you have any plan?
You are very welcome to share with us.
Free download Katy Perry songs: