Imagine Dragon Top Songs Download (Best 10 Hits)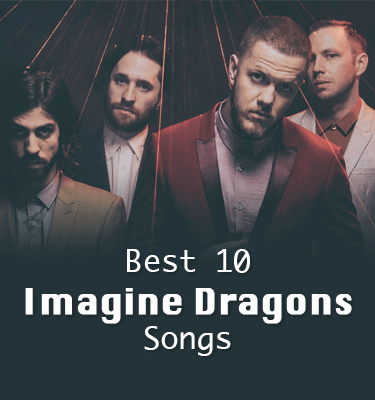 Imagine Dragons is an American rock band, consisting of four talented members.
They always make world-famous rock songs.
Their pursuit stands to go alone especially.
You must have heard their high-energy song innumerous classic films and games.
They got 1 Grammy Award, 2 American Music Awards, and 5 Billboard Music Awards.
Here, we list the best 10 Imagine Dragons songs and free downloads for you.
Get ready?
Now, take a breath and listen to their passionate music!
Popular song free download
Imagine Dragons
Imagine Dragons is an American rock band from Las Vegas, Nevada, founding in 2008. It has 4 members now, Dan Reynolds (lead vocalist),  Wayne Sermon (lead guitarist),  Ben McKee (bassist & keyboardist), and Daniel Platzman (drummer).
Top 10 Imagine Dragons Songs
Here I'm going to share best of Imagine Dragons songs with you. Hope you will like. If your favorites are missed from the list, you can still tell me by leaving a comment.
By the way, don't forget to free download any of Imagine Dragons best songs by clicking the link below each YouTube video. No worries, it's 100% safe and virus-free.
1. Demons
"There's nowhere we can hide
No matter what we breed
We still are made of greed
This is my kingdom come"
"Demons" was written by Imagine Dragons and Alex da Kid, released on 17 September 2013. This song soon became their second Top 10 single after "Radioactive".
More than 4.1 million copies were sold in the United States within two years of its release.
Also, it became the 8th most downloaded song in rock history. The song on YouTube has received 568,700,056 views up to now.
Everyone has demons in your heart, they may let you become evil, but it may also make you understand life. This single brings us so many thoughts.
2. It's Time
"And I am left to sell
The path that heaven runs through miles of clouded hell
Right to the top
Don't look back"
"It's Time" was first uploaded to YouTube on December 20, 2010. The song was from the major studio album "Night Visions" and received huge success.
It reached No.15 on the Billboard Hot 100 and No.3 on the Rock Songs chart. The song also reached top 10 in numerous countries. And it was nominated for Best Rock Video at the 2012 MTV Video Music Awards.
When I first heard the song in the American drama "Glee", I fell in love with its melody and inspired by its lyrics. It makes you believe that it's time to begin your new life.
3. Radioactive
"I'm waking up; I feel it in my bones
Enough to make my systems blow
Welcome to the new age, to the new age
Welcome to the new age, to the new age"
"Radioactive" is an electronic rock and alternative rock song, it received positive reviews from public and it's one of Imagine Dragons' best songs. The thump of the beat is very loud, and the song makes you hear freedom and wildness.
This single peaked at No.3 on the US Billboard Hot 100 and holds the record for most weeks spent on the chart for 87 weeks. "Radioactive" won Grammy Awards for Best Rock Performance in 2014 and Teen Choice Awards for Choice Rock Song in 2013.
"Radioactive" was the third best-selling song of 2013 with sales of 5,496,000 copies for the year.
If you like this song, then you cannot miss Imagine Dragons' live performance. Their excellent performance will show you their musical attitude.
4. Not Today
"We finally fall apart and we break each other's hearts
If we wanna live young love we better start today
It's gotta get easier, oh easier somehow"
"Not Today" is typical one in Imagine Dragons' songs list. They don't have many slow songs, but they played this song at a slow tempo.
A lot of people have heard the song in the movie "Me Before You". This song is about love, it encourages people to walk on even though love is difficult.
I especially like the song lyrics. And the song makes me yearn for love. When I first heard it in the film, I immediately downloaded the song.
5. On Top of the World
"I've had the highest mountains
I've had the deepest rivers
You can have it all but life keeps moving
Now take it in but don't look down
Cause I'm on top of the world, ay"
"On Top of the World" was released digitally as a single on March 18, 2013. The song primarily features guitar and piano instrumentation.
It peaked at No.10 on the Hot Rock Songs charts. The song also nominated for Teen Choice Awards in 2014.
The song is self-encouragement, as a child loudly announces that he will stand on top of the world.
6. Believer
"Singing from heartache, from the pain
Take up my message, from the veins
Speaking my lesson, from the brain
Seeing the beauty through the pain"
"Believer" dropped on streaming services on February 1, 2017. The song peaked at No.4 on the Billboard Hot 100, and topped the Billboard Hot Rock Songs. It was played heavily on advertisements and various movie trailers.
The band's lead vocalist Dan Reynolds told People that the song was inspired by his experiences with spondylitis. The song lyrics are simple but for some reason I am moved by this song.
7. Thunder
"Not a yes sir, not a follower
Fit the box, fit the mold
Have a seat in the foyer, take a number
I was lightning before the thunder"
The song was released as the second single from Imagine Dragons' third album "Evolve" on April 27, 2017. It is one of Imagine Dragons' new songs.
"Thunder" has so far peaked at No.17 on the Billboard Hot 100, and reached top ten in many countries single chart.
Dan Reynolds wants to use this song to tell people not to blindly adapt to the so-called social standard. When you realize your dreams, you are the flash of lighting before the thunder.
"Thunder" created a catchy rhythm, even if you forget the lyrics, you won't forget the melody of the song.
8. Shots
"I'm sorry for everything oh everything I've done
From the second that I was born it since I had a loaded gun
And then I shot, shot, shot a hole through everything I loved
Oh, I shot, shot, shot a hole through every single thing that I loved"
"Shots" was released as the third single from their second studio album "Smoke + Mirrors". This song is a retro style of 1980s; thumping dance beats create a cheerful atmosphere.
"Shots" peaked at No.16 on the US Hot Rock Songs in 2015; it was performed on many TV shows, such as the Tonight Show Starring Jimmy Fallon, the Ellen DeGeneres Show and so on.
If you like retro rock music, "Shots" is your taste. Personally speaking, I can't help immerse myself in their music, and you?
9. Warriors
"Here we are, don't turn away now
We are the warriors that built this town
Here we are, don't turn away now
We are the warriors that built this town"
"Warriors" was released digitally as a single on September 18, 2014. It was used as the official theme song for WWE Survivor Series. Its video also served to promote the 2014 League of Legends World Championship.
Imagine Dragons' "warriors" makes you feel unstoppable. Just like the song lyrics, "The time will come, when you'll have to rise, above the best, improve yourself, your spirit never dies." This single is full of power and positive energy.
10. Battle Cry
"Nobody can save me now no
Nobody can save me now
Stars can only be visible in the darkness
Fear is ever changing and evolving"
"Battle Cry" served to promote the film "Transformers: Age of Extinction". This song was written by the group members specifically for use in the film.
It was released on June 2, 2014, and received positive reviews. The song ranked at No.24 on the US Hot Rock Songs.
"It's do or die, nobody can save you now, it's the battle cry." This single heartens me when I have trouble in my life.
Conclusion
Have you listened to all Imagine Dragons Top 10 songs?
If not, you can get Imagine Dragon songs download via the link above.
Imagine Dragons songs have their own unique style.
This rock band will make greater achievement in the future.
And we'll keep updating the Imagine Dragons songs list.
Tell us about your feelings and leave the comments below!
Hope you enjoy this post!