Top 10 Christian Christmas Songs Free Download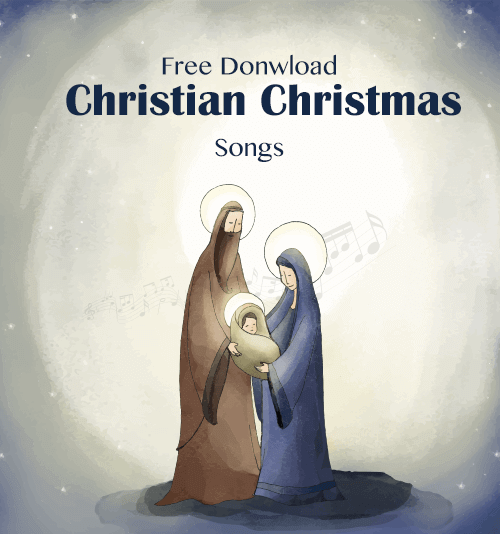 Top 10 Christian Christmas Songs Free Download
Christmas is a big holiday.
It is not only a day for family reunions, especially for Christians.
There are so many activities to be held on that day.
Undoubtedly, the activities in the church are necessary.
Christians gather together to sing and praise Jesus.
Do you know what they will sing on Christmas day?
This time we'll show you some Christian Christmas songs.
Maybe you'll find your favorite one among them, or you'll call up some memory about Christmas in these songs.
Time waits for no one!
Let's get started!
1. Where's The Line To See Jesus?
"Where's the line to see Jesus
Is he here at the store
If Christmas time is his birthday
Why don't we see him more"
"Where's The Line To See Jesus?" is a song by a Christian singer, Becky Kelley. It's said that the song was inspired by her four-year-old nephew.
Her nephew was surprised to find kids lining up at the mall to see the Santa Claus after learning Christmas is the day we celebrate the birth of Jesus. And then he asked Becky Kelley "Where's the line to see Jesus?"
Maybe we can find the meaning of Christmas in this song.
2. How Many Kings
"How many gods have poured out their hearts
To romance a world that has torn all apart
How many fathers gave up their sons for me"
"How Many Kings" is a song from a Canadian Christian rock band and it is the lead single on their album How Many Kings: Songs for Christmas (2010).
It is a song of praise to Jesus. With a series of questions, we'll gradually realize the greatness of Jesus. It goes without saying that the song will be a classic Christian Christmas song in the future.
3. Christmas Offering
"I bring an offering of worship to my King
No one on earth deserves the praises that I sing
Jesus, may you receive the honor that you're due
O Lord, I bring an offering to you"
"Christmas Offering" comes from a Christian rock band named Casting Crowns from Florida. The song also shows the praise to Jesus.
Actually, it is my favorite Christian Christmas song because the slow melody and their gentle voice always make me feel peaceful when listening. Do you think so? Which song is your favorite?
4. Do You Hear What I Hear?
"Said the night wind to the little lamb
Do you see what I see
Way up in the sky little lamb
Do you see what I see"
"Do You Hear What I Hear?" was written as a plea for peace during the Cuban Missile Crisis. The lyrics came from Noel Regney and the music was produced by Gloria Shayne Baker.
It is an old and traditional Christian Christmas song. I am familiar with the melody of the song and I'm quite sure I had listened to it for several times in my childhood. How about you? Have you listened to it before?
5. Born In Bethlehem
"Baby Jesus lying in a manger
Crying for the world
The angels told the shepherds
Of the good news for us all"
The song comes from a Christian rock band, Third Day, as the third single on their album called Christmas Offerings (2006). Crawford Rockwell Thoburn, an American missionary to India wrote the song to express love and praise for Jesus.
The song begins with guitar solo that leads you into their fantastic music world. From my perspective, it's a song suitable for the times when you feel down and it has magic to blow your blue away. Do you agree with me?
Christmas Christian songs Born In Bethlehem free mp3 download >>
6. I Heard The Bells On Christmas Day
"I heard the bells on Christmas Day
Their old, familiar carols play
And wild and sweet
The words repeat
Of peace on earth, good-will to men!"
Henry Wadsworth Longfellow composed the song after he went through a number of difficulties and sadness. When he was in a terrible mood and filled with discouragement, he heard the Christmas Bells and was reminded that "God is not dead", then the song was born.
Perhaps it isn't the most popular Christian Christmas song but it is a song that will be the power for you when you're in trouble. Click on the link and get the song!
7. What Child Is This?
"What child is this, who, laid to rest
On Mary's lap is sleeping
Whom angels greet with anthems sweet
While shepherds watch are keeping"
William Chatterton Dix worked as an insurance company manager and he was seriously ill when composing the carol. When he was recovering, he was inspired and wrote the lyrics in England but the carol is more popular in the United States.
It is also one of the most classic Christian Christmas songs around the world. Maybe you've listened to it for many times unconsciously. You can download the song for free by the link below!
8. We Three Kings Of Orient Are
"We three kings of Orient are
Bearing gifts we traverse afar
Field and fountain, moor and mountain
Following yonder star"
"We Three Kings Of Orient Are" was written by John Henry Hopkins, Jr and the song was also known as We Three Kings or The Quest of the Magi.
Although the song has been performed by many singers, the version is the most popular one today. Listening to the song, it seems that we'll understand what they felt at that time.
9. O Little Town Of Bethlehem
"Where children pure and happy pray to the blessed Child
Where misery cries out to Thee, Son of the mother mild
Where charity stands watching and faith holds wide the door

The dark night wakes, the glory breaks, and Christmas comes once more"


Phillips Brooks, a priest and rector of the Church of the Holy Trinity, wrote the lyrics after visiting the village of Bethlehem in the Sanjak of Jerusalem in 1865. And Lewis Redner came up with a tune to match the lyrics.

The melody of the song is quite slow but you can still get the feelings the song want to convey to us. If you haven't listened before, you don't want to miss the classic Christian Christmas song!
10. Mary, Did You Know?
"Mary, did you know that your baby boy
Will give sight to a blind man
Mary, did you know that your baby boy
Will calm a storm with His hand"
"Mary, Did You Know?" was written by Mark Lowry and Buddy Greene and it was originally recorded by Michael English, a Christian recording artist, on his 1991's solo debut album.
At the first time I listened to the song, I was almost moved to tears for the violin at the beginning and the atmosphere created by the lyrics and emotional voice. Let's enjoy the music together!
Presents for You
Besides the 10 Christian Christmas songs, we also prepare another 20 for you! There must be one you like! Download the songs you love by the link and share your feelings with us!
02. Glenn Packiam – The Beautiful Body and Blood
03. Future of Forestry – The Earth Stood Still
04. Andrew Peterson and Jill Phillips – Labor of Love
05. Brandon Heath – The Night Before Christmas
06. Chris Tomlin and Audrey Assad – Winter Snow
07. Charles Wesley – Hark! The Herald Angels Sing
08. William Sandys & Davies Gilbert – The First Noel
09. Isaac Watts – Joy to the World
10. Father Joseph Mohr & Franz Xaver Gruber – Silent Night
11. John Mason Neale – O Come, O Come, Emmanuel
12. John Francis Wade – O Come All Ye Faithful (Adeste Fideles)
13. Adolphe Charles Adam – O Holy Night
14. Unknown – Away in a Manger
15. Unknown – Angels We Have Heard on High
16. George Frideric Handel – Hallelujah Chorus
17. John Wesley Work – Go Tell It on the Mountain
18. Edmund Hamilton Sears – It Came Upon the Midnight Clear
19. James Montgomery – Angels, from the Realms of Glory
20. Katherine K. Davis – The Little Drummer Boy
Conclusion
Here are all the Christian Christmas songs we've got for you!
Have you found the songs fit your taste?
Download the songs you like by links and add them into your Christmas playlist!
Perhaps you want to share other Christmas songs with us.
Leave your comments below!
Merry Christmas!