Best Christmas Pop Songs 2017 – New Christmas Songs Free Download
In addition to the traditional Christmas music, there are various pop songs for Christmas every year.
I bet you've heard the song All I Want For Christmas Is You by Mariah Carey.
Wonderful, isn't it?
It's said that she will release new Christmas songs this year.
I am sure that will be a nice song again.
Do you think so?
Here is a list of the best Christmas pop songs 2017 up to now?
Which song will win your heart?
Let's find out!
1. Sia – Santa's Coming for Us
"Santa's coming to town
Singing to the deer in the skies
Singing as they jingle jingle jingle tonight
Singing to the moon set it free"
"Santa's Coming for Us", as expected, was a typical Christmas music. It was released by Australian singer Sia on 30 October 2017. You can feel the atmosphere of Christmas from the song name and album cover.
Sia's distinctive voice is like a cup of warm hot cocoa that warms the cold Christmas Day. This funny up-tempo Christmas song really catches my eyes. If you never listen to the music by Sia, maybe you can start with this Christmas song!
Download the new Christmas song 2017 by Sia >>
Here's a SURPRISE for you!
Till now, the whole new Christmas album "Everyday is Christmas" by Sia is released.
There're total 10 songs on Sia's new Christmas ablum, apart from "Santa's Coming for Us," we've list the other 9 songs below.
Just click on following songs, and add them all to your Christmas playlist for free!
9. Underneath the Christmas Lights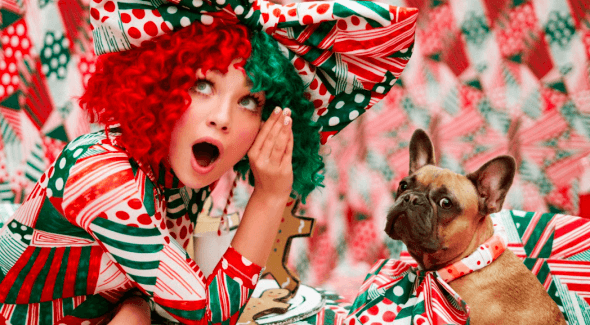 2. Gwen Stefani – You Make It Feel Like Christmas
"Sleigh bells singing hallelujah
Stars are shining on us too
I wanna thank you baby
You make it feel like Christmas"
Unlike the traditional Christmas song, "You Make It Feel Like Christmas" combines old classics and new romantic odes. This single is a duet by Stefani and her boyfriend, Blake Shelton.
The lyrics "Never kissed anyone with blue eyes before you", Stefani sings about the most romantic moments regarding her relationship with Shelton. The song is a perfect fit into reflecting the romantic side of Christmas.
3. 98°- Season of Love
"This is the season of love
This is the season of love
On wrapping presents
With we both build the snow man in the yard"
98 Degrees is an American pop contemporary boy band, they returned to Universal Music and released their Christmas song "Season of Love" in 2017.
When I listen to this song, a scene came out from my mind: On snowy Christmas, everyone celebrates the day with their loved ones. What a wonderful time!
98 Degrees also have a plan to do a tour called "At Christmas Tour" to celebrate their 20th anniversary, if you love their music, you cannot miss it!
4. Josh Groban – Christmas Time Is Here
"Sleigh bells in the air
Beauty everywhere
Yuletide by the fireside
And joyful memories there"
"Christmas Time Is Here" was released as the deluxe edition of Noël on November 3, 2017. Believe it or not, it's been 10 years since Groban released his album Noël.
The quiet piano accompaniment perfectly blended with Josh Groban's singing. I can hardly wait to the enjoy the song and have some more wine on snowy Christmas.
Believe me! After hearing Christmas Time Is Here you just can't get it out of your head.
Like the new Christmas pop songs? Click here to download now! >>
5. Lindsey Stirling – You're a Mean One, Mr. Grinch
"You're a monster Mr. Grinch
Your heart's an empty hole
Your brain is full of spiders
You've got garlic in your soul Mr. Grinch"
"You're a Mean One, Mr. Grinch" creates a catchy rhyme, the prodigious electronic violinist teamed up with Disney alum and pop singer Sabrina Carpenter for a modern remix on a classic Grinch song.
The song is fun and fresh. I was cheered up by the song. How do you feel after listening to it?
6. Pentatonix – I'll Be Home for Christmas
"Where the love light gleams
Where the love light gleams
I'll be home for Christmas
If only in my dreams"
"I'll Be Home for Christmas" was a Christmas song recorded originally by Bing Crosby. Pentatonix recorded the song in 2016 for their Christmas album A Pentatonix Christmas Deluxe.
In my point, the song is sung from the point of view of all people who are unable to be home for Christmas. I wish everyone would spend Christmas with their families.
Get the top pop Christmas song free download >>
The album A Pentatonix Christmas Deluxe is one of the greatest Christmas albums.
We've listed all the songs in this album, and you can get the ones you like directly via the links below.
2) God Rest Ye Merry Gentlemen
10) Merry Christmas, Happy Holidays
14) Let It Snow! Let It Snow! Let It Snow!
Conclusion
That's all about the best Christmas pop songs 2017.
Got any inspiration for your holiday playlist?
I hope so.
In addition to the new Christmas songs above, there're must be some old Christmas songs that you'd love listening to year after year.
Mine is Believe by Josh Groban.
How about you?
Come on, I'd love to hear your thoughts!
Feel free to tell us in the comments.