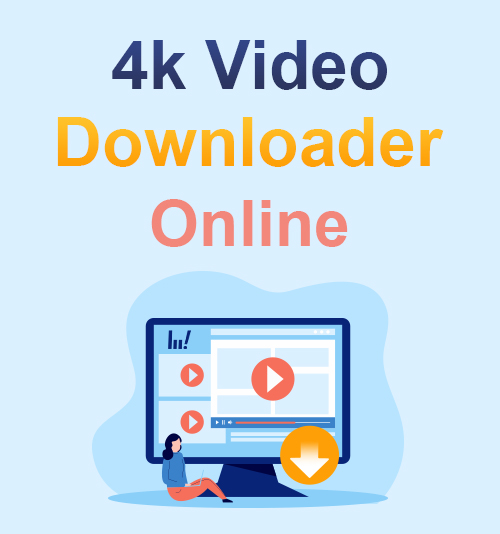 4K is a term to describe display resolution of roughly 4,000 pixels. It offers 4 times as many pixels as 1080p displays. As a result, a 4K video looks much vibrant and detailed.
If you are fond of 4K videos just like me, you may find it is hard to watch 4K videos for free. Every TV provider requires a premium subscription to watch 4K content. I also tried to watch 4K videos online. But the infinite loading icon changes my mind.
Luckily, I stumble across a great 4K video downloader online. It provides great service in video downloading without charging a penny.
Let's take a glance!
Part 1. Best 4K Video Downloader Online
4K videos bring us the striking viewing experience. To find out the best 4K video download site, I have tested many online tools. Among them, AmoyShare Free Video Finder is my favorite online 4K video downloader.
Unlike most other YouTube 4K video downloaders online, Free Video Finder is very safe and clean. The website doesn't contain any ads. Besides, it won't take you to any irrelevant pages.
Most importantly, Free Video Finder supports video downloads from more than 1,000+ video sites. YouTube, Facebook, Twitter, Vimeo, to name a few.
Free Video Finder features a clean and simple homepage. You can get to know the download process easily.
Now let's download a 4K video for free.
Step 1. Go to your favorite video site and navigate the video you want to download. Get the video link from the address bar and copy it.
Head to AmoyShare Free Video Finder and paste the video link into the search bar. Now click the search icon to retrieve video data.
Once the result shows up, click the Download button to view all video qualities. Pick a video quality, and you will be directed to the embedded video in a new tab.
On the new page, hover the cursor over the video. Then a Settings icon will appear in the lower right corner. Click it and further hit the Download icon to initialize the downloading process.
Now you have got the video downloaded.
Enjoy yourself.
Kindly reminder: 4K option is available only if the original video is uploaded in 4K resolution.
Part 2. 4K Video Downloader for Mac
AmoyShare Free Video Finder is the best YouTube 4K video downloader online. However, if you tend to download 4K videos frequently, I recommend AnyVid.
After all, the 4K YouTube video downloader online has a limitation on downloading speed. 4K video, however, is huge. Hence, you have to wait for a rather long time before the video is downloaded.
Luckily, AnyVid boosts the downloading speed by up to 300% with its advanced accelerator. Also, it boasts an advanced built-in search engine. Thus, you can search for and download 4K videos quickly. If you want to batch download those 4K videos, do it with a few clicks.
Furthermore, AnyVid works well as a 4K video downloader for Mac, Windows, and Android. It also supports downloading videos from most video sites.
Now you can install it on your device.
Step 1. Launch AnyVid and insert the video title you plan to download. Then hit the search icon to retrieve the data.
Step 2. When the results show up, click the More button to select an HD quality. The download process will start immediately. Or you can click the play icon on the thumbnail to preview the video.
Whoa!
The job is done in a fraction of a second.
AnyVid makes the download process much easier and quicker than the online method.
Have a try right now!
Conclusion
AmoyShare Free Video Finder is my favorite 4K video downloader online.
It doesn't require any registration. And the download process is straightforward.
Or you prefer AnyVid? It enables us to free download 4K video at a fast speed.
Give it a shot. I bet you will like it.
You May Also Be Interested in These Topics