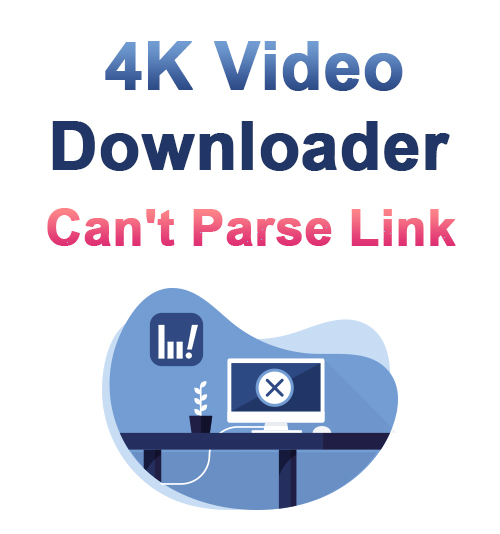 Once your internet connection performs poorly, you may experience endless buffering. That's why downloading them for offline watching, and full access is recommendable. And one of the best video downloaders you can use is the 4K Video Downloader.
This tool is widely used by tons of people on the web as it lets you grab video from the internet in HD 1080p, HD 720p, 4K, and 8K resolution. Moreover, its flexibility allows you to download not only from Vimeo, TikTok, SoundCloud, Flickr, Facebook, Instagram, DailyMotion, Likee, and Tumblr. It only requires URLs to start downloading the video you want from the web.
However, the problem occurs once the 4K Video Downloader can't parse link due to unknown reasons. To help you out, let this article show you why it's happening and offer you ways how to fix that error.
Part 1. 4K Video Downloader Can't Parse Link: Why Does it Occur?
When using 4K Video Downloader, have you encountered an error message like, "4K Video downloader can't parse this link" or "Error: can't download video"? To solve this problem, you must first know the reasons why 4K Video Downloader not working. Hereto, check the list below, so you can quickly learn the steps you must do according to its causes.
● 4K Video Downloader has minor bug and software updates issue
● You have installed anti-malware that stops 4K Video Downloaders from connecting on the internet.
● The link you are using may be from the unsupported site of the 4K Video Downloader.
● It's the video that's not working or the websites you are using as your source has stopped working or it's down.
● Your downloading app is an outdated version.
Part 2. How to Fix 4K Video Downloader Can't Parse link?
Upon knowing the various reasons why 4K Video Downloader can't parse the video link that you are downloading, let's now talk about how to fix them. That way, you can enjoy downloading any video from your favorite site.
Restart the 4K Video Downloader
When your 4K Downloader can't parse URL all of a sudden, then a straightforward thing you can do is to force stop the app and relaunch it. After that, you can try pasting the URL of the video you want to download.
Turn-off Your Security App
As your anti-virus app causes 4K Video Downloader can't parse link, you might as well consider turning it off for a while as you are downloading. However, be sure that you are only downloading from reliable video-hosting sites such as YouTube, Vimeo, Dailymotion, and more. Please turn it on again after downloading.
Source from Compatible Sites
If 4K Video Downloader can't parse the link for several tries, then check the list of its supported sites. You may be using links from unknown sites that the app can't recognize. In this case, you should always be familiar with the tool that you are using.
Ensure that the Video or Site is Working
Before downloading or getting the video link, you must first play it on the site to be sure that it is still working. That way, you won't waste much time downloading a non-working video.
Update Your App
Constantly update your downloading app. If you have an outdated app, there are instances that it can't cater to the data from the sites, especially if these sites are more advanced than with your 4K Video Downloader.
Reinstall the Video Downloader
If the problem keeps on recurring, it's about time to uninstall your 4K Video downloader and reinstall it on your PC.
Part 3. Use an Alternative Downloading Software
Once all these troubleshoots didn't work, it's about time to use another alternative downloader like 4K Video Downloader. And we are talking about this tool, AnyVid. This software lets you download video from popular video sites, including YouTube, Facebook, Vimeo, Dailymotion, Twitter, Instagram, Tiktok, Naver, Lynda, TED, and so on. You can enjoy your downloaded video on its original resolution or select the video quality you want since it offers HD output from HD 720P, 1080P, to 4K. And whether you are downloading a full-length movie, a webinar, tutorial videos, or live stream, this app can be your go-to downloading tool.
Amazingly, it works both on Windows and Mac, and it can also download YouTube playlists simultaneously. Here's the step guide on how to use this:
First, download the tool from its official webpage. You can also click the download button provided above and choose the correct installer according to your operating system. Once done, follow its installation process and launch it.
Go to the website that you prefer and search for the video that you want to download. Once found, go to the address bar and copy the link from it.
Paste the link on the tool's interface and click the "+ Paste URL" button to start the analyzing progress. You will know that the video is ready once the thumbnail appears. Then, click MP4 to initiate the download progress.
After downloading the video, it automatically transfers on the Downloaded tab. So, watch it by going to this tab, look for the video, and double-click or right-click, and select "Play Video" to preview your output.
Conclusion
4K Video Downloader is indeed the best downloading tool that you can use to grab videos from the web. However, just like with any other means, there are times that it won't work well.
AnyVid
Download any video from 1,000+ websites
for Windows 10/8/7
for Mac OS X 14+
for Android
When 4K Video Downloader can't parse link, it's best to have an alternative that works as well, such as the AnyVid. This top-rated downloader lets you download videos from over 1000+ video and music streaming platforms quickly and hassle-free.
Frequently Asked Questions
Why 4K Video Downloader can't parse this link?
You may always consider the app or software you installed on your computer, the app itself, or the site you are using to fetch the video from the web. These factors affect how this downloader can work well.
How can you fix 4K Video Downloader can't parse the link?
If it's the app itself, consider updating, reinstalling, and relaunching the app. Meanwhile, if it's the sites, you must know the tool's supported web. And if it's the other app installed, try disabling them and check if it will work after that. Or, you can always use an alternative downloader such as AnyVid.
You May Also Be Interested in These Topics