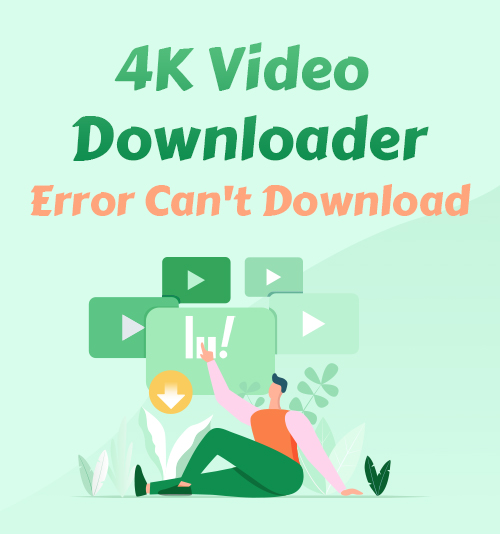 Something seems wrong with 4K Video Downloader. Many users consult me about 4K Video Downloader error – can't download while others whine about 4k Video Downloader crashes.
The glitches of 4K Video Downloader has hindered us from saving our favorite clips.
Don't be upset.
I also run into similar errors. My 4K Video Downloader is not working for two weeks. It says 4K Video Downloader can't parse this link. I tried many tricks and finally got the solution to solving the problem.
Additionally, I stumble on a reliable alternative to 4K Video Downloader. It has a solid performance without any defects.
Let's take a glance at it!
Part 1. Fix 4K Downloader Error: Can't Download
4K Video Downloader is very useful software if you want to download videos and music in various outputs. It is pretty simple to use. With its Smart Mode function, you can set the preferred format and quality for future downloads.
When you encounter the 4K Video Downloader error such as can't download or can't parse this link, check the internet connection first. Then you can try the following tips.
Ensure that the video you want to download is public. Private videos from YouTube and Facebook are not supported.
● Change the output options in Smart Mode settings.
● Set a new download path. Make sure the destination of the downloading files would provide enough storage space.
● Shut down the antivirus or firewall program.
● Turn off other running software or reboot the computer.
● Reinstall 4K Video Downloader and ensure that it is the latest version.
If the glitches are still not fixed after the above tips, it may be an application bug. Then I will suggest you try a more reliable alternative to 4K Video Downloader.
Part 2. Tried Everything but Error Still Persists?
Tried everything, but the error persists?
Easy installation of AnyVid would solve the 4K Video Downloader error forever!
AnyVid is a professional video downloader. It runs smoothly and updates regularly to ensure a great downloading experience. It supports video downloads from YouTube, Facebook, Twitter, and other 1,000+ video sites. The quality of the download files varies. It ranges from 128k, 196 kbps, to 320k for audio, and 360p, 480p, 720p, 1080p and higher for videos. Additionally, you can download YouTube playlists or batch download videos in one go. AnyVid boasts 3X faster in downloading speed.
On top of that, AnyVid works well on Windows, Mac, and Android.
Install it!
AnyVid
Download any video from 1,000+ websites
for Windows 10/8/7
for Mac OS X 14+
for Android
It is proud of an intuitive interface and an optimized download process.
Copy a video link from your favorite site, and paste it into the AnyVid search field. Hit the search icon to parse the video. Or you can search for a video on AnyVid. It has a built-in browser to detect videos via video title, artist, album, etc.
When the search result appears, click the MP4 button to save videos directly. Or hit the More button to get more MP3/MP4 options.
Got it!
AnyVid helps you download any videos without lifting a finger. Enjoy it!
Conclusion
Did you fix the 4K Video Downloader error – can't download?
As a trendy YouTube video downloader, 4K Video Downloaded crashes very often.
Why not try a more stable and useful tool instead? AnyVid is the best alternative to 4K Video Downloader.
AnyVid enables video downloads from most popular video sites. And it enables you to download videos with various definitions ranging from 360p to 1080p. The video downloader is clean, fast, and easy to use.
Have a try!
You May Also Be Interested in These Topics