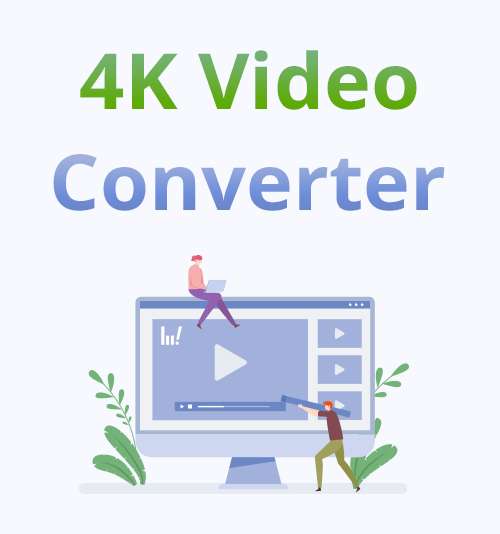 Nowadays, many devices are capable of shooting videos in 4K.
However, due to the different HEVC codec and larger file size, 4K videos playback errors occur. For example, 4K choppy, up to 100% CPU usage, video codec is not supported. Besides that, sometimes, you need to convert 4K videos before uploading. In such cases, a 4K video converter comes to your rescue.
Of course, if you want to upscale 1080p video to 4K, a 4K video converter could help you achieve it.
However, what is the best 4K video converter?
In this post, I will illustrate 4 handy 4K video converters with their distinct features. Either you are a newcomer or an expert, you can find a suitable converter here.
Please keep reading!
1. AnyVid – 4K Video Downloader and Converter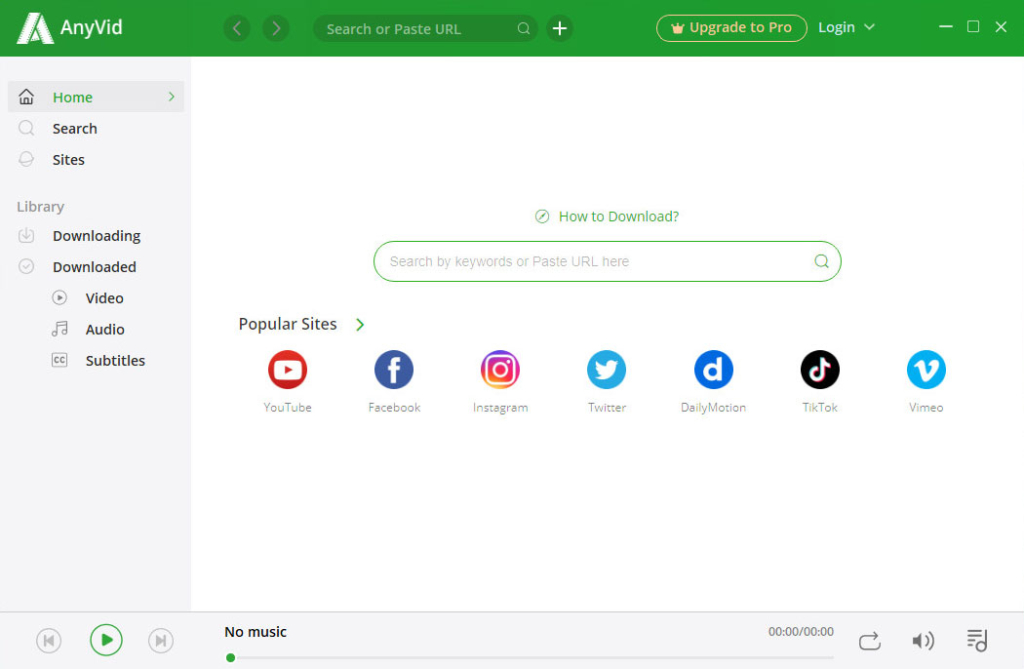 AnyVid is a great 4K video converter. It allows you to convert online videos to MP3 and MP4. Besides, you can convert 4K video to 1080p or lower quality with only one click.
AnyVid not only works as a 4K to 1080p converter. It is also a video downloader. With AnyVid, you can download and convert videos from more than 1,000+ sites. It offers various definitions for MP4 and MP3 outputs to meet the demand of different devices.
The steps to use AnyVid is easier than any other 4K video converters. Before you convert a 4K video to 1080p, please install AnyVid on your devices. AnyVid is compatible with Windows, Mac, and Android.
AnyVid
Download any video from 1,000+ websites
for Windows 10/8/7
for Mac OS X 14+
for Android
How to convert 4k to 1080p? Only 2 steps will help you get the task done.
Find a 4K video on your favorite video website. Then copy the video link and head to AnyVid. Now paste the video link onto the AnyVid search bar. Click the search icon to start fetching video data.
Once the video data shows up, you can click the MP4 button to convert the 4K video. Of course, you can click the More button and get more options. AnyVid allows you to convert 4K video to MP3 in 128kbps, 192kbps, and 320kbps. Or you can download a 4K video to 1080p, 720p, 480p or even 360p, 240p.
AnyVid features a 3X faster video download and conversion speed. Give it a shot!
Convert to MP3 and MP4
Fast conversion speed
Convert online videos only
Limited conversion outputs
2. VideoProc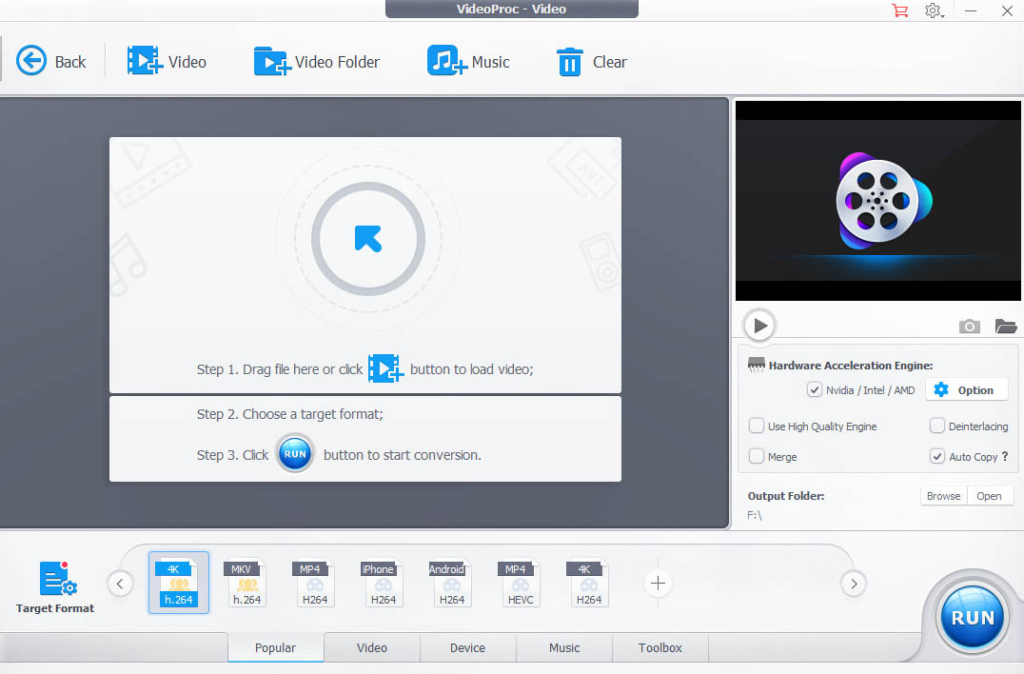 VideoProc is a professional 4K video converter. It allows you to edit, transcode, resize, and adjust 4K videos with high efficiency. With VideoPro, you can downscale 4K to 1080p and upscale 1080p to 4K as well.
VideoProc divides target formats into 5 categories. To be clear, Popular, Video, Device, Music, and Toolbox. It also labels each format with a prompt. You can quickly find a proper output for the file. That's great!
On top of that, VideoProc features many useful functions to polish up your footage. For example, video can be fine-tuned in terms of color, saturation, brightness, and contrast. Also, you can add watermark, remove noise, stabilize video, and fix fisheye. Moreover, these functions are easy to use!
In a word, VideoProc outperforms either as a 4K to 1080p converter or a 1080p to 4K upscaler.
Edit, transcode, and resize
Easy to use
Limited features on the free trial
No customer support
3. Wondershare UniConverter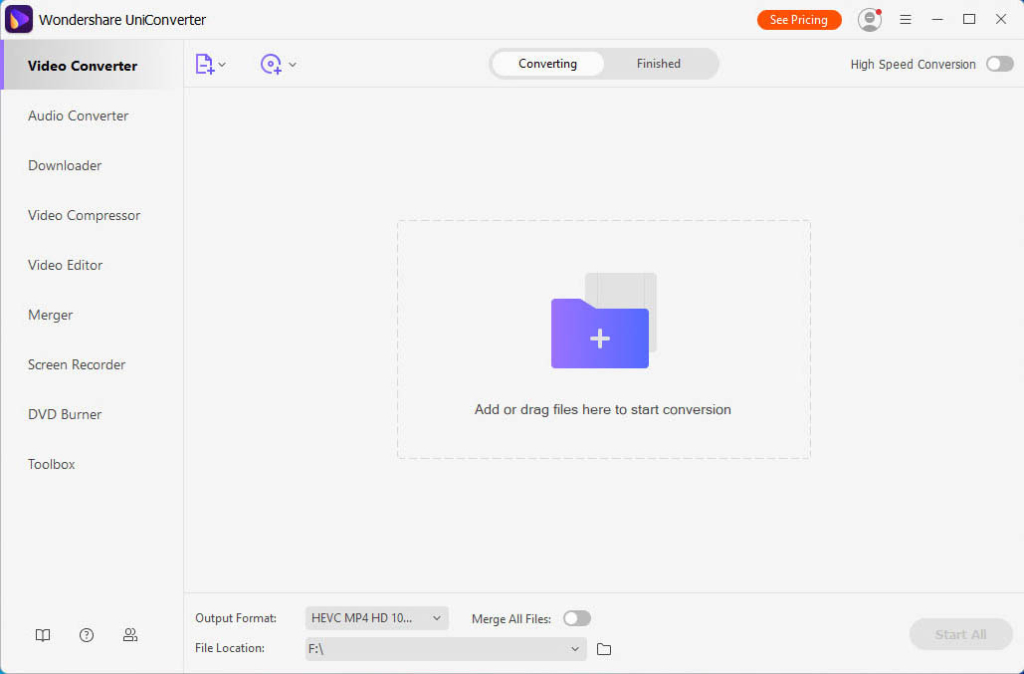 Wondershare UniConverter outstands as a full-featured application. It serves as a 4K video converter, downloader, compressor editor, and screen recorder.
Wondershare features a streamline UI. Hence, you will get to know how to convert 4K to 1080p immediately. Besides, it categorizes various output formats into Video, Audio, and Devices groups. Thus, you can find the ideal format in a straight way. Aside from that, you can preset the Preference to speed up video conversion speed.
However, Wondershare UniConverter limits multiple features in its free service. You have to upgrade to enjoy its powerful functions.
Easy to use
Packed with tons of features
Watermarked files
Limited functions
4. HDConvert.com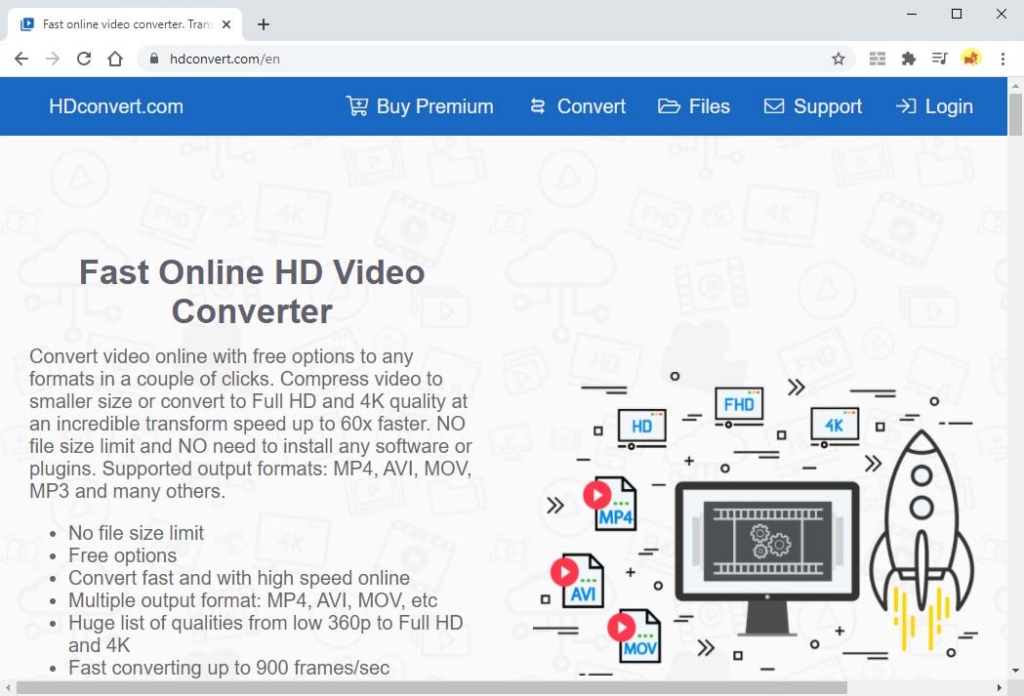 HDConvert.com is a 4K video converter online tool. It grants you to convert 4K videos to many formats with a couple of clicks. Besides, you can compress video to a smaller size or upscale 1080p to 4K quality at a superfast speed.
HDConvert.com makes it easy to downscale 4K to 1080p. Once you upload the source video, it will guide you through setting all the parameters step by step. Afterward, it will convert the 4K video within a few seconds. Finally, you can download it to your storage.
HDConvert.com provides both free and premium online services. With the premium plan, you can convert 1080p and 4K videos. Besides, you can save the converted videos without watermark.
To be noticed, HDConver.com only saves your converted file on its server for up to 36 hours. In other words, you have to download the converted file within 36 hours. Otherwise, it will be deleted without any notice.
Easy to use
Preview before downloading
Watermarked files
Slow download speed
Conclusion
The 4K video converters mentioned above highlight different parts of the conversion task. Which one fulfills your demand?
AnyVid 4K video converter outstands when it comes to downloading and downscaling 4K videos. It is available on Windows, Mac, and Android.
Give it a shot now!
You May Also Be Interested in These Topics