Zayn Malik Songs - Top 10 List Free Download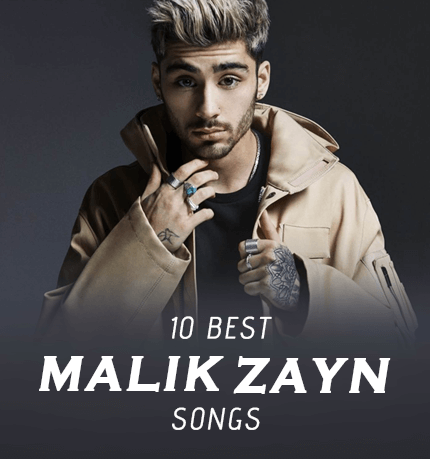 He is the former One Direction member.
A good-looking with 47 tattoos.
Zayn Malik, he is drop-dead gorgeous who born 1993.
He has a pair of mesmerizing blue eyes.
He is dating with the supermodel Gigi, Hadid.
Most important, his voice is enchanting.
So today we're gonna share with you a list of Zayn Malik songs top 10 hits on YouTube.
Let's get started.
1. Dusk Till Dawn(ft. Sia)
"Not tryna be indie
Not tryna be cool
Just tryna be in this
Tell me are you too"
"Dusk Till Dawn" is a song by Zayn Malik, featuring Australian singer-songwriter Sia.it is the lead single from Zayn's 2017 album. This song also the soundtrack of the official trailer, "The Mountain Between Us".
This song topped the charts more than 20 countries, including UK, Canada, France, and Australia, etc.
When the prelude pops in, Zayn's softly vocal grasp your ear firmly. And Sia's potent voice run into Zayn's magnetically voice, the harmonize combination is magnificent.
The one of an amazing song of Zayn Malik 2017 songs!
2. I Don't Wanna Live Forever( Fifty Shades Darker)
"I don't wanna live forever
Cause I know I'll be living in vain.
And I don't wanna fit wherever
I just wanna keep calling your name
Until you come back home"
"I Don't Wanna Live Forever" is a song recorded by Zayn Malik and American Singer and songwriter Taylor Swift. It's also a soundtrack of the film Fifty Shades Darker.
It remains on the Billboard Hot 100 for 21 weeks, the best place is No.2. Its MV won the MTV Video Music Award for Best Collaboration at the 2017 MTV Video Music Awards.
It's totally different from the other male and female's Chorus. Taylor in charge of the bass section and narrate the meaning of relationship, while Unbelievable, Zayn uses a falsetto in high pitches, brings the song unforgettable.
3. Pillowtalk
"Pillow talk
My enemy my ally
Prisoners
Then we're free it's a thriller."
"Pillowtalk" is a song of his debut studio album "Mind of Mine" as the lead single.
It's Zayn's debut single after he split from One Direction, for his debut album "Mind of Mine".
It debuted at the No.1 of the chart in the US and the UK, and more than 12 countries, it received 767,251,767 views until now.
Its MV features Zayn Malik's girlfriend, the American Model Gigi Hadid. They two hold and kiss each other, while Zayn sings lovingly to unburden himself. The lyric of the song dissect the relationship between the couple, "it's paradise, and it's a warzone."
4. Still Got Time
"This could be something
If you let it be something
Don't scare me away
Turning something's into nothing babe
You're already used to the games babe
You play your role and I play the same"
"Still Got Time" is a song by Zayn Malik, featuring Canadian singer and rapper PartyNextDoor. It gets 45,218,155 times review on YouTube.
It's a bright and vivacious song; you would feel like put the work behind and move your body when the music begins.
Zayn sings in a relaxing and easy way to convince a girl that she is too young to worry about love, while the MV background is he explores in the house party.
If you like the "Passionfruit" of Drake, maybe you would like to hear this song, because both men have the different tone.
5. Like I Would
"Know it's late but I'm so wired
Saw your face and got inspired
Guess you let it go now you're good to go
It's cold-hearted cold-hearted"
"Like I Would" is first released as the promotional single from his debut studio album "Mind of Mine". This song topped the Country's dance charts of the Billboard Hot 100, and reached the top 40 in 8 countries, included the UK, Canada, Australia, etc.
Musically, "Like I Would" is an electro-R&B dancing song which mixing disco groove and funky hook.
Lyrically, this song tries to prove to the ex that her next lover cannot compare to him, and he is the best one she ever meet.
6. It's You
"Cover the scars, I'll let'em bleed
So my silence
So my silence won't
Be mistaken for peace
Am I wrong for wanting us to make it?"
"It's You" is a song from his debut album "Mind of Mine". It gets several high music critics. Zayn was called the "world's best singer" after this song.
Its MV is beautiful just like the song, the black and white depict scenes in a slow motion. Zayn singing in front of a piano while the co-star Nicola Peltz enjoying in the pool. It receives 29,451,126 times review on YouTube.
This slow-paced, R&B balled is so beautiful and heavenly. Zayn's unique falsetto just sings to himself, sing to his former lover and previous relationship.
7. Wrong(ft. Kehlani)
"Oh when I in the same light
Show me in the same light
Feels right come and take flight"
"Wrong" is a song by Zayn Malik, featuring American singer Kehlani. It serves as the third single from Zayn's debut album "Mind of Mine".
According to Zayn, originally he wrote it as a rap, so the song lyric expresses that finding love in the wrong place.
But Kehlani's voice involves in, they two singers just match so well. It feels like they just made for each other. Its beats of the music seem some kind of attraction, makes me want to single cycle.
8. BeFour
"Numb on a roof
Set it on fire
Just to give me proof
I'm living on a wire"
"BeFour" is a song by Zayn Malik; it's from his debut album "Mind of Mine". It climbed to the No.4 place of US Bubbling Under Hot 100 Single (Billboard).
This smooth R&B song combines disco and soul music. It also knowns for Zayn's falsetto begin at 2'22 during middle sections.
The song talks about Zayn's former career when he was in boy's band One Direction.
And how the critics made him feel suffocated and lost during that time.
But in my opinion, when he can write his story into this song, he gets stronger at that time. So when you feel confused or lost, maybe this song will bring you comfort.
9. She
"She wants somebody to love
To hold her
She wants somebody to love
In the right way"
"She" is shown as the 5th track on his debut album "Mind of Mine". It got the No.8 place on US Bubbling Under Hot 100 Singles (Billboard).
This song talks about how a girl wants to be loved and treated by her couple in life. And Zayn not only sings to tell the truth but also his attempt to accomplish that.
Girl, if you have anyone wants to be with or already being with, but he seems doesn't know you so well.
Play this song!
10. TiO
"I can taste it on your mouth
And I can't leave it
You're a freak Iike me
Can't you see
We can work this something out"
"TiO" is a song by Zayn Malik; it is from his debut album "Mind of Mine". The song name TiO equal to "take it off".
It was listed on one of the year's best song by Fusion. In this song, Zayn just hammering listeners with the phrase "take it off" 30 times.
When the light was dim, would you take it off for the one you love?
Summary
So, that's all for Zayn Malik's songs for today.
Do you enjoy these songs we recommended to you?
We need more amazing voice like Zayn Malik, right?
If you guys like his music,
Don't forget to click the link for each song to download the free MP3.
We are glad to share more music with you, and any suggestions are welcome.
So feel free to leave a comment below.
See you soon.
Zayn Malik songs free download: