Demi Lovato Top 10 Songs Free Download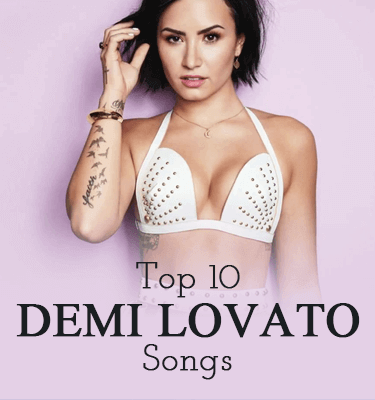 Demi Lovato, American singer, songwriter, and actress, is one of the World's 100 Most Influential People.
Musically, Demi Lovato has received a considerable number of accolades, including MTV Video Music Award, Teen Choice Awards and so on.
She also engaged in several social and environmental careers.
It's hard to believe that she's only 24 years old.
To salute to her, today I'm going to share 10 best Demi Lovato songs on YouTube.
In addition, you can get Demi Lovato top 10 songs free download from this article.
Now, let's get down to the business!
No.1 Heart Attack
"Heart Attack" was certified gold by the RIAA with sales brimming 500,000 in the space of only four weeks and as of 2014 has sold over 2,000,000 copies in the United States.
Also, the song peaked at No.10 on the US Billboard Hot 100, earning Lovato's second solo top-ten single in the country. The song receives 457,600,104 views on YouTube up to now. Amazing!
Demi Lovato best songs download >>
No.2 Stone Cold
"Stone Cold" was initially premiered on radio via 97.1 FM on February 6, 2016. Subsequently, it was sent to contemporary hit radio and hot adult contemporary radio.
Demi Lovato is quite a dramatic powerhouse in this song and she's bringing that great energy into the track's music video. With the sad feeling, it seems like she was fighting for her life right?
Demi Lovato songs mp3 download >>
No.3 Confident
"Confident" peaked at No.1 on the US Dance Club Songs (Billboard) and No.9 on the US Mainstream Top 40 (Billboard).
Commercially, the song was certified as platinum by the Recording Industry Association of America (RIAA) with 1 million sales. Lovato has performed the song on 2015 American Music Awards and several TV programs.
Demi Lovato rock songs free download >>
No.4 This Is Me
"This Is Me", is a song by Demi Lovato and Joe Jonas from the Disney Channel original movie Camp Rock. The song peaked at No.9 on the US Billboard Hot 100. The single has sold 901,000 digital copies to date. Unfortunately, the official music video is limited to watch in some areas. Here is a movie version.
Download Demi Lovato This Is Me mp3 song >>
No.5 Let It Go
As we all know, "Let It Go" is a song from Disney's 2013 animated feature film Frozen. It won 6 accolades, including the Academy Award for Best Original Song in 2014 and the Grammy Award for Best Song Written for Visual Media in 2015.
Commercially, the song sold 10.9 million copies in 2014, becoming the year's fifth best-selling song. It's one of the most popular songs of Lovato, right?
Get Demi Lovato Let It Go songs download >>
No.6 Cool for the Summer
"Cool for the Summer" received an award for being one of the most performed songs of 2015 at the ASCAP Pop Music Awards. The song sold 80,000 copies in its first charting week and was certified double-platinum by the RIAA.
As for the accompanying music video, it surpassed 100 million views in October 2015, making it Lovato's 9th Vevo-certified clip.
Cool for the Summer mp3 download >>
No.7 Give Your Heart a Break
"Give Your Heart a Break" reached No.1 on Billboard Pop Songs. Besides, it peaked at Billboard Hot 100 at No. 16, making Lovato's 5th highest peaking song.
Laurence Green from musicOMH calling it an "exceptionally brilliant track," while commenting that she "becomes the true pop heroine; backed up by infinitely bigger, better choruses." What a high praise!
Demi Lovato Give Your Heart a Break download >>
No.8 Really Don't Care
"Really Don't Care" is Lovato's third No.1 on the US Dance chart. The song won Best Collaboration at the Radio Disney Music Awards of 2015.
Lovato performed the song on several occasions before its official release as a single and received critical reception.
Download Demi Lovato – Really Don't Care >>
No.9 Skyscraper
"Skyscraper" debuted at No.10 on the Billboard Hot 100, becoming Lovato's highest-peaked single on the chart. It sold 176,000 downloads during the first week of release, becoming Lovato's highest first-week sales.
The saddest lyrics for me, is "Would it make you feel better to watch me while I bleed?" and you?
Download Demi Lamar Skyscraper for free >>
No.10 Neon Lights
"Neon Lights" is a dance and electro pop song with a strong beat. It topped the US Hot Dance Club Songs chart and No.7 at Mainstream Top 40.in addition, the song has since been certified platinum in the US. This song deserved to be in top 10!
Download Demi Lovato Neon Lights mp3 song >>
What's new music event of Demi Lovato in 2018, I believe that you must be very expectant to Demi Lovato tour 2018, right? Take a look the tour schedule and see which concert is in your city.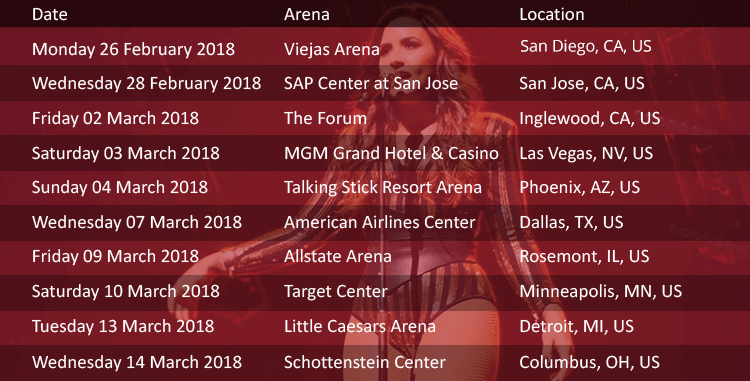 Click here to see the whole Demi Lovato tour schedule 2018.
In the End…
That's all for today's sharing!
Have you got the Demi Lovato Top 10 songs free download?
If not, don't miss the direct download link below every music video.
Since you might have different ideas with me, I'd love to hear your favorite Demi Lovato songs list. Just leave a comment below!
As Demi just released her new single, Sorry Not Sorry on July 11, 2017, I'm looking forward to her upcoming album Tell Me You Love Me.
I'll update this list when the new album comes out!
See you then!