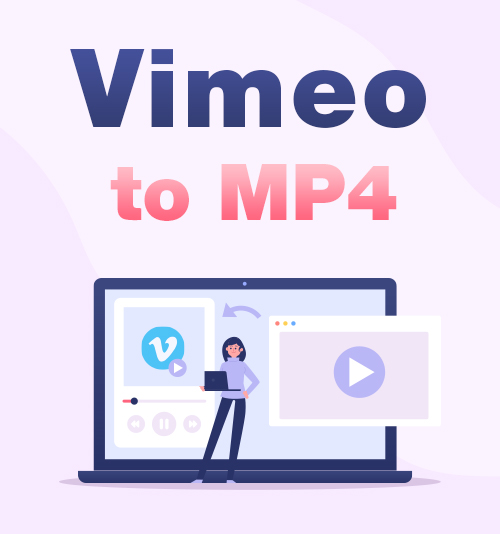 Vimeo is a video hosting and sharing platform that is headquarter in New York City. The two most important features of Vimeo videos are originality and high-definition quality. Vimeo has rigorous censorship for videos that users upload. Commercial videos, pornographic videos, game videos, and non-original videos are prohibited on Vimeo.
Thus, you will see lots of outstanding original videos while browsing Vimeo. Saying you watched a talented person posted his great work on Vimeo. Besides clicking "Like," leaving nice comments under the video, and adding the video to your collection, you may also want to download it to your local files.
The problem is, Vimeo doesn't provide a download service itself. So you need some other methods to convert Vimeo to MP4. Luckily, I have the same problem before and have solved it perfectly.
Now I'd like to introduce three methods to download Vimeo to MP4: using desktop converter, web extension, and online Vimeo to MP4 converter.
Part 1. Convert Vimeo to MP4 by Converter Software
In my mind, the most effective way to convert Vimeo to MP4 is to install a converter. I used a product called AnyVid for a long time, and it keeps working so well that I truly want to recommend it to you.
AnyVid is a video downloader software that is created by AmoyShare. Without ads, AnyVid is trying to give users a refreshing experience. It supports video download and conversion from more than 1,000 sites. Of course, you can convert Vimeo videos through this application.
The steps are as easy as follows.
Get the Vimeo video link from its website address bar, or copy the link by clicking the "Share" button.
Open AnyVid, and you can see the search bar at the center of the interface. Paste the video link into the search bar, and then AnyVid would start parsing the link.
Choose the format and quality that you are comfortable with. Then click the "Download" button to start the download task.
After the download finishes, you will see the MP4 file converted from Vimeo appear in your local file folder.
It is easy, fast, and safe to convert Vimeo to MP4 with AnyVid. The installation of AnyVid is purely free. You can use it for future video downloads from other popular websites such as YouTube, Facebook, Dailymotion, etc. It's a small but practical tool that you should have on your PC desktop.
Part 2. Convert Vimeo to MP4 by Chrome Extension
If you are using Google Chrome as your default browser while surfing the Internet, another handy method would be helpful. Google Web Store has plenty of extensions to help you out.
It's very easy to find an extension that supports conversion from Vimeo to MP4 files. For example, we can use Video Downloader Ultimate, an extension that ranked 4.6 out of 5 stars and has 900,000+ users in Google Web Store.
Add it to Chrome and see how it works!
Go to Google Web Store, then type "Vimeo Video Downloader" in the search bar. Find the extension.
Click "Add to Chrome." After the installation, refresh your Vimeo page. You will see the Download button on the video window.
Click the down arrow button, and then choose the quality of the video you want. You will see the video download task at the bottom of the page.
Part 3. Convert Vimeo to MP4 by Online Converter
Last but not least, using an online converter to convert Vimeo to MP4 is also an effective way. The online video converter doesn't need any installation but just a few clicks. Read and see how the online converter, Free Video Finder, will help you download Vimeo to MP4.
Find the Vimeo video that you wish to download, and then copy the link from the address bar or through the Share button (the same way as mentioned before).
Go to Free Video Finder website and then paste the link into the search bar.
Wait for Free Video Finder to load the video quality options for you. Choose one and start the download!
Conclusion
Did the three solutions above solve your problem of converting Vimeo to MP4?
Although the desktop downloader, Chrome web extension, and online converter all work well, I still favor the first option. Because AnyVid is not aiming to download the video only once but offers a download channel for all the following download needs.
AnyVid
Download any video from 1,000+ websites
for Windows 10/8/7
for Mac OS X 14+
for Android
It works stably and efficiently. All in all, it's a download tool that would make your life easier!
I believe it's worth a try!
You May Also Be Interested in These Topics