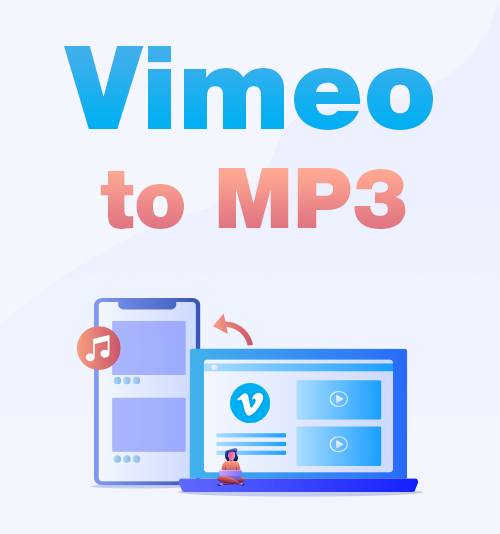 Vimeo is well-known for its plenty of original video creator users. Normally, Vimeo users edit their clips by themselves, including making the background music. Thus, you can frequently find extraordinary music works while browsing Vimeo.
Have you ever thought about download the Vimeo videos to MP3? In this way, you can save the audio track to your device and use it as your unique ringtone.
Please read the following post. I have 2 ways to convert Vimeo to MP3 that I think will be beneficial to you. Hopefully, you can find the better solution.
Come and see what I have!
Part 1. Convert Vimeo to MP3 Through a Converter
The first method I want to introduce is convert the Vimeo video to MP3 by using AnyMusic. It's a reliable Vimeo to MP3 converter developed by AmoyShare. AnyMusic has powerful functions but only requires easy operations.
AnyMusic is good at but not limited to Vimeo video conversion. Also, it supports music and video downloads from a lot of popular sites, converting videos to a different format, or downloading audio without picture. Generally, AnyMusic can fulfill all my needs and delivers satisfactory results.
Beginning with a free installation, let's see how AnyMusic can do for us.
Go to the Vimeo website, and find the video that you're interested in. Copy the link in the address bar.
Launch AnyMusic. Paste the video URL into the search bar. Wait for AnyMusic to search for the Vimeo video link.
After the result appears on the screen, you can choose the file format of your target video. Click the "More" button to see all the available options. Check the "MP3" box to download the audio.
The download task goes to the queue. When the progress bar finishes, you will find the MP3 file in your local folder by the default path.
Quick Tip: AnyMusic supports batch download. That means you can convert an entire video playlist at once.
Part 2. Convert Vimeo to MP3 Online
On the other way, you can also accomplish the work through online sites. If you are short of storage and want to avoid any more software installations, the AmoyShare MP3 Converter would be a good choice for you.
AmoyShare MP3 Converter is an online MP3 converter site that has no ads. Its impressive functions include converting video to MP3, MP4, FLV, WAV formats, and saving MP3 in high quality of (192kbps or 320kbps). Besides Vimeo, AmoyShare MP3 Converter offers video conversion from 250+ popular sites.
The specific steps are as follows.
Copy the Vimeo video link from its website address bar, and then paste it into the search box of AmoyShare MP3 Converter.
After AmoyShare MP3 Converter parsed the link, Click the "Download" button to choose the quality of the MP3 file. Then the download starts.
Quick Tip: AmoyShare MP3 Converter also supports keyword research. If you don't have the exact video link, you can still search for videos by typing the keywords in the search bar.
Easy enough, right? It only needs 2 steps to finish the entire task.
Conclusion
Did you learn something about converting Vimeo to MP3? In my opinion, when the video conversion problem meets reliable tools, it won't be such a difficulty anymore.
Either you can download Vimeo video at first and then convert it to different formats by AnyMusic, or you can complete all the work by AmoyShare MP3 Converter online.
AnyMusic
Get unlimited music downloads in 320kbps
for Windows 10/8/7
for Mac OS X 14+
for Android
Just with several clicks, the result always turns out satisfactory.
Come and try it by yourself!
You May Also Be Interested in These Topics