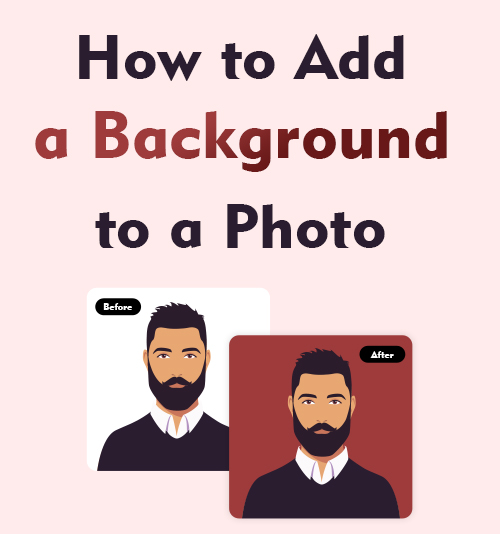 An eye-catching background dramatically improves the visual performance of a picture, while a white background seems unimportant and ordinary. However, a plain background is demanded in some important and official usages, such as in web design, commercial images, and profile photos.
I think it is a common upset that you have ever taken (what you think) a perfect photo on a white background, only to discover that the white comes out gray in post-production. You end up asking an expert about how to make a background white, but you can solve it by yourself.
Today, we're going to learn how to add a white background to a photo with some easy-to-use tools so that you don't have to waste your otherwise perfect pics.
Without further ado, let's jump into it. Add white background to photo right now!
When to Use a White Background?
That how a foreground looks depends not only on the witness itself but also on the background.
People pursue an exciting and gorgeous image background to make the foreground more stunning. However, the white background still plays a vital role in emphasizing the subject, especially in the product and profile photos.
The white background has become more and more popular in advertising. For example, sellers usually add a white background to their product photos and upload them to a business platform such as Amazon, Shopee, and eBay. But why a white background is crucial to product photos? The reasons show below:
1. The pure white color forms a huge color contrast with the product, especially that of dark color, making the product stand out. Among the arrays of Amazon products, the products with a white background catch customers' eyes easier.
2. The white background separates the product from the background and keeps customers' eyes on the product. Moreover, the product photo with a white background can better show the product's features because the white background will not distract customers' attention.
Besides that, the white background is a standard for the profile photo. A simple background should be the first choice for your profile photo because a busy background will take the focus off you. Among all the solid background, the white background is the cleanest and most minimalist. Furthermore, when we take a profile photo for a passport, resume, and ID card, the plain color must be required because white gives a sense of uniformity.
How to Add a White Background to Product Photo
White backgrounds are commonly used in product photos. Usually, adding white backgrounds to product photos is a daunting task because you need to edit a batch of them in one go. And some fresh Amazon sellers may put a question about how to get a pure white background for Amazon photos. In that case, a quick and simple tool can highly boost your effectiveness.
Two online bg removers are introduced in this part. Keep reading to get a handy tool.
1. Retoucher Online
Retoucher Online is an advanced background remover that runs on the website. Backed up with AI technology, Retoucher Online intelligently detects the subject and removes the background. After that, you can add different backgrounds to your subject.
Let's see how we can change black background to white in Retoucher Online.
Search for Retoucher Online on your browser and get into its website. The bg removal function is shown on the homepage.
Upload your photo. The photo background is instantly deleted, and the original photo without a background is displayed on the left.
Click "Edit" to add white background to photo. There are many ready-to-use solid backgrounds. You can choose the suitable one according to the product feature. Thanks for the tool, the problem of how to get a white background for photos is solved without effort.
Download your product photo.
2. remove.bg
remove.bg is a powerful tool to remove the image background in one click. The way on how to add a white background to a photo in remove.bg is also straightforward. Let's have a look.
Visit remove.bg's homepage. Once you enter the homepage, you can see the remove background function.
Hit the blue box to upload your photo. The processed image is shown with a gray-and-white checkerboard which indicates a transparent background.
Click "Edit" to get a new background for the photo. You can choose the "Color" option to add white background to the photo.
Save the product photo with a white background.
How to Add a White Background to Profile Photo
The profile photo is applied in formal and serious situations. So, the profile photo is always highly demanded that even the background color is controlled. You should do some revisions if you take a selfish and tend to use it as a profile photo. For example, you need to change black background to white.
I'd like to provide a step-by-step guide for you. Read on to get it.
3. PhotoRoom
PhotoRoom is an all-in-one photo editing platform for creating professional designs. Its powerful programs answer well on how to make a white background online.
Use PhotoRoom to add a white background to your profile photo in one click. Enjoy a wonderful performance!
Enter PhotoRoom's website and choose the "Free Tools" section > "White Background" tab.
Hit the pane labeled "Start from Photo" to upload your profile photo. The "White Background" program surprisingly removes the original background and adds white background to photo for you.
Tap "Download" to get a white background photo.
4. How to Make Background White in Photoshop?
Photoshop, a household photo editing software, allows we to create incredible art, and design gorgeous graphics like a pro. Its tools satisfy almost all requirements in your design, but most of them are so professional that using Photoshop becomes a challenging task for a beginner. If you are an inexperienced Photoshop user, your search history may be filled with questions about how to.
Start exploring the powerful editor with how to make a background white in Photoshop. The easiest way for a beginner!
Open your image in Photoshop. Double-click the Photoshop icon on your desktop, enter the home interface, and choose the Open tab to upload your photo.
Select the subject. Choose the Quick Selection Tool on the left bar to draw the shape of the photo subject which will be contained with the dotted line. Use the tool on the second-up bar to subtract unwanted background.
Cut the background. Turn to the Select > Invert option in the top menu bar. And the background is selected inversely.
Add a white background to the photo. You need to choose the round icon on the Properties panel > Solid Color. And set the white color as the new background color.
Click File > Save as in the top menu. And you can get your image with a white background.
Conclusion
Knowing how to add a white background to a photo in an accessible way dramatically facilitates the process to put white background on product photos and profile photos.
This post is of great help for a seller who takes a product photo by himself, or for a student who needs a professional profile photo.
Both adding a white background online and making the background white in Photoshop are easy to operate. Just follow your preference.
FAQ
Can I change the background of my photos?
The answer is "Yes." Many photo editors support you removing the photo background and adding a new one. For example, you can upload your photo to PhotoRoom, and use its Background Remover tool to delete the original background. After that, you can add a new background to the picture.
How to get a white background in photos on iPhone?
Getting a white background on iPhone can be unbelievably quick. Search for PhotoRoom on your chrome, enter its official website, choose the White Background section, and upload your photo. Finally, you get a white background in pictures within seconds.
You May Also Be Interested in These Topics