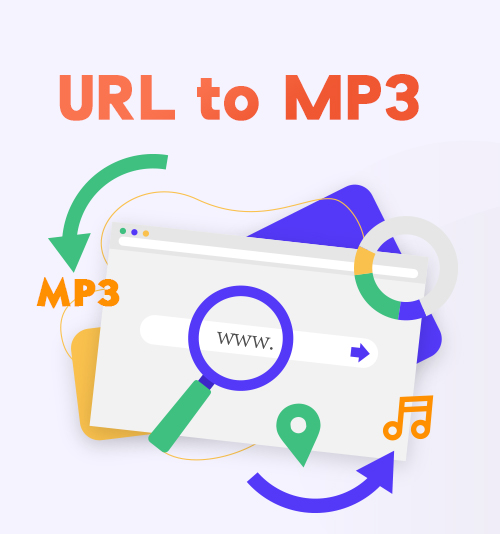 Nowadays, there are many popular music or video sharing sites that provide online audio or video streaming services. Different kinds of content are hosted to cater to the taste of different users.
However, you cannot listen to or watch videos offline because online content streaming needs a good network connection.
So, it would help if you convert the URL to MP3 for offline listening.
There are three ways for you to convert a video link to MP3. Using an online URL to MP3 download sites, or using a link to MP3 convert software on PC, or convert link to MP3 via an app.
Many online link to MP3 download sites have malicious ads or viruses that may harm your computer. Compared with them, an URL to MP3 converter provides a faster, safer, and more stable service.
Here, in this article, I will introduce the best URL to MP3 converter and teach you how to convert URL to MP3. If you haven't found a reliable tool to convert the video link to MP3, you can try the URL to MP3 converter mentioned below.
Part 1. How to Convert URL to MP3?
Among a variety of link to mp3 converters, AnyMusic stands out due to its powerful capabilities.
AnyMusic serves not only as a music downloader but also a URL to MP3 converter. With AnyMusic on hand, converting videos link to MP3 format becomes easy.
It supports over 1,000 sites, enabling you to download MP3 music directly from music hosting sites like SoundCloud, Jamendo, Audiomack, and so on, or convert video links to MP3 format from video streaming sites including Mixcloud, Vimeo, Dailymotion, etc.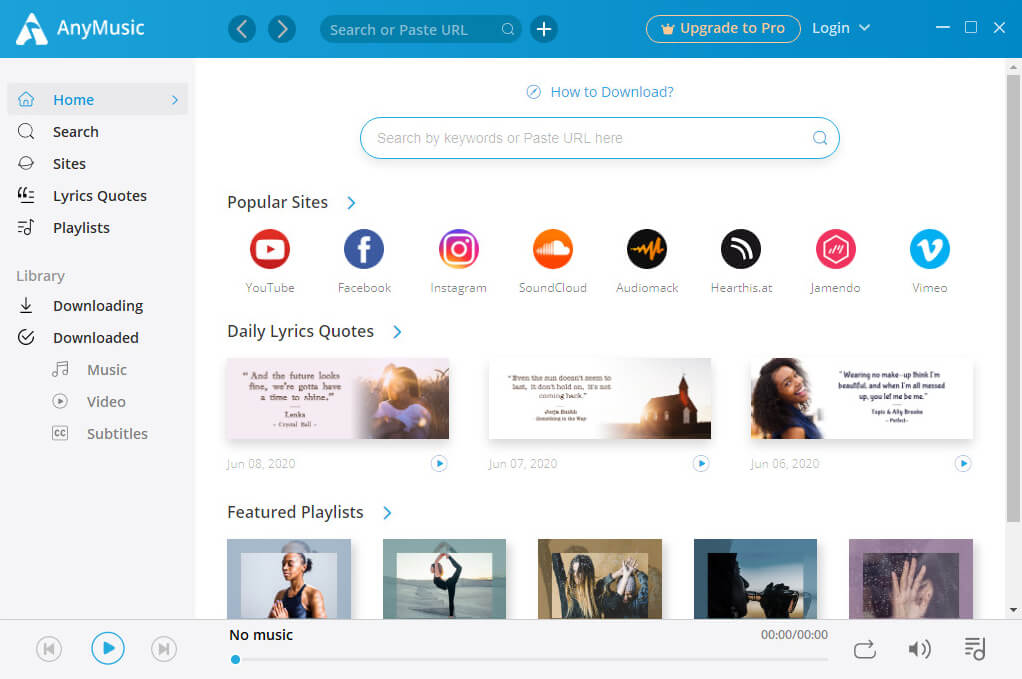 AnyMusic has a smart search engine that allows you to download music or music videos by searching music names, artists, albums, or other related keywords or pasting the video link from the streaming sites.
Besides, batch download of the entire playlist is also available.
Now, you have taken a look at the music converter AnyMusic. You may ask, "how do I convert URL to MP3 with AnyMusic?"
Don't worry! I will show you in the following part.
As mentioned above, AnyMusic is a free link to MP3 converter for all devices. Install AnyMusic on your device and learn the step-to-step guide!
AnyMusic
Get unlimited music downloads in 320kbps
for Windows 10/8/7
for Mac OS X 14+
for Android
AnyMusic supports multiple media streaming sites. Here, I will show you how to convert URL to mp3.
Copy a video link from website.
Paste the video link on the search bar of AnyMusic.
Click on to get the search result. Here, you can directly click on the MP3(128K) to convert the link to mp3, or click on the More button to get more audio formats and quality.
When finish converting URL to mp3, go to the Downloaded > Music to enjoy the downloaded music.
Music downloaded! Listen to it with the built-in player now!
You can also transfer the downloaded music to your devices so that you can listen to it when you are running, doing yoga, or on a trip. Click on Open to locate the downloaded music and then transfer them to your mobile phone, MP3 player, or other devices via a USB cable.
Part 2. Best Free URL to MP3 Online Converter
If you are not used to adding something new to your device, don't worry, I will introduce 3 practical online URL to MP3 converters to you. You can visit these websites via your browser, and no installation is needed. These online tools make it easy to convert links to MP3.
Free MP3 Finder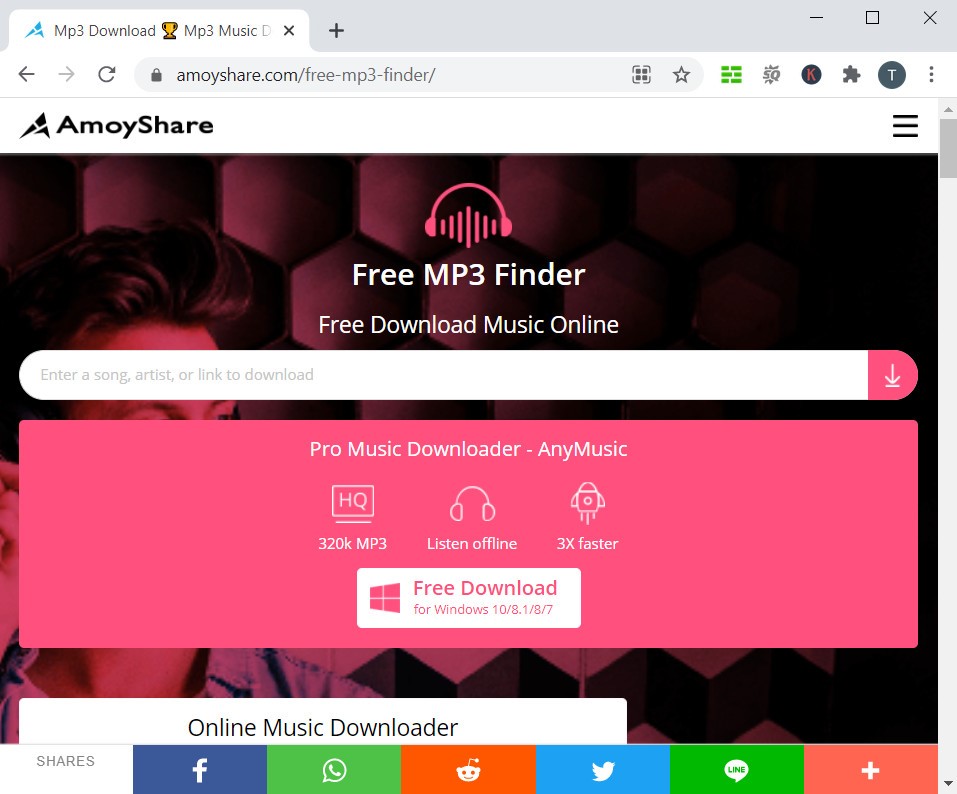 Free MP3 Finder is the best online URL to MP3 converter that I've ever used. This website has a clear and straightforward interface. When you visit it, you won't miss the search box at the center of the webpage. Free MP3 Finder can download videos from 250+ websites and has neither ads nor malware. It's totally free to convert link to MP3 using Free MP3 Finder.
The download steps are pretty easy. Let's see how to use it!
Copy the video link from websites.
Paste it into Free MP3 Finder, and then click the magnifying lens icon to start parsing.
After Free MP3 Finder shows the search result to you, you can select the available MP3 download option. Click on the Download button, and you will see the MP3 file added to the browser taskbar.
When the download task finishes, you can click on it to play the MP3 or check it in your local folder.
Y2Mate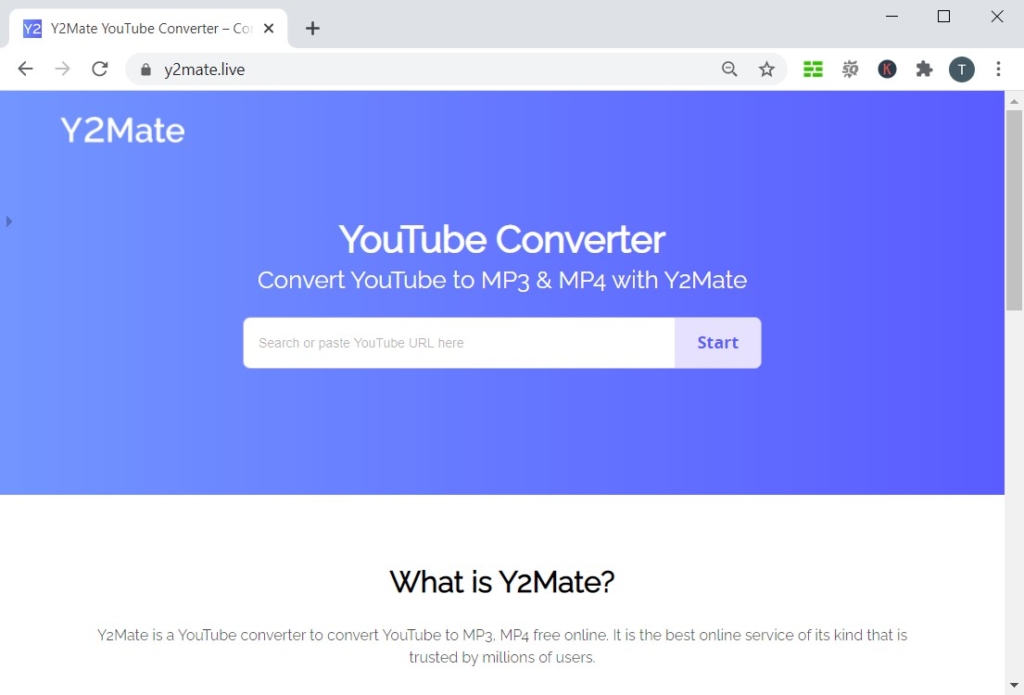 Y2Mate is another online URL to MP3 converter. By simply copying and pasting the link into its search bar, you will get a list of available download results within a few seconds. Choose MP3 format before you click the Download button, and Y2Mate will initiate the download and conversion process in one go. You can see the MP3 file appear in the taskbar. And after it finishes, you can see it saved into your local disk.
OKmusi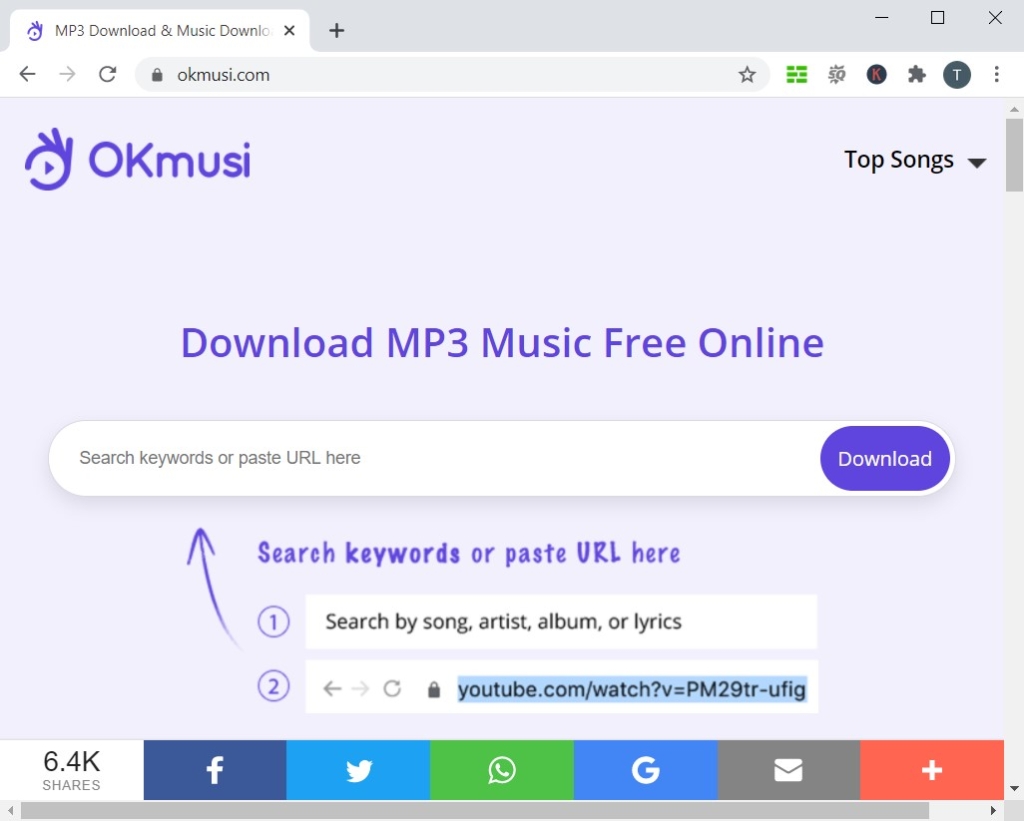 Converting URL to MP3 is pretty easy with OKmusi. This website is an outstanding tool to help you download links as MP3 files. Grab the exact link from another website, and then paste it into OKmusi. It just takes a couple of seconds to download the link to MP3 after you hit Enter key. You will see the audio and video options in the search results. Select 128k from the audio section, then click the Download button. What's left to do is to wait for the download task to finish, and then you can play the MP3 via other music players.
Part 3. Convert URL to MP3 on Mobile Phone
For mobile devices, I also have good suggestions. Whether you are an Android user or an iPhone user, converting URL to MP3 shouldn't be too difficult for you.
AnyMusic App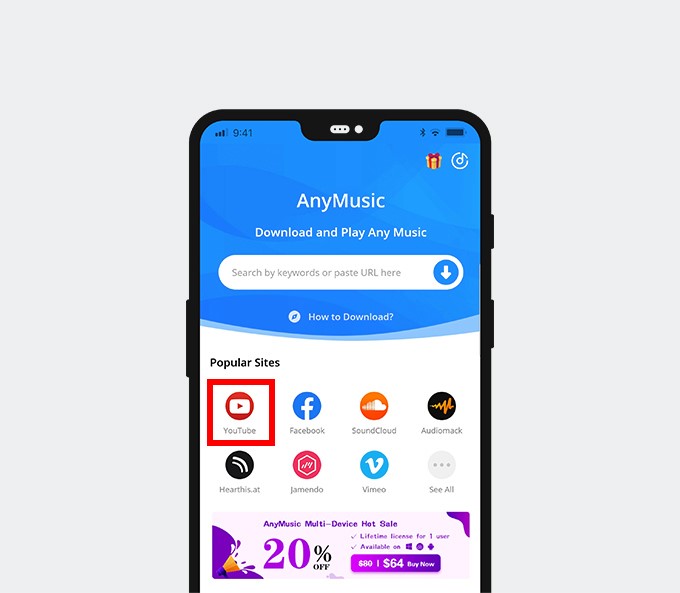 The best link to the MP3 converter mentioned above has an Android app as well. You can find the installation package on AmoyShare official website. The installation won't take too long. After you get this app on your home screen, you can convert the URL to MP3 immediately. The AnyMusic app has the same features as the program on PC. It provides a faster and more stable service than any other online URL to MP3 converter.
Copy the link from other websites like Jamendo, Facebook, SoundCloud, etc.
Open AnyMusic App. This app can detect the copied link in your clipboard automatically. Paste the link into the search box. Tap Search to start.
Tap the Download button, and then you will see the download list in the menu. Choose the MP3 format, and then tap the Download button again.
You can check the download process in the Downloading tab.
When the download task has finished, you will see the MP3 file in your Library. You can play it in the app.
DoremiZone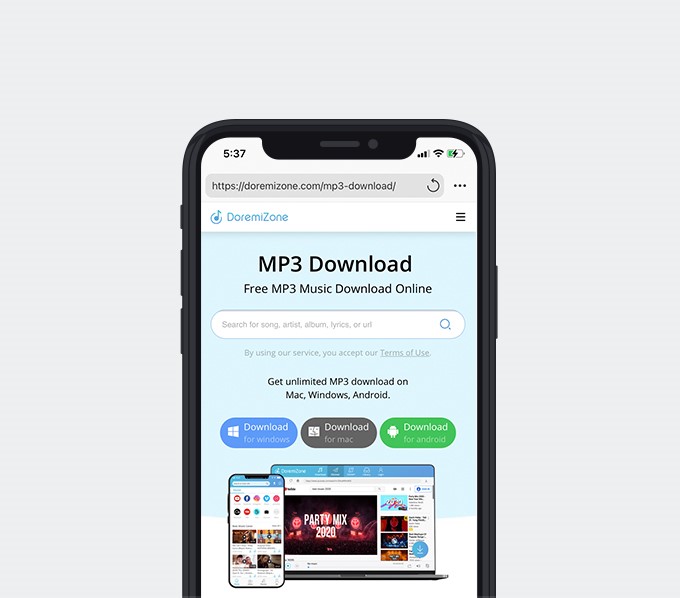 For iOS users, the best choice is the DormeiZone MP3 Downloader. Safari, the default browser on Apple devices, can recognize the download link and add the MP3 file directly to its taskbar. You won't need any other file manager app to help you convert URL to MP3. Likewise, copy the link and paste it into DoremiZone MP3 Downloader, you can select the MP3 file you wish to download.
Once the download task has finished, you can view it by tapping the download taskbar on the top right corner. The downloaded MP3 will be saved to your Files.
Summary
If you want to save the audio from the websites to a local file, you can convert URL to MP3. You can try Free MP3 Finder, Y2Mate, or OKmusi mentioned above if you do not find a reliable URL to MP3 converter.
AnyMusic is the best link to mp3 converter that stands out among the URL to mp3 download tools.
With AnyMusic, you can download music, music videos, or playlist to mp3 format for offline listening.
Hope you will benefit from this guide!
Frequently Asked Questions
How to convert URL to MP3?
Using AnyMusic to convert URL to MP3 is the most straightforward way. Copy the exact URL from websites like Mixcloud, and then paste it into AnyMusic's search box. Select MP3 as your download format, and AnyMusic will automatically convert the link to MP3 while downloading it.You can play the MP3 in AnyMusic, or double-click the MP3 File in the Downloaded tab to view it in the folder.

How to download MP3 from URL to Android?
The best choice is the AnyMusic app. AnyMusic app offers a faster and more stable service with easy download steps than other online URL to MP3 converters. AnyMusic app can also automatically detect the link you copied in the clipboard, which will make the download process much more convenient.
You May Also Be Interested in These Topics