What's MP3 Converter from AmoyShare?
---
AmoyShare MP3 Converter is the best tool to convert video to MP3 since it is safe, powerful, reliable and easy to convert any videos to MP3.
It supports to convert videos to MP3 audio from online video sites, like Instagram, Facebook, etc.
It can convert MP4, FLV, WAV, M4A videos to MP3, and save MP3 in high quality of 192k, or 320k.
Impressed?
AmoyShare MP3 Converter goes beyond that.
What's the Best MP3 Converter Online?
---
Actually, AmoyShare Online MP3 Converter is also the best video to MP3 converter. It allows you to convert any videos to MP3.
But how to convert video to MP3 online for free?
Please find the guide below.
How to Convert Video to MP3?
---
How to convert video to MP3 with AmoyShare MP3 Converter free online?
Take Favebook Video for example. Here are 2 steps to convert Facebook video to MP3:
Step 1. Copy a video URL from Facebook and paste it into the search box of AmoyShare MP3 Converter.
Step 2. Click Download and choose an MP3 audio format to convert.
Tips to download video to MP3:
Here is a quick tip, AmoyShare MP3 Converter supports to find videos by searching keywords in the search box of MP3 Converter. So you don't need to go to the website to copy the Video URL.

Easy, right?
MP4 to MP3 Converter
---
Most of the online videos are MP4 format nowadays. AmoyShare MP3 Converter can easily convert MP4 to MP3 for you.
MP3 Converter APP – AnyMusic
---
Besides the free online MP3 converter tool, is there an MP3 converter app for Android, Win, or Mac?
Yes, definitely.
AnyMusic, powered by AmoyShare, is an all-in-one MP3 converter.
Besides the online MP3 converting service, the AnyMusic app provides many more functions to convert videos to MP3. It supports batch conversion and conversion of videos longer than 2 hours. It also supports a higher quality video to MP3.
If you are an android mobile phone user, you can find AnyMusic here.
If you are a Win or Mac computer user, please learn more about AnyMusic here.
Or don't hesitate to download AnyMusic below directly. It is safe and 100% clean.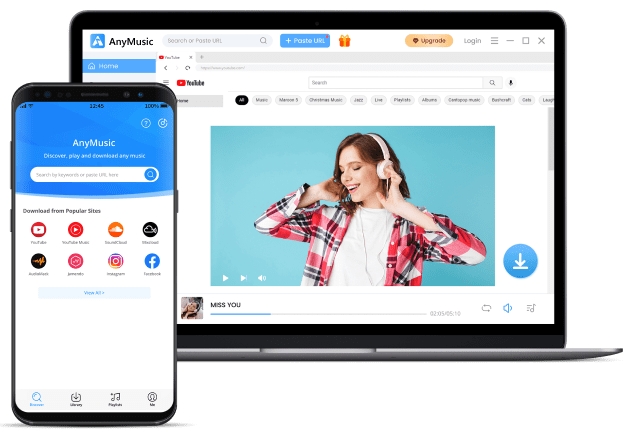 User Reviews
2021-01-05
5
4.8

of 5 stars
242

reviews
Have fun here? Give us a 5-star rating! We'll do better and better.
Copyright Notice
AmoyShare MP3 Converter respects the intellectual property rights of all content, and any kind of copyright infringement is not allowed. All mp3 conversion is only for personal use, and can't be used for commercial purpose.
Last updated: Jul 07, 2022