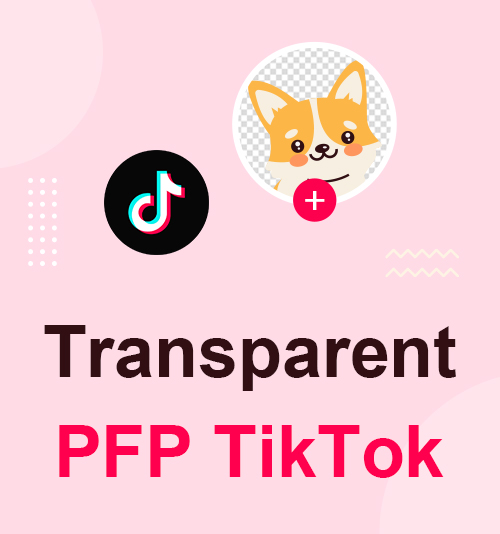 Social media has become a great place to make friends, market your products, and make money. A profile picture is one of the first things people see on your page, which is why it is suggested to have an attractive, transparent profile picture.
One of the best ways to make you or your main features of the profile picture stand out is by make a transparent background. For social pages like Instagram, TikTok, and Facebook, transparent PFP goes a long way to help you draw the viewers' attention.
During this feature, we look at the TikTok profile picture trend and help you create the best profile picture for TikTok.
Let us dive in.
What Does Transparent TikTok PFP Mean?
You have probably seen the craze all over TikTok regarding transparent profile pictures. So many people have opted for these sleek images for profile pictures on TikTok.
But what does transparent TikTok PFP mean? A transparent PFP is an image where the background has been removed. Some people replace the background with a solid color, which is not a transparent profile picture.
Achieving a stylish, transparent profile picture on TikTok is simple if you can access the right tools. Luckily, the internet is full of excellent applications to help you create any type of image you are interested in. Let's take a look at transparent PFP makers that can be found online or downloaded to your computer.
How to Make Transparent PFP for TikTok?
The following 2 guides help you create a fresh look for your TikTok page by making a transparent TikTok PFP for your page. These tools are for easy-to-use and ensures an extra edge to your TikTok profile.
Let's look at these transparent PFP makers that will help you quickly join in on the next TikTok profile picture trend. Who does not love an excellent PFP for TikTok?
How to Get a Transparent PFP for TikTok on Android?
In recent statistics, over 40% of Americans use Android devices daily, so why not use a tool that can allow you to make a transparent TikTok PFP while riding the bus or subway?
This following online tool makes it easy for anyone using an Android to create a fantastic transparent profile picture. Follow these next steps to aid you in creating a transparent PFP for TikTok.
Go to your preferred browser on your Android device and go to the AmoyShare Transparent Background Maker.
Once you find yourself on the website, click on the upload image tab, this will take you to your gallery, where you should select the image you want to have a transparent background.
Once the image is uploaded, AmoyShare Transparent PFP maker will automatically remove the background and create a transparent one. Beneath your image, you will see two download buttons. One is for a standard version, and the other is an HD image. Save your photo on your device.
This is so easy to do that I am sure my 80-year-old grandmother can do it with her eyes closed. Now that you know how to use this amazing transparent PFP maker online, go ahead and make your TikTok profile sleek and stylish.
Best Way to Make Transparent Profile Picture
Let's look at one of the best ways to make ultra-high definition transparent PFP for TikTok by using the AnyErase application. It is an AI-powered transparent maker which is optimize to cut out portrait precisely and quickly. On top of that, AnyErase is available for Windows and 100% safe for download.
Download it right now and get a transparent PFP right now.
AnyErase
Remove watermark from videos and pictures magically
Once the download and installation of AnyErase are complete, open the application. When the application opens, click the People tab. Then you will be directed to the upload tab. Now add your image to the application to remove the background.
Once the background is removed, you can select the export button to save the image to your device. This will save an HD image with a transparent background that you can see as a PFP on TikTok.
How to Put Transparent PFP on TikTok?
Now that you have created a transparent PFP for TikTok, you might ask yourself how to upload it. For some, this seems easy enough, but it can be unclear if you have never changed or added a profile picture to TikTok.
Many people find TikTok overwhelming because some of the settings can seem confusing compared to Facebook and Instagram. But do not stress, as I am about to show you how to add a transparent PFP TikTok.
Open the TikTok application on your device and, tap the profile button in the corner, click on "Edit Profile."
Next, select the "Change picture" tab by clicking on the words underneath. Then, select the saved transparent photo on your gallery and upload it.
Crop your image in the TikTok app to suit your vision. Next, click on the save button in the corner of the screen, and you will be retaken to the main page.
Now your TikTok PFP is uploaded successfully.
Final Thoughts
PFP for TikTok is essential because it represents who you are to the world without using words.
If a PFP on TikTok is overwhelming, users tend to associate that with the content, avoiding being too much. Transparent PFP is the way to go because of its minimalistic vibes and sleek appearance.
This exclusive feature helps you create your transparent PFP for TikTok with just a few easy steps. You can either use AmoyShare Transparent Background Maker or AnyErase professional PFP maker to get the best transparent TikTok PFP instantly.
Try it right now!
AnyErase
Remove watermark from videos and pictures magically
FAQ
How to make a transparent PFP for TikTok on iPhone?
Visit AmoyShare transparent PFP maker and upload an PNG or JPG profile image. Then AmoyShare will delete the background and send you PFP with transparent background. Hit the download button and you are good to go.
How to get a transparent PFP on TikTok?
Firstly, you will need AmoyShare transparent PFP maker to help you turn any image into a transparent PFP for TikTok. Once you use it to create your transparent PFP, save the image to your device. Next, upload it to TikTok and replace your old PFP.
You May Also Be Interested in These Topics