Best YouTube Video Downloader – Ultimate Guides 2018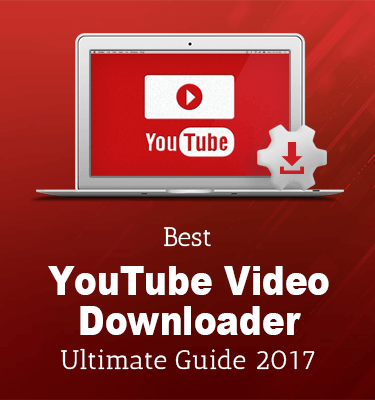 YouTube is one of the most significant websites in the world with billions of people watching videos on it every day.
However, there is a big problem for YouTube users, you can only watch its videos online.
That means you cannot watch YouTube videos on subway or wherever without Wi-Fi.
Well, unless your cellular data is unlimited.
You know what?
I'm going to solve this problem for you in this article.
The first step is to find an appropriate YouTube video downloader.
And here I list 5 most popular online video downloaders in the market and assess the both strength and weakness for all of them.
Now, Shall we begin?
#1 Online Video Converter
Online Video Converter is the most talked about online video converter. It has a simple and user-friendly interface, and the most important thing is, it is totally FREE.
User Experience
Unlike the most of YouTube downloaders can only search videos by pasting the URL from YouTube.
In Online Video Converter, we can both search video by name and URL.
Whenever the name of a song comes up to your mind, you can immediately search it and download it.
Therefore, it's no need to search the video on YouTube first and copy the URL which makes the search process a lot more convenient.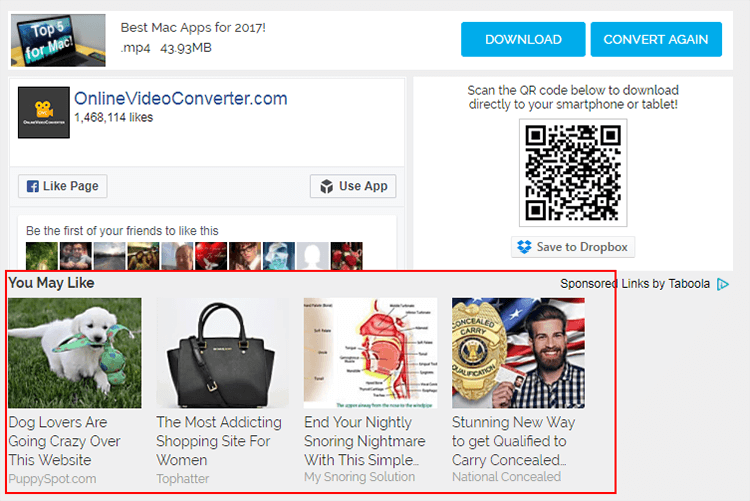 However, there are also several unfavorable aspects of Online Video Converter.
First, it has advertisements. I understand that as a company, Online Video Converter needs to make money through ads. But as a customer, we always want to visit a clean website with no ads.
The second is that we cannot watch the video online. Once we search a video or music on it, we can't make sure if that is the video we want.
Additionally, Online Video Converter doesn't allow us to search playlist, which is also annoying because that force us to search playlist videos one by one.
Resources
Online Video Converter allows us to convert YouTube video into audio and video.
Notably, it supports up to 14 formats for both of them, including 7 audio formats and 7 video formats.
That's a large number comparing to other YouTube downloaders. With 14 formats, Online Video Converter can satisfy most individuals' needs.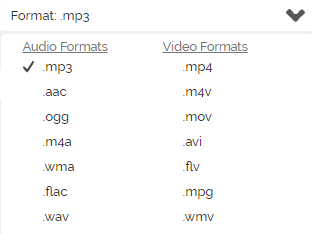 In addition, Online Video Converter supports more than 15 mainstream sites such as YouTube, Instagram, and Facebook.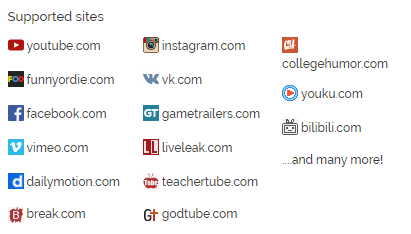 Notably, I find out that Online Video Converter has a problem with searching music video. Every time when I try to search music on it, a notice comes up and says "The video cannot be converted, please try another link."
I'm not sure if it's a temporary problem or not. Hence, if the video you want to download contains music, you should probably change to another downloader.

Free
Friendly UI
Multiple search options
Various of formats
Support mainstream sites
Annoying advertisement
Can't watch video online
Can't search playlist
Not support for music downloading
#2 Savefrom.net
Savefrom.net is another online YouTube video downloader. Besides, it also provides software called Ummy Video Downloader.
User Experience
Savefrom.net doesn't have much search options for us, we can only search videos by pasting URL.
Which means users can only find videos they want to download on YouTube but cannot search it directly on the site of Savefrom.net.
In addition, like Online Video Converter and most other YouTube downloaders, we can't search playlist and watch video online on savefrom.net.
Resources
As a powerful video downloader, Savefrom.net supports up to 4K resolution.
Nevertheless, we have to download their software Ummy Video Downloader to enjoy high-quality video.
If you don't like the software program, sorry, you can only download up to 480p no sound video on the site. Hmm... it is very unfriendly, isn't it?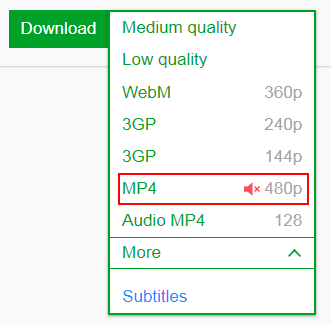 Even so, there are still some features of Savefrom.net I like.
For example, it is a totally ads-free website that we can enjoy the download process without the bothering of advertisements.
Also, since the website supports 10 different languages, you can still use this website even you don't understand English.
Additionally, its software Ummy Video Downloader is very powerful. With the program, you can download HD videos up to 4K resolution.
And it has YouTube add-on that allows us to directly download video from YouTube.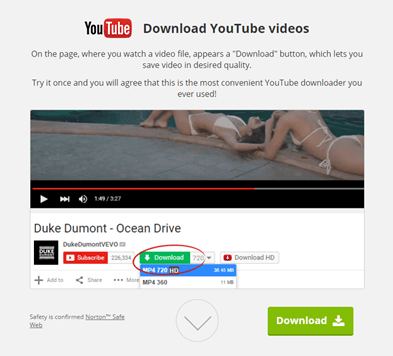 At last, Ummy Video Downloader is a paid software.
It offers three options for users: $4.99 for one month, $19.99 for six months and $39.99 for a lifetime.
Does it deserve that price? It's all up to you.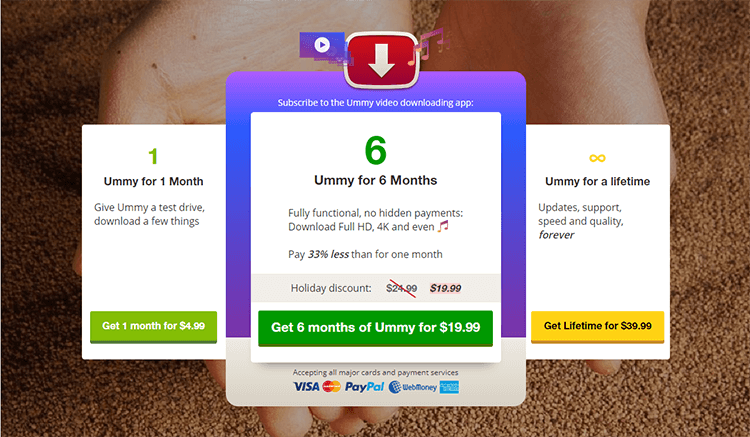 Very powerful software
Support 10 languages
Ads free
Can't watch video online
Single search option
Poor website user experience
#3 Free YouTube Downloader (Editor's Pick)
AmoyShare is a company who previously focus on music downloading. Its first product AnyMusic can help users to download music to PC, Mac, and mobile devices. However, its online Free YouTube Downloader also deserves your try.
User Experience
The user interface of Free YouTube Downloader is very clean and straightforward. There is only a search bar with some brief descriptions. Moreover, you won't see any ads on the program.
In order to let the user find their songs easier, Free YouTube Downloader supports video search both by name and the URL of a song.
And FYD keeps this great feature with its video downloader, thus you can just search the name of your favorite movie star, then all videos about he/she will show up.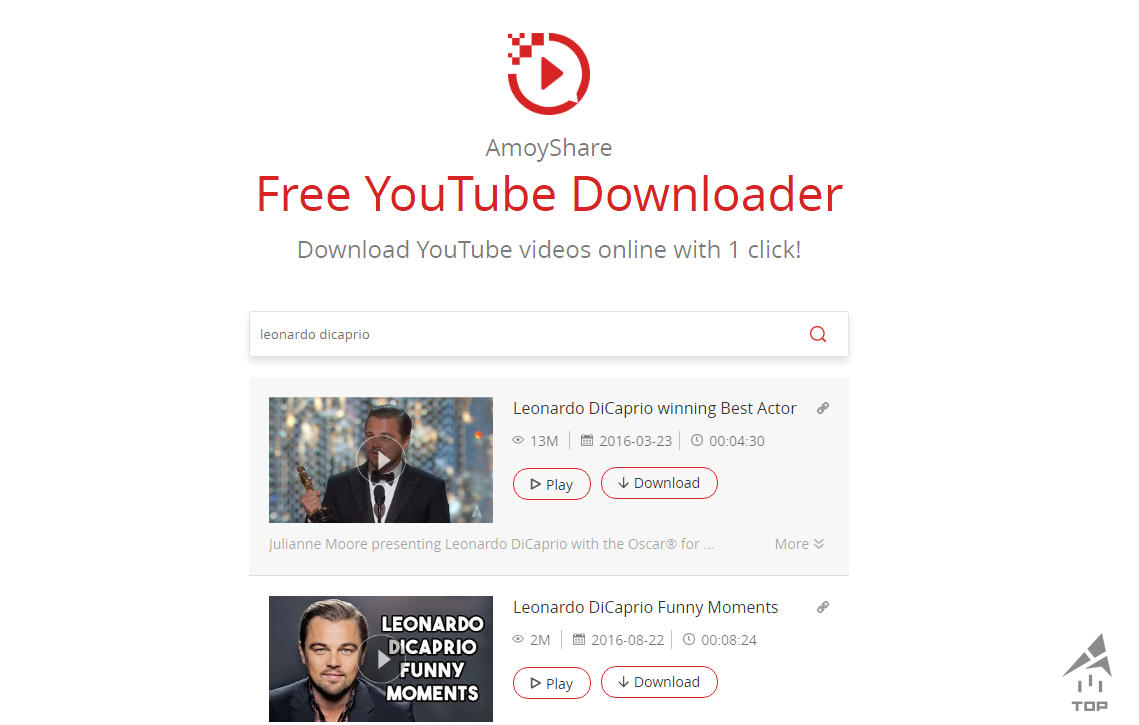 Now, you can watch the video you like by clicking "Play" on the right side, or you can directly download the video.
Furthermore, you can also search playlist from YouTube on AnyUTube. You only need to copy the link of a playlist and paste it to search bar, all content in the playlist will show up on the search result page. It's quick and easy.
Resources
Free YouTube Downloader supports video formats like MP4, 3GP and WEBM. Meanwhile, Free YouTube Downloader can support download videos up to 720P resolution, which is enough for most people's daily use.
However, considering that most of other video downloaders have already supported download 4K videos, 720P seems a little bit behind.
Fortunately, Free YouTube Downloader supports video download from over 1000+ website, which covers most of the mainstream websites.
As a new online video downloader, FYD has superior user experience, rich websites support.
Want to know the best part? It is totally free. You can try it via the link here https://www.amoyshare.com/free-youtube-downloader/ .
Free
Friendly UI
Can watch video online
Search video by URL and keywords
Multiple search options
Ads free
Support 1000+ sites
Not support 4K video
Limited formats support
Only support English
#4 KeepVid
The UI of KeepVid is one of my favorite among all the video downloaders.
However, here is a bad news. KeepVid shuts down their online video download service since 17 Mar. 2018 which means KeepVid no longer allows users to scrap YouTube video online.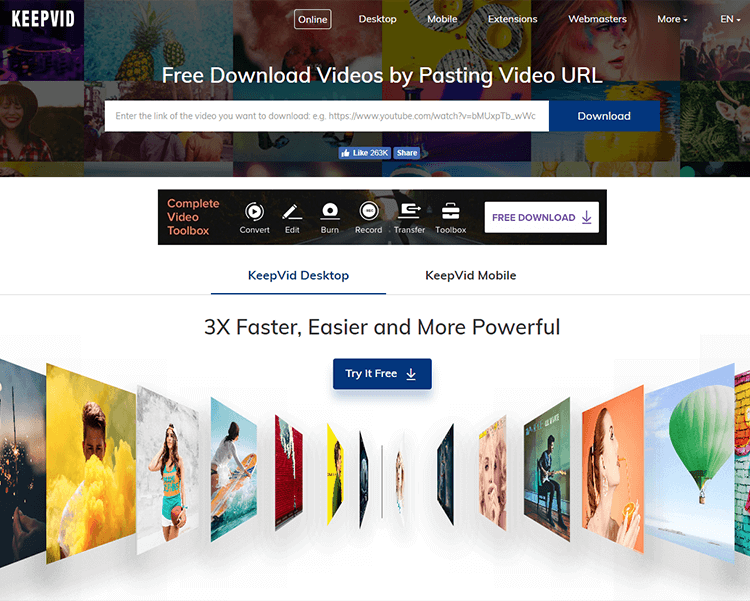 User Experience
Like most of the video downloaders, Keepvid doesn't allow us to search video's name, it might be a little inconvenient for people who like to directly search for a video with keywords.
In addition, it doesn't support play video online or search playlist as well.
Hence, the beautiful UI doesn't bring better user experience.
Resources
After the search results show up, we will find out that we can download up to 720P video for free.
If you want to watch videos with higher resolution, you can either download no sound version for free or purchase the Keepvid Pro.
On the other hand, Keepvid supports 3 video formats and 2 audio formats, which is also not much comparing to Online Video Converter.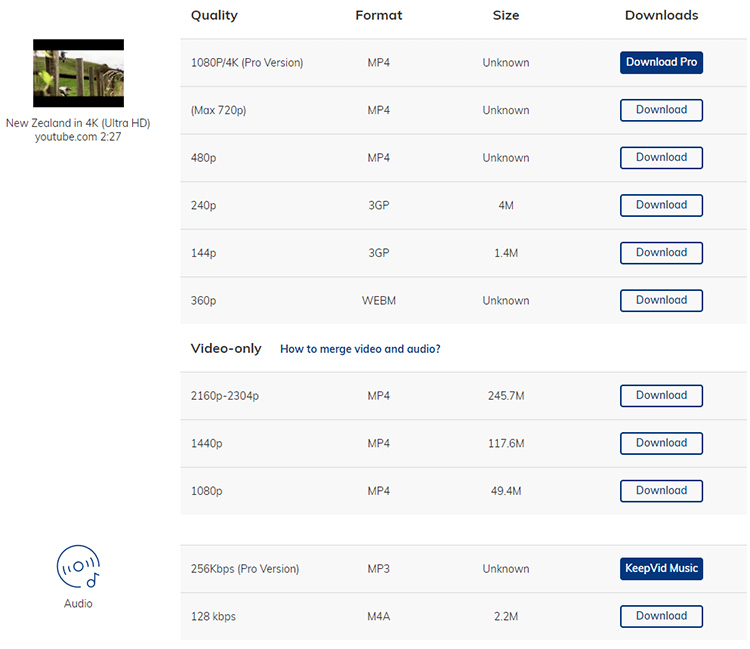 Moreover, Keepvid claims it supports over 10,000 sites, and lists out 28 of them. If that is a true number, Keepvid will support the most sites among those video downloaders.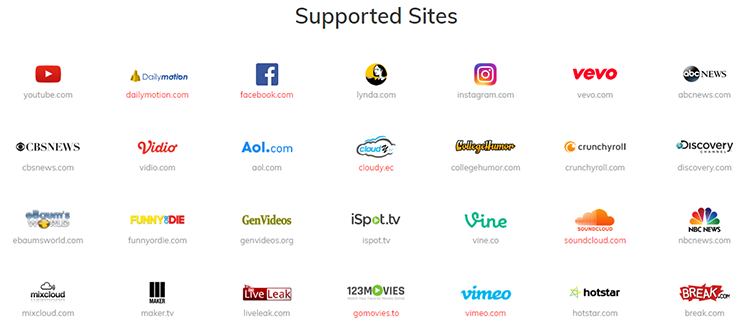 At last, the price of Keepvid Pro is $19.95 for 1-year license, $29.95 for a lifetime license and $72.5 for a family license.
Extraordinary UI
Support 10,000+ sites
Support 4K video (Keepvid Pro)
Can't search playlist
Single search option
Can't watch video online
Advertisement
Can't use all functions for free
#5 Video-Download.online
Finally comes to the last one of the list.
Video-Download.online has a decent user interface, everyone knows what to do once they open this website.
Notably, the dynamic interaction of this website is really attractive and I really enjoy using it.
Nevertheless, there are also advertisements on the site, which might be a pity.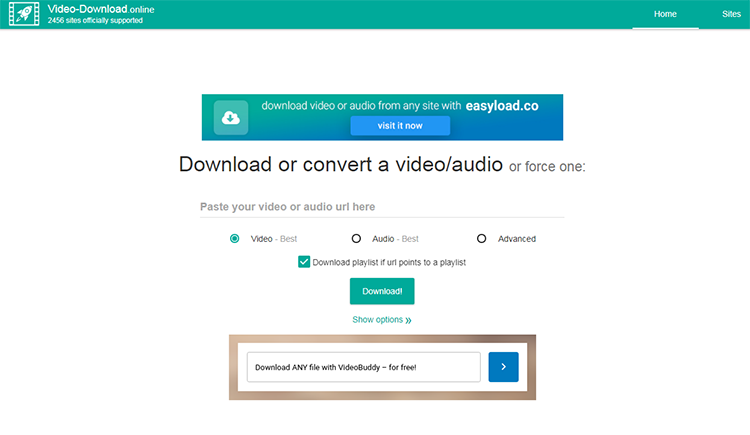 User Experience
Video-download.online allows us to search playlist, which is really practical for me.
However, it doesn't support search by name of video, just like most of other video downloaders, we should paste the URL from YouTube. In addition, we cannot watch video online on it as well.
Resources
Video-download.online supports 3 video formats and 3 audio formats, it's a decent number for a video downloader.
What impressed me most is, we are able to download up to 4K video for free on it, and there is no restriction like you should download software for sound video, which offers an opportunity for users to enjoy 4K videos for free.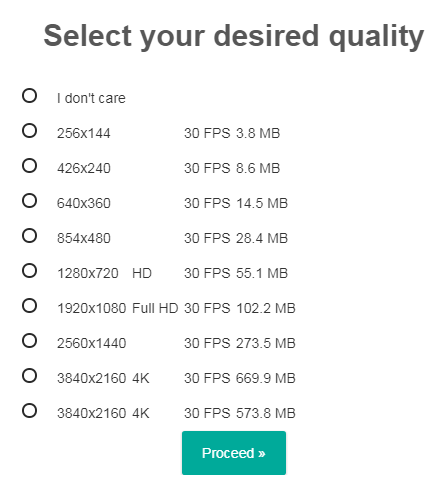 Besides, Video-download.online supports 2,456 sites and it lists up all of them.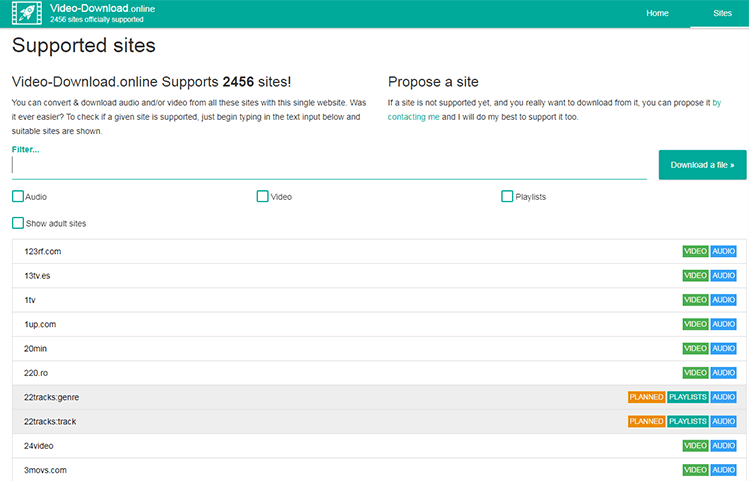 In a word, though Video-Download.online still needs to improve its user experience, it is overall a great free video downloader.
Free
Great interaction
Can search playlist
Support 4K videos
Support 2456 sites
Single search option
Can't watch video online
Advertisement
Only support English
Summing
After reading this long article, you might be a little bit confused and don't know which YouTube video downloader you should choose.
Well, here I list all notable features for those five video downloaders. You can select the downloader according to your preference.
| | | | | | | | | |
| --- | --- | --- | --- | --- | --- | --- | --- | --- |
| Name | Formats | Search options | Watch video online | Search playlist | Video Quality | Resource | Ads | Price |
| Online Video Converter | 14 | URL + NAME | NO | NO | Up to 1440P | 15+ | YES | FREE |
| Savefrom.net | 3 | URL | NO | NO | up to 4K (no sound) | / | NO | $39.9/Lifetime |
| Free YouTube Downloder | 4 | URL + Keywords | YES | YES | Up to 4K | 1000+ | NO | FREE |
| Keepvid | 5 | URL | NO | NO | 4K (Pro) 720P (Free) | 10,000+ | YES | $29.95/Lifetime |
| Video-download.online | 6 | URL | NO | YES | Up to 4K | 2456 | YES | FREE |
What is the best YouTube video downloader for you?
I guess you can make the decision now.
Just download your favorite YouTube video and watch it everywhere!
Alright!
That is all of my ultimate guides 2017 for YouTube video downloader.
I hope you all enjoy reading it.
If you still have any questions about downloading YouTube videos, just let me know in the comments below. I'll see you next time.
YouTube Downloader Online Free: