Justin Bieber Top 10 Songs Free Download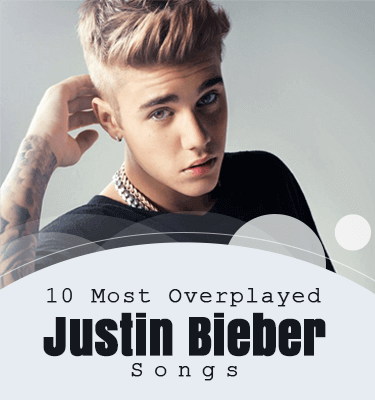 Born on March 1, 1994.
He is a Canadian singer and songwriter.
He was discovered on YouTube and signed to Usher.
His song Baby became an international hit in 2010.
He is Justin Bieber.
Today, I'm going to share with you a list of the best Justin Bieber songs.
You can free download any of them by clicking the link below each YouTube video.
Let's get started!
# Top 10 Justin Bieber Songs on YouTube
10. DJ Snake – Let Me Love You ft. Justin Bieber
>>> Justin Bieber songs free download mp3
"Let Me Love You" debuted at #12 on the US pop chart and finally climbed to #4, becoming Justin Bieber's 12th top 10 pop hit. It has been viewed 417,543,999 times up to now.
9. Justin Bieber – One Time
>>> Justin Bieber songs on YouTube free download
"One Time" was released in 2009, peaked at #17 on the US pop chart and sold over a million digital copies. It has received 537,159,165 views as you can see.
8. Justin Bieber – Boyfriend
>>> Justin Bieber songs download
Released on May 3, 2012, the video broke the VEVO record for having the most views in a 24 hour period with 8 million. And now, it reaches to 667,775,517 views on YouTube.
7. Justin Bieber – Never Say Never ft. Jaden Smith
>>> Justin Bieber songs list free download
The song is used as the theme song for The Karate Kid, and features rap interludes from the film's star, Jaden Smith. It has been viewed 702,738,164 times.
6. Justin Bieber – Beauty And A Beat ft. Nicki Minaj
>>> Justin Bieber videos free download
The accompanying music video was co-directed by Justin Bieber with Jon Chu. Its record is 778,535,997 views.
5. Skrillex and Diplo – "Where Are Ü Now" with Justin Bieber
>>> Justin Bieber hits mp3 free download
The song brought Justin Bieber back to the pop top 10 in triumph after three years absent. And the total views are 964,606,615.
4. Justin Bieber – Love Yourself
>>> Download Justin Bieber new songs
It was his third #1 hit single from the album Purpose making Justin Bieber the first male artist since Justin Timberlake to accomplish that feat. As you can see, it received more than 1 billion views. Amazing!
3. Justin Bieber – Baby ft. Ludacris
>>> Get Justin Bieber journals songs
This is one of my favorite songs of Justin Bieber. The official music video is the 23rd most-viewed video all-time on YouTube. And it up to 1,679,517,620 views recently.
2. Justin Bieber – What Do You Mean?
>>> List of Justin Bieber songs
It was the first #1 pop hit of Justin Bieber's career and became the 23rd song to debut at #1 on the Billboard Hot 100. It has received 1,763,794,792 views.
1. Justin Bieber – Sorry
>>> All Justin Bieber songs free download
It spent 7 weeks at number one on the Canadian Hot 100 and 3 weeks at number one on the US Billboard Hot 100. "Sorry" has become one of three the most-viewed videos in YouTube, which reached to 2,715,459,106 times. How legendary it is!
● Justin Bieber Albums
Justin Bieber has released 4 studio albums, including My World 2.0 (2010), Under the Mistletoe (2011), Believe (2012) and Purpose 2015).
Tips: An Easy Way to Download Justin Bieber YouTube Playlist for Free.
With AnyMusic, you can enjoy downloading Bieber songs playlist within minutes. Let's see how it works.
Let's take downloading Justin Bieber Purpose full album as an example. So, I first need to paste its YouTube link to AnyMusic. Then, I simply click "All" to download all videos from the playlist. Did you get it? It's your turn now!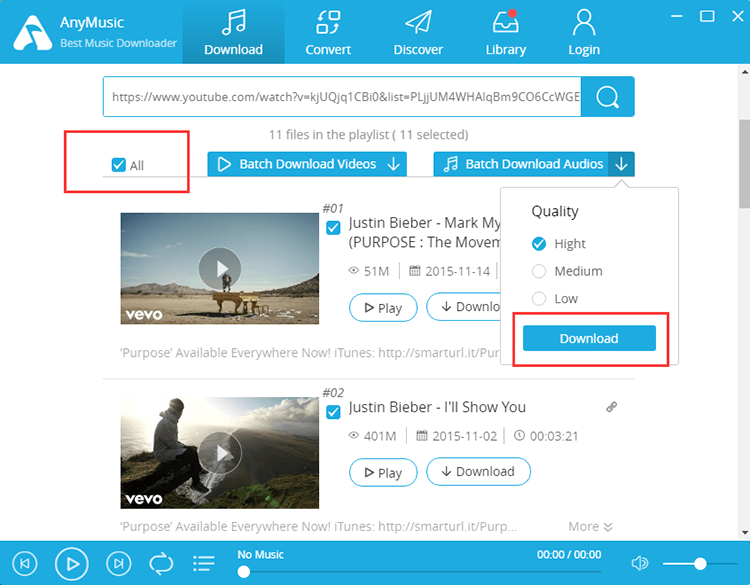 ● Justin Bieber Tour 2018
The Purpose World Tour started on March 9, 2016 and ended on July 2, 2017. It was marked as the 3rd worldwide tour. However, after playing 150 shows in 40 countries, Justin Bieber canceled the final 14 concerts of his world tour due to unforeseen circumstances. He was exhausted and needed a break. I believe he will be back and bring his fans perfect shows when he is ready.
If you're interested in Justin Bieber upcoming concerts, you can join the newsletter and stay up to update.
● More Information
Justin Bieber Official Site: http://www.justinbiebermusic.com
Justin Bieber Wikipedia: https://en.wikipedia.org/wiki/Justin_Bieber
Justin Bieber YouTube channel: https://www.youtube.com/user/kidrauhl
Justin Bieber Facebook: @JustinBieber
Justin Bieber Instagram: @justinbieber

In the End...
The above list is the best 10 Justin Bieber songs.
While you might have other songs you like the most.
Would you like to share with me?
Just a reminder, you can also free download other Justin Bieber songs with Free MP3 Finder.
Thanks for your reading.
Have a great day!
The Best 10 Justin Bieber Songs Free Download: