Green Day Songs Download – Free Download Top Hits of Green Day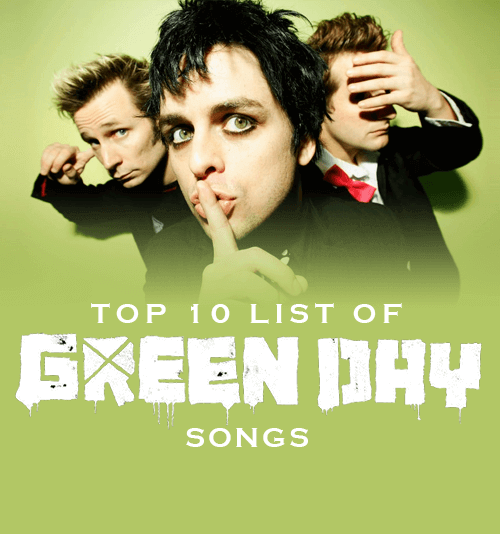 What's the first song you heard of Green Day?
Mine is Wake Me Up When September Ends.
Green Day wrote the majority songs by themselves, including this one.
There's always a story behind each song.
Later you will know, just follow me.
Also, you can get Green Say songs download for free!
If you're not a fan of Green Day yet, then you can learn more about this band in following sections.
Green Day Members
Green Day is a punk rock band formed in 1986, East Bay, California, USA. The band is now consisted of 3 members, Billie Joe Armstrong (lead vocalist and guitarist), Mike Dirnt (bassist), and Tré Cool (drummer). Its past members include Raj Punjabi, Sean Hughes, John Kiffmeyer, Aaron Cometbus, and Dave "E.C." Henwood.
Some of you may don't know why is it called Green Day. Before Green Day, they were Sweet Children. Green day is an American slang term, which means spending a day smoking marijuana. They released a song called Green Day to express Bill's first experience of smoking marijuana. Soon after, the group replaced Sweet Children with Green Day as their band's name.
Green Day Album
| | | |
| --- | --- | --- |
| No. | Title | Release Date |
| 1 | 39/Smooth | April 13, 1990 |
| 2 | Kerplunk | December 17, 1991 |
| 3 | Dookie | February 1, 1994 |
| 4 | Insomniac | October 10, 1995 |
| 5 | Nimrod</td> | October 14, 1997 |
| 6 | Warning | October 3, 2000 |
| 7 | American Idiot | September 21, 2004 |
| 8 | 21st Century Breakdown | May 15, 2009 |
| 9 | ¡Uno! | September 40, 2012 |
| 10 | ¡Dos! | November 13, 2012 |
| 11 | ¡Tré! | December 11, 2012 |
| 12 | Revolution Radio | October 7, 2016 |
10 Best Green Day Songs Download
Green Day has released 12 studio albums and 43 singles. They've sold over 85 million records worldwide! Here, I'm going to share a list of Green Day's top 10 hits. You can feel free to download any of them by clicking link below each song.
1. Boulevard of Broken Dreams
"My shadows the only one that walks beside me
My shadows hearts the only thing that's beating
Sometimes I wish someone out there will find me
'Til then I walk alone"
Boulevard of Broken Dreams can be counted as their most successful song in the United States. This song has sold over 5 million copies worldwide. It was still the 19 highest selling single of 2000s. Besides, it also won both Grammy Award for Record of the Year and MTV Video Music Award for Video of the Year
2. Wake Me Up When September Ends
"Summer has come and passed
The innocent can never last
Wake me up when September ends
Like my father's come to pass
Seven years has gone so fast
Wake me up when September ends"
Written by Green Day frontman Billie Joe Armstrong, Wake Me Up When September Ends peaked at No. 6 in the United States. It's also becoming Green Day's second top 10 single. This single has sold more than 1.6 million copies as of May 2010.
Billie's father was dead when he was 10 years old. He locked himself in the door in order to escape the funeral. He answered Wake me up when September Ends while his mother came. Finally, this song was accomplished in memory of his father after several years.
3. 21 Guns
"One' 21 guns
Lay down your arms
Give up the fight
One' 21 guns
Throw up your arms into the sky
You and I"
The topic of this Green Day song is patriotism. The single was recorded in May 2009. A live version of it also released on 21 Guns Live EP in September 2009.
In addition, 21 Guns also featured in both Transformers: Revenge of the Fallen and episode 6 of The Vampire Diaries. It peaked at No.22 on the Billboard Hot 100 chart, which also was Green Day's highest charting single since 2005.
4. American Idiots
"Don't wanna be an American idiot
One nation controlled by the media
Information age of hysteria
It's calling out to idiot America"
American Idiots served as the first single from the album with the same title. This album received 4 2005 Grammy Awards, including Record of the Year, Best Rock Performance by a Duo or Group with Vocal, Best Rock Song, and Best Music Video.
5. When I Come Around
"I heard you crying loud
All the way across town
You've been searching for that someone
And it's me out on the prowl"
When I Come Around is Green Day's best-selling single of the 1990s with has sold over 639,000 copies of 2010. It also peaked at No.6 on the Billboard Hot 100 Airplay as well as topped the Modern Rock Tracks for 7 weeks.
6. J.A.R.
"My friend drove off the other day
Now he's gone and all they say
Is "you got to live cause life goes on...
But now I see I'm mortal, too"
J.A.R. topped No. 1 on the Billboard Modern Rock Tracks Chart for 16 weeks. J.A.R. represents Jason Andrew Relva. Green Day bassist Mike Dirnt wrote this song to remember his childhood friend.
7. Basket Case
"Sometimes I give myself the creeps
Sometimes my mind plays tricks on me
It all keeps adding up, I think I'm cracking up
Am I just paranoid or am I just stoned?"
Basket Case was marked as an epic masterpiece in the punk history. Green Day lead vocal Billie wrote it when he was in a state of anxiety. He said: "the only way to overcome it is to write a song". This single spent 5 weeks to reach No.1 on the Billboard Modern Rock Tracks Chart.
8. Good Riddance (Time of Your Life)
"I hope you had the time of your life
It's something unpredictable
But in the end it's right"
Good Riddance (Time of Your Life) sold over 2.6 million copies as a digital download in the country and was certified Platinum in the United Kingdom for sales of 600,000.
It's a song wrote by Billie Joe Armstrong in 1990, which aims to express his anger to his girlfriend.
9. Holiday
"I beg to dream and differ from the hollow lies
This is the dawning of the rest of our lives"
This is our lives on Holiday"
Holiday is song about American conservatism. Armstrong spent two months to write this song. This song was also recognized by the public, which have been featured in a comedy film Accepted (2006) and one episode of CSI: NY.
10. Longview
"I got no motivation
Where is my motivation
Smoking my inspiration"
Long view was the 1st single of Green Day to top the Modern Rock Chart of the United States.
It's about boredom, masturbation and smoking dope, Billie Armstrong said. Named after Longview, a small city in Washington, this Green Day song lyrics describe a day doing nothing.
Green Day mp3 songs free download >>
Green Day Greatest Hits (28 Classic Songs Included)
I guess you have different ideas about the 10 best Green Day songs, therefore, I've make a long list of classic Green Day songs as follows.
By the way, if you are looking for a free music or YouTube video downloader, I would like to recommend Free MP3 Finder to you. It's a free and virus-free online music downloader. You definitely should try it!
Green Day Tour
Currently they haven't release tour dates in 2018, but you still can subscribe here to get notified about upcoming shows in your area.
Further Information
Green Day official website: http://www.greenday.com
Green Day Facebook: @GreenDay
Green Day Twitter: @GreenDay
Green Day official YouTube channel: https://www.youtube.com/user/greenday
Green Day Wikipedia: https://en.wikipedia.org/wiki/Green_Day
Conclusion
Was your favorite song of Green Day listed above?
Which song is your favorite one?
Just a reminder, you can easily get Green Day songs download by clicking link below each song.
Please feel free to leave your comment below, I'm looking forward to hearing from you.
Thanks for your reading.