anyutube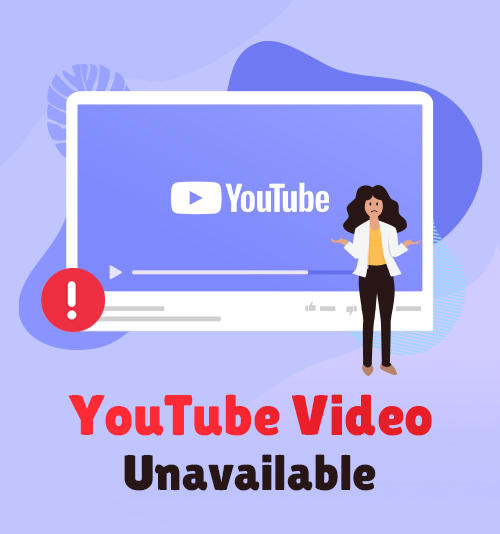 YouTube is the most popular video site in the world. It is estimated that more than 1 billion hours of video are watched on YouTube every day.
However, that doesn't mean YouTube works well all the time. Sometimes it will mess up. YouTube video unavailable is an error that many users have reported.
It is frustrating when you want to watch a video and find out the YouTube video is unavailable.
There are many reasons for this issue. If you are also facing the same problem, please keep on reading. This article will provide the most effective solutions to fix the YouTube error once for all. By the way, you can also get the method to download YouTube for free with this post.
Let's move on!
Part 1. Comprehensive Solutions for YouTube Video Unavailable
In this part, we will list a couple of potential causes and solutions for YouTube video unavailable. Please check them one by one.
Check Your Internet
If the video is unavailable on YouTube, the first thing you need to check is the internet. You can visit a random website to see if it loads. If it doesn't, you need to restart the router and open YouTube again. Or you can change the connection between Wi-Fi and Ethernet cable since there appears to be a bug concerning the YouTube app and Ethernet.
Check Browser
If your network performs in your testing, but YouTube still says "this video is unavailable," you have to check browser settings.
1. Restart browser and YouTube. That is an easy and quick fix.
2. Clear cached data and cookies. Every browser saves cache and cookies, which may cause such error. Click three vertical dots in the upper right corner and select "Settings." Then you can further choose "Clear browsing data." Once it is done, YouTube video should start playing.
3. Make sure extensions don't cause the glitch. You can play the YouTube video in incognito mode to see if it works well. In such mode, extensions are not available.
4. Disable hardware acceleration. If the video is unavailable on YouTube, it's probably a problem with hardware acceleration for the browser. We can disable it to fix up. Click three vertical dots in the upper right corner and select "Settings." Then scroll down to find out "System" and disable the function "Use hardware acceleration" when available. Now reload the YouTube page to see if it works.
5. Enable Flash and JavaScript. If you consistently fail to play video, it is a problem with JavaScript or Flash. If JavaScript is disabled, every YouTube video is unavailable. On the contrary, if you can watch some videos but no others, it is a Flash problem. All you need to do is to enable JavaScript and Flash. Go to Chrome Settings > Privacy and Security > Site Settings > JavaScript / Flash. By the way, make sure you get the latest version of Flash.
6. Reinstall browser. The chances are that some of its files may get corrupted while installing the browser. That will create errors as well. In such a case, reinstalling browser is also a solution.
Restrictions
If the video violates the copyright regulations of YouTube, YouTube says video unavailable. Besides, some uploaders may block their content for other countries and regions. In such circumstances, you may need a VPN or Proxy to access the video. Also, uploaders remove the video from YouTube may cause the problem.
In short, you need to check internet and browser settings to fix the glitch of video unavailable on YouTube.
Part 2. Download YouTube Videos for Free
Thankfully, you have got the solutions to fix the error of YouTube video not available. However, there are still some YouTube videos unavailable if they are removed by uploaders or blocked due to geographic restrictions.
If you want to download YouTube videos to watch offline or save the video before they become unavailable, I would recommend a great video download helper: AnyUTube.
AnyUTube is a versatile application. It allows you to download videos from most video-hosting websites, such as YouTube, Facebook, Dailymotion, etc. Besides, it enables you to download videos in 1080p. AnyUTube is clean, safe, and easy to use.
Now install AnyUTube and start download YouTube videos.
AnyUTube
All-in-one YouTube downloader & converter
Copy the video URL from YouTube and Paste into the AnyUTube search box.
Click the MP3 or MP4 button to download a video in default quality. Or you can click More button to discover more audio and video format.
Now you have grabbed the YouTube video. Enjoy yourself.
Conclusion
There are practical solutions against the error of YouTube video unavailable. Try it!
In case some YouTube videos removed by uploaders, you can download those YouTube videos with AnyUTube. It works well with Windows, Mac, and Android.
Have a try right now!
AnyUTube
All-in-one YouTube downloader & converter
You May Also Be Interested in These Topics