anyutube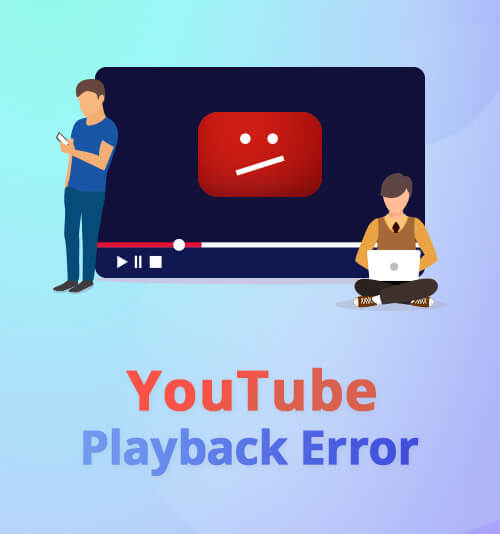 Sometimes you face problems on YouTube that show, "There was a problem while playing (Playback ID: …) Tap to retry" or "An error occurred. Please try again later. (Playback ID: …) Learn more".
That's YouTube playback error. Are you driven crazy by it? Refresh YouTube many times and still doesn't work?
This guide will help you fix it on any of your devices.
You don't have to try all of those methods. Just follow the method until the playback error on YouTube is fixed.
Let's get started!
CONTENTS
Check the Situation First
The glitch happens again today [Nov. 11, 2020]. I see lots of users complaining about having trouble playing videos. I tried it myself but failed, only to find the notice that reads, "An error occurred, please try again later."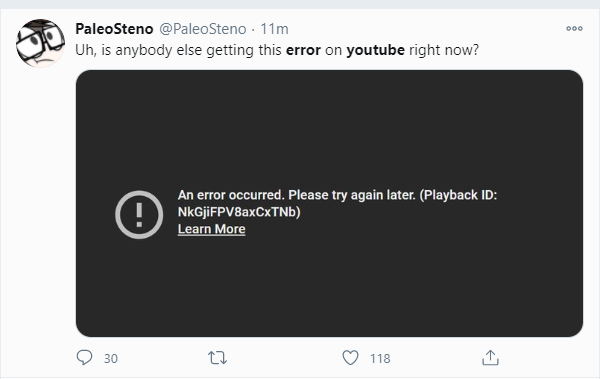 This error is proved by its official account (TeamYouTube) on Twitter. The YouTube team explained the issue, and they are figuring out a fix. You can subscribe to the official account for the latest update. You can also stay tuned to this post.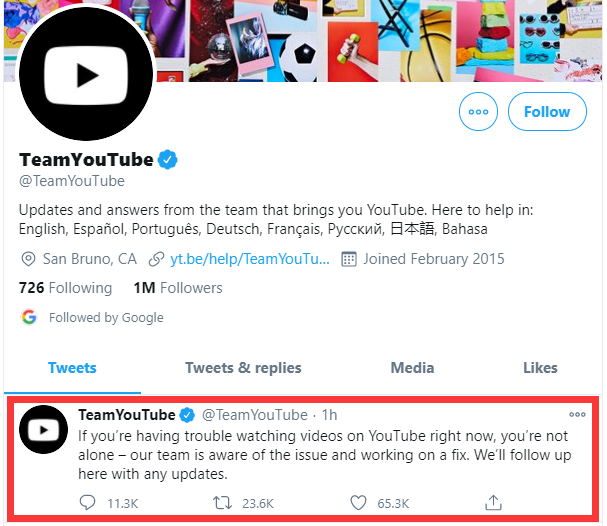 Fortunately, YouTube has solved this issue quickly.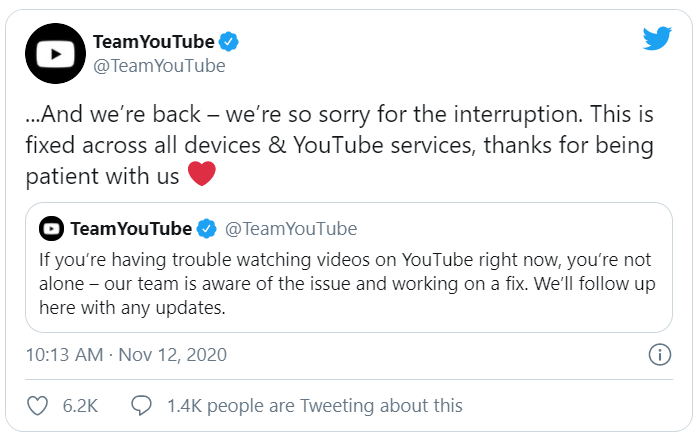 Try it again. If the trouble remains, it may be on your side. Check the following methods to fix the YouTube playback error.
Part 1. How to Fix YouTube Playback Error Quickly
Method 1. Reconnect Wi-Fi or reset the Router. You can connect the internet through Wi-Fi. If you have done in this way, try to reconnect the Wi-Fi. You can also choose to reset the Router.
Method 2. Clear cache in YouTube app or clear cookies in your browser. For App, go to settings of your phone. Enter into "Apps". Here are some system app and tap on "YouTube". Then you will find "Storage" finally you will find the option "CLEAR CACHE". For browser, take Chrome as an example. Click the three vertical dots at the right top corner. Then go to "settings" and find "Clear browsing data" under the item of "Privacy and security". After that, you can do cleaning according to the time range. Clear all the cookies and other site data would be better.
Method 3. Update YouTube App. You can also uninstall YouTube first, then reinstall it. If your application is outdated, you should update it to the newest version then try to play the video again. If you are already in the latest version, try to reinstall the app. YouTube playback error might happen if there is something wrong with the App.
Method 4. Update the browser, flash player, or router firmware to its latest version. Router firmware upgrades maybe a little hard to understand. However, it doesn't take you many steps to update the router firmware. Let Andy O'Donnell, a former freelance contributor to Lifewire, guide you on how to upgrade router's firmware. It might help you.
Method 5. Sign out or switch Google Accounts. In some cases, YouTube playback error is not with the application or devices. If you have log in to YouTube with your Google account, sign out then use YouTube again. The YouTube app requires a Google Account for sign in. So you can switch the account to fix playback error YouTube.
Part 2. How to Avoid YouTube Playback Error
I hope the above five methods could help you fix the YouTube playback error. However, this error may still happen. If you want a smooth and pleasant watching experience, why not download YouTube videos as your local files? Here comes a tool – AnyUTube – to help you download YouTube videos quickly in just few steps. AnyUTube supports downloading YouTube videos on Android, Mac, Windows. Try AnyUTube, and you can get:
● Unlimited downloads
● 1080p video quality
● 3X faster speed of download
● Batch download
Download AnyUTube and start the trial!
AnyUTube
All-in-one YouTube downloader & converter
Let's see how to use it!
Method 1. Browse YouTube video on AnyUTube directly.
Tap any video you like on the homepage or enter into any category at the top of the screen.
Preview the video you want to download. Then hit the big red download button at the right bottom of the screen.
Choose a suitable format to download the video.
Method 2. Search or type URL to download videos.
Search or type URL in the search box at the top of the homepage.
You can preview the video first then download it. (You can skip ads in this way!) If you want to download many videos at the same time, just tap the small circle at each right top of the video, then hit the big red download button.
Closing
I hope you can fix your YouTube playback error successfully. For the most guaranteed way to watch YouTube videos smoothly, try AnyUTube! Give it a shot.
AnyUTube
All-in-one YouTube downloader & converter
You May Also Be Interested in These Topics