anyutube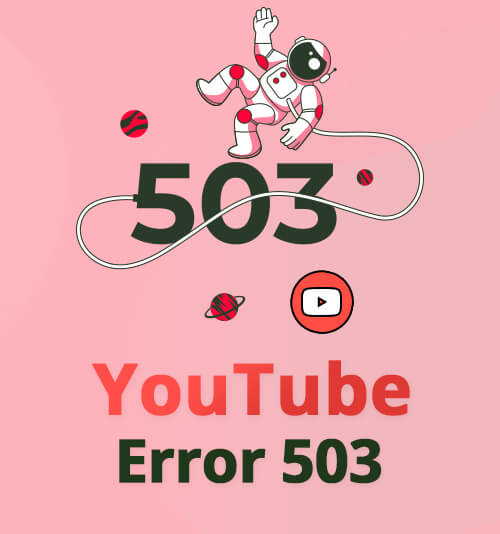 YouTube users are often stuck on the error code 503 without signs when watching videos on YouTube for pleasure.
In spite of this, quite a few still have no idea how to fix YouTube error 503.
Personally, solutions come only when we get to the root of this error.
So, in this post, I will first explain to you what the error 503 is and how you get it.
After that, tips will be offered in detail to help you solve this problem effectively on computer and mobile.
Hope this article will be helpful to you!
Part 1. What Does YouTube Error 503 Mean?
YouTube error 503 refers to "service unavailable." It acts as a response code, telling that the YouTube site's server is unavailable for the moment.
Mostly, it happens when the server is too busy and overloaded, for which it is unable to handle any request.
You are likely to see it occurring in any device, any browser and any operating system, such as PC, Mac, Android, iPhone, Tablet, and so on.
"An error has occurred," "playback error," "An error occurred while performing this operation," or "Oops! Something went wrong". If you get messages like these, that also means you get error code 503.
But please don't worry about this.
I will give you 4 tips below and let you know how to fix it on computer and mobile.
Part 2. How to Fix YouTube Error 503?
Fix YouTube Error 503 on Mobile
1. Check Your Network
When getting error 503 on YouTube, you need to first check the Wi-Fi or data connection on your phone. Is it well connected? In good condition?
If it has been connected well, but in bad condition, you can try to disconnect and reconnect it.
If available, you can restart your router or keep your mobile as close as possible. Sometimes, Wi-Fi can go through walls and other obstacles, but in reality, network signals may be inevitably weakened or blocked.
2. Free Up Space
Sometimes, YouTube error 503 doesn't arise from your network.
Under this condition, you should refresh the page or restart your browser or Android. If you have opened many website pages or applications, try to close them first.
All actions above are to temporarily release the sufficient storage space to play YouTube videos smoothly.
3. Download Videos to Watch Offline
If you have tried all the above methods, but still getting the error code.
I recommend you to download it to watch offline with a powerful YouTube video downloader app, AnyUTube. Believe it or not, this is the most effective solution to it.
But kindly note that it is only workable on Android.
Tips: If you want to download YouTube videos on your iPhone to avoid error 503, you can see the article: An Ultimate Guide to Downloading YouTube Videos on iPhone.
AnyUTube
All-in-one YouTube downloader & converter
AnyUTube provides free and safe YouTube videos to its users. With AnyUTube, you can directly visit the embedded YouTube website to get downloads while watching.
Let me show you how to download YouTube videos in AnyUTube in 2 steps.
Randomly click an icon in the "Discover" section. Here let me take "Trending" for example, and then I will be directed to the YouTube website.
Play the video, and a red download icon will appear in the bottom right corner of your screen.
Click the red download icon, and a bunch of video formats will be displayed. Choose your favorite to download.
Next, I will show how to fix YouTube error code 503 on your computer. If you use computer often, you must be very interested in the following part.
Fix YouTube Error 503 on Computer
Android and computer share very similar ways to fix error code 503 on YouTube.
Therefore, here I will show you ways in brief.
1. Check Network Connection on Your Computer.
2. Release Storage Space. (Refresh your page; restart your Chrome or computer; Close the unnecessary tabs, etc.)
3. Download Videos to Watch Offline.
In the above Android section, I have recommended a YouTube video downloader app (AnyUTube) to you. If you are using a computer, you can also use it. It works on PC, Mac and Android.
Just installing it on your computer, you will immediately know how to use it, the same as you do on your mobile.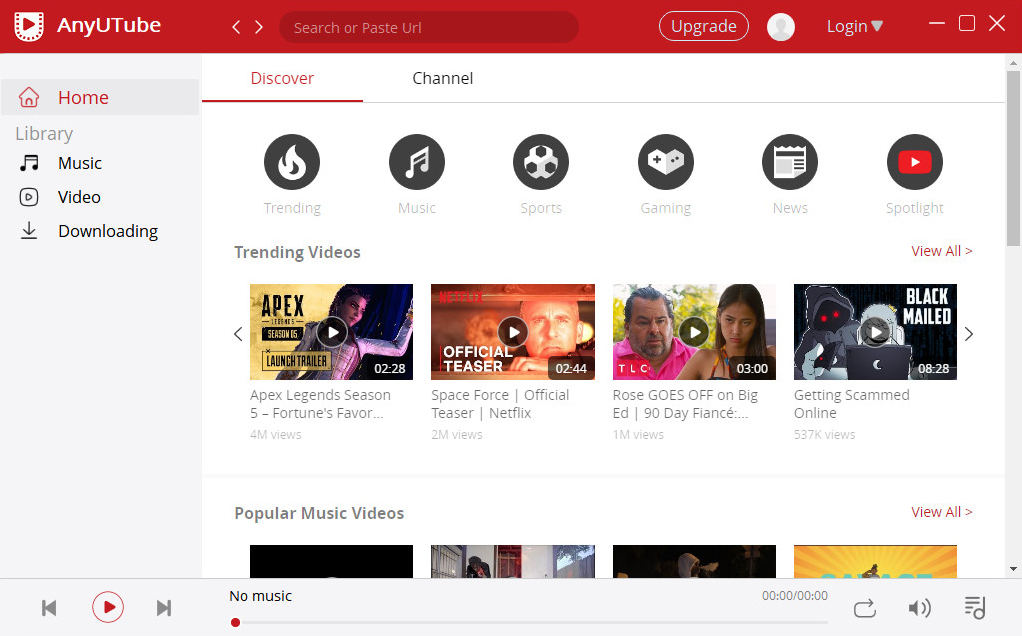 Just randomly click an icon in the "Discover" section to go to the YouTube website page. And then, play the video and click the red download icon to download.
Conclusion
From this post, have you figured out how to fix YouTube error 503?
No matter what kind of device you are using, you can find solutions here.
For me, I like downloading YouTube videos with AnyUTube to watch offline because this is the most effective way. And it is incredibly easy for any of us to learn how to use it.
AnyUTube
All-in-one YouTube downloader & converter
AnyUTube indeed helps no matter you use PC, Mac or Android.
If you want to solve the error code 503 for good, it is worth trying!
You May Also Be Interested in These Topics