anyutube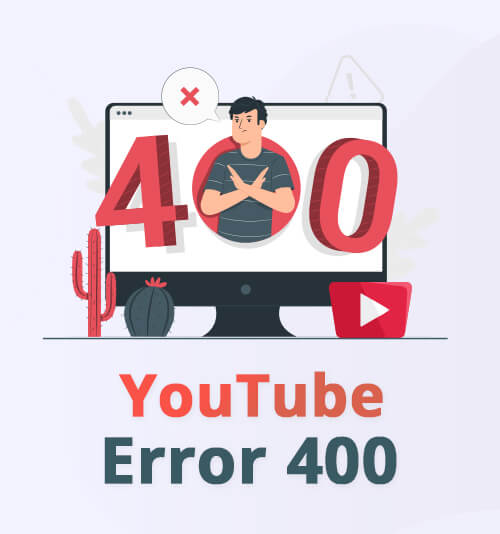 You may have faced YouTube Error 400 more than once too!
Are you driven crazy by this error?
Although many reasons may cause this problem, this happens mostly because you have sent YouTube server a bad header in the request.
What could be the feasible way to get rid of this annoying problem?
Don't worry.
I have handpicked some useful methods for you, let's see if these are workable.
Before Looking for Solutions
You need to know whether the YouTube error 404 is individual case.
How to do so? Check the most recent tweets by YouTube team.
For example, there's a major breakdown on November 11, 2020. The YouTube team posted a tweet about this immediately.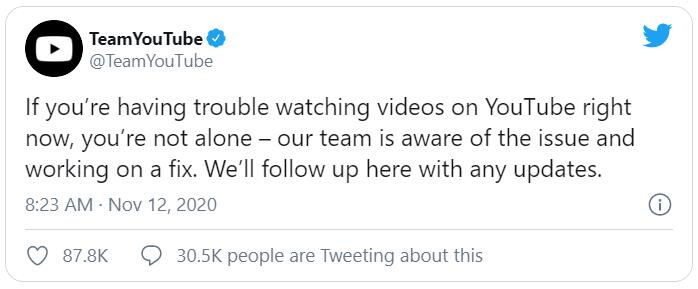 As you can see, everyone was facing the same issue at that time. In this situation, there's nothing you can do about it. Just wait patiently and the YouTube team will fix the error soon.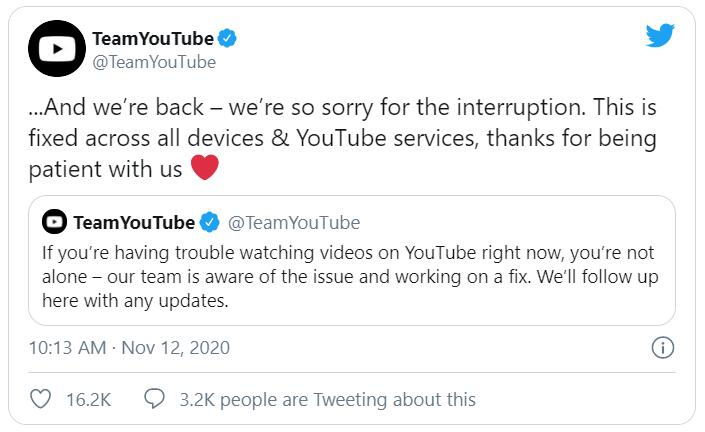 If there's no news about the YouTube error 404, it may just occur to your device. Now, you should read the following passage.
Part 1. How to Fix YouTube Error 400 Quickly
What YouTube users face is YouTube error 400, also recognized as "bad request error" in the technological world. When YouTube 400 error occurs, usually you need to check your internet firstly and see if you are using the latest version of YouTube. If these are fine, let the below methods guide you.
Quick tip: You may also run into YouTube playback error, YouTube 500 internal server error, YouTube error 503.
How to Solve YouTube Error 400 on Your Computer
Method 1. To fix this problem, you can clear cookies in your browser. Take Chrome as an example. Click the three vertical dots at the right top corner. Then go to "settings" and find "Clear browsing data" under the item of "Privacy and security." After that, you can do cleaning according to the time range. Clear all the cookies and other site data would be better.
Method 2. Open YouTube in an incognito window. Change to incognito mode may fix the error caused by your Chrome settings.
Method 3. Reinstall Chrome. This should be taken as the last method. Sometimes your browser files may run conflicts with your extensions or external programs. Installing a new chrome can solve the YouTube error 400 chrome.
How to Solve YouTube Error 400 on Your Mobile Phone
Method 1. If you are an Android user, try to clear cache on your mobile phone. By doing this, go to "settings" firstly. Then enter into "Apps" and search for "YouTube." Tap "Storage", and finally you will find the option "CLEAR CACHE".
Method 2. For Android and iPhone users, it is recommended by many people that replacing the YouTube video link directly to be just a video ID is very useful. Video ID is a combination of numbers and letters at the end of every YouTube video link. This alpha-numeric combination is a unique code for every YouTube video.
Part 2. How to Avoid YouTube Error 400
To avoid facing YouTube error 400 constantly, try download YouTube videos! Here comes with an easy-to-use tool for you – AnyUTube. You don't have to be a tech savvy to use it. If you are tired of the frequent error, download videos when YouTube is functioning right away. Try AnyUTube, and you can get:
● Unlimited YouTube video downloads
● 1080p YouTube video quality
● 3X faster speed of download
● Batch download YouTube video
Let's see how to use it!
Method 1. Browse YouTube video on AnyUTube directly.
Tap any video you like on the homepage or enter into any category at the top of the screen. Then you can use YouTube in your usual way.
Preview the video you want to download. Then hit the big red download button at the right bottom of the screen.
Choose a suitable format to download the video.
Method 2. Search or Enter URL to download videos.
Search or enter URL in the search box at the top of the homepage.
You can preview the video first then download. (You can skip ads in this way!) If you want to download many videos at the same time, just tap the small circle at each right top of the video then hit the big red download button.
Try AnyUTube and start your downloading experience now!
AnyUTube
All-in-one YouTube downloader & converter
for Windows 10/8/7
for Mac OS X 14+
for Android
In Short
Why YouTube error 400 happens? This is a question worth exploring. I hope the methods mentioned above could help you. If you have suggestions on how to solve this error, please write in the comment box below.
You May Also Be Interested in These Topics