anyutube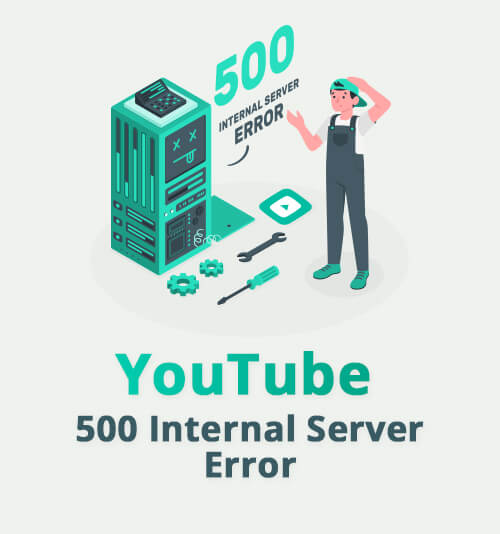 YouTube is an awesome platform for watching all kinds of videos. Sometimes, however, it gets error unexpectedly.
As for most of us, how to fix YouTube error is a big headache. Especially YouTube 500 internal server error, which is a server error, rather than our computer problem.
Today I will focus on how to fix YouTube 500 Internal server error quickly.
Besides, I will offer one method to watch YouTube videos offline and make sure you won't be entangled with any YouTube error forever.
Part 1. What is YouTube 500 Internal Server Error
500 internal server error means something is wrong on the website server, but the exact reason has not yet been specified. Usually, it occurs inside the internet browser window, that is why you often see such error on YouTube page.
YouTube fails to handle your requests when a 500 internal server error occurs. Either bugs or underlying issues will trigger such error. Thankfully, YouTube usually garners more attention to such bugs.
Although it is the website's server faults, there's still a chance that the problem is on your end.
Part 2. Fix YouTube 500 Internal Server Error
As mentioned above, it is possible that your computer runs into problems and triggers a 500 internal server error. Although it is rare, we still need to check it as listed below.
1) Refresh your page
Press F5 on the keyboard or click on the reload button of the browser to refresh the page. If the error is temporary, this will help to revolve it.
2) Restart your browser or try another browser
If there's something wrong with loading page content, restart the browser or use another browser would help.
3) Delete all cookies and clear the cache
The browser saves pieces of the site automatically when you visit a site for the first time. It helps to cut download time when you visit the site next time. Usually, it is not a problem. If websites update, however, this may become an issue.
In such circumstances, delete all cookies and clear the cache will help.
The steps are as below:
Click the three-dot icon in the upper-right corner of Chrome Browser, find More tools. Located at the right triangle of More tools and further click on "Clear browsing data."
A small window for Clear browsing data will pop up. Now Move to Time Range and select All time from the drop-down menu. And then, ticket the item Cached images and files, cookies and other site data. After that, tap on Clear data button in the lower right of the page. After the cookies and cache have deleted, you can launch YouTube in the browser to see if it works.
4) Restart router
The failure of internet connection triggers YouTube 500 internal server error as well. Therefore, you can restart the router, and relaunch the browser to check the issue.
Above are effective approaches against 500 internal server error YouTube. Although it can be fixed, our time has wasted already. Is there any method to avoid such error, and enable us to watch YouTube videos?
Let's move to Part 3.
Part 3. Best Way to Avoid YouTube 500 Internal Server Error
To make sure we could watch YouTube videos at any time, why not download and watch them offline?
AnyUTube is such an effective YouTube video downloader. You can visit YouTube website on this app directly and download videos in one click. Of course, AnyUTube is free of ads, viruses, and spyware.
Let's install AnyUTube before downloading YouTube videos first. It is compatible with Windows, Mac, and Android.
AnyUTube
All-in-one YouTube downloader & converter
for Windows 10/8/7
for Mac OS X 14+
for Android
Now we can start to download.
Click a video or column such as Trending in AnyUTube to visit YouTube website.
Tap the red download icon in the lower right of your screen.
Once you select the desired format and quality, the download starts. You can check the download process with a click on the small download icon in the upper right of the screen.
After the YouTube video downloaded, you can find it in the Library.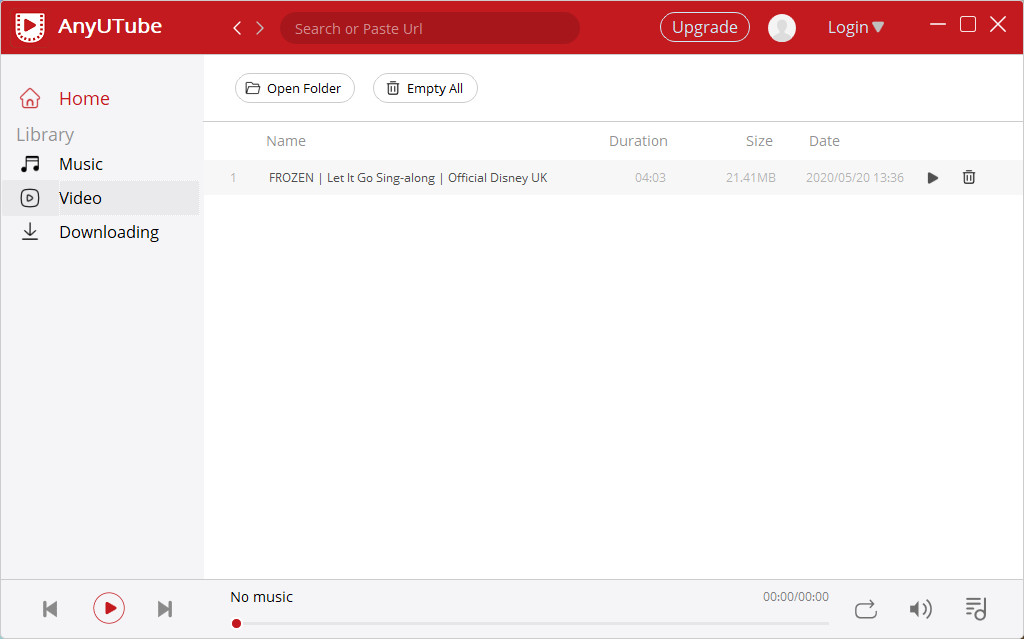 Now you can enjoy YouTube videos offline without any disturbance.
Note: If you have a specific idea about the YouTube video name or the URL, you can search the video directly on the search bar and download the video easily.
Conclusion
All in all, YouTube 500 internal server error is a server error rather than your computer's problem. But you still need to take action just in case something is wrong on your computer.
To avoid such error when watching YouTube videos, you'd better download the videos in advance. AnyUTube is a simplified app to download YouTube videos for free. You can visit YouTube website in this app and download videos with one click.
Have a try right now!
You May Also Be Interested in These Topics