anyvid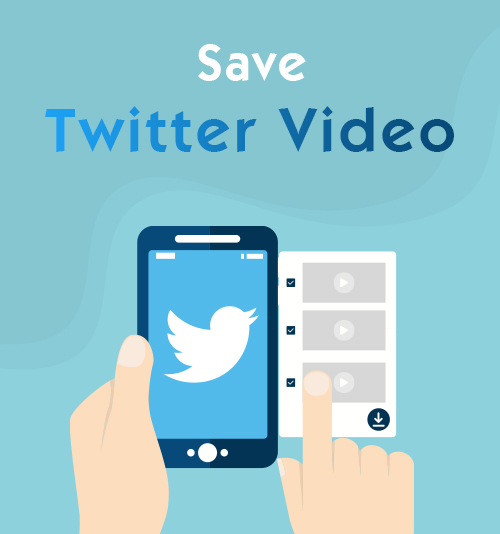 Twitter has always been a popular place to see what the world is going on.
You can see Twitter has continuously been developing itself and serves as more than a social networking service.
Recently, Twitter has rolled out a new feature to copy with the "reply guy," seeing What's New in the article.
In addition, I will offer you a practical method on how to save Twitter videos, your desired Twitter videos.
Let's dive in!
Part 1. What's New
On August 12, Twitter announced that it was rolling out a new feature to everyone where users can limit who replies to their Tweets. The purpose of restricting replies is to strengthen the control. The original posters can curtail abusive or trolling responses. Especially for some people who may be bombarded with harassment, they will be more relaxed and comfortable to tweet on the platform. This move is also friendly to people who intend to have a focused conversation in a small group. Through limiting replies, the conversation could be kept on track.
This feature has witnessed some substantial progress. If you don't how it works, let's watch the official video.
Part 2. Save Twitter Video on Android
AnyVid is the most capable Twitter video downloader for your Android phone among numerous Twitter video downloader apps. It is a workable tool that enables you to save Twitter videos and GIFs to MP4 without sign-in.
No ads! Saved to external storage! Optional video resolution!
AnyVid
Download any video from 1,000+ websites
Let's get started to save video from Twitter on Android with the following steps:
On the right bottom of the video, you can find the Share button and click it, and then choose "Copy link to Tweet."
Open AnyVid on your Android phone, and paste the link into the text field on the interface's top.
You can preview the Twitter video first. Then select the video and hit the Download button at the right bottom of the screen.
Choose the resolution and save the video from Twitter.
Here you've saved the Twitter video! Install this excellent app, and have a try now!
AnyVid
Download any video from 1,000+ websites
Part 3. Save Twitter Video on iPhone
This section is about the specific guide on downloading Twitter videos on iPhone with Documents by Readdle and AmoyShare Twitter Video Downloader. iPhone has high-security concerns over users' information so that you cannot download Twitter videos directly on normal browsers like Safari.
Documents by Readdle is a well-known iOS file manager. With this app, you can watch films, listen to music, open ZIP files, work with PDFs, save music and video on the iPhone and iPad all in one place.
Without installing additional software, you can also save Twitter videos by using an online video downloader. With AmoyShare Twitter Video Downloader, you need to head for Documents by Readdle, paste the Twitter URL in the search bar and download it.
Let's see how to make it!
Download Documents by Readdle in App Store.
Open Documents and click the compass-shaped browser icon at the lower right corner.
Search for AmoyShare Twitter Video Downloader in the search box.
Use the Twitter app or browse Twitter on the browser to find a tweet that contains the video you want to save. Tap on the Share icon and choose Share via…, then Copy Link.
Go back to AmoyShare Twitter Video Downloader. Insert the copied Twitter video link to the search bar in the middle of the screen and search for it. Then choose the download option according to the resolution.
Documents will direct you to a new window, then edit the file name if you want.
Now that the Twitter video has been saved on your iPhone, you can explore the Downloads in Documents and enjoy it.
Part 4. Save Twitter Video on PC
AnyVid is a light-weight Twitter downloader that does not take much storage. It can download and convert the Twitter video quickly to your personal computer, mobile phone, and MP4 media player.
AnyVid is not an ad-supported desktop app but is simple to operate and can parse almost all Twitter videos. You can free download AnyVid Twitter Downloader to examine how great the software is.
After installing it, please open it and follow the tutorials. Let's see how to save video from Twitter without effort.
Open AnyVid and paste the Twitter video link in the search bar.
Choose the resolution and hit the download button.
Quick tip: You can download a 1080p Twitter video if the original quality of the video is up to it.
Part 5. Save Twitter Video with a Web Browser
AnyVid also has its online tool, AmoyShare Twitter Video Downloader, to set you free from installing any app. You can save videos from Twitter just through the browser.
Take Chrome as an example. Let's see how to save a video on Twitter quickly.
Copy a link from Twitter.
Paste the Twitter link to the text field and hit the Download button.
Great! The problem of how to download a video from Twitter is cracked!
Save a Video from Twitter Now
So you need to either utilize an app for Android, Windows, and Mac or an online tool to save Twitter video. You can't find a download button on Twitter to save a video from Twitter, but the methods I recommend are great helpers for you.
Are you having trouble following the article? Let's discuss this in the comments box below.