anyutube
YouTube currently stands as the most prominent online video sharing platform.
But sometimes we encounter a slow internet connection, which could cause unwanted buffering and frustrate the smooth YouTube watching experience we were hoping for.
You're probably thinking that downloading the YouTube videos you want to watch would eliminate all these issues, which is completely true.
In this article, I would like to introduce the best solutions on how to download YouTube videos FREE. It will help you download your favourite YouTube videos for free online, on Windows, Mac & Android devices.
Firstly, I'll be discussing the AmoyShare YouTube Downloader (Part 1) – a free YouTube video download site. And secondly, the YouTube video download software called AnyUTube (Part 2). Both these solutions provide a 100% safe and legal download conversion process.
Part 1. How to Download a YouTube Video Online Free
No software is needed for downloading YouTube videos.
Don't believe it?
I tackled the problem of how to download YouTube videos free in the YouTube video downloading frenzy and brought to you AmoyShare YouTube Downloader. This is a user-friendly site that enables you to download free YouTube videos that are completely free of viruses, plugins, and spyware.
With the following steps below, I will show how to download videos from YouTube for free by using AmoyShare Free YouTube Downloader.
Time to search for a YouTube video. Simply enter into the search bar any keyword related to the YouTube video you are looking for (e.g., song name, artist, and album) or directly paste the YouTube video URL.
First preview the video. First, have a run through the YouTube video you want to download to ensure it's the one you want.
Select the video you want and click on the Download Button. Once you've selected the video you want, click on the "Download" button, which will then show the drop-down menu with several options for download.
After selecting "download," it will pop up a window for you to select the downloading formats. Directly select "360p–MP4" to download the video. Once the download is complete, you can then save the file in a suitable folder of your choice or on your USB and watch it at any time.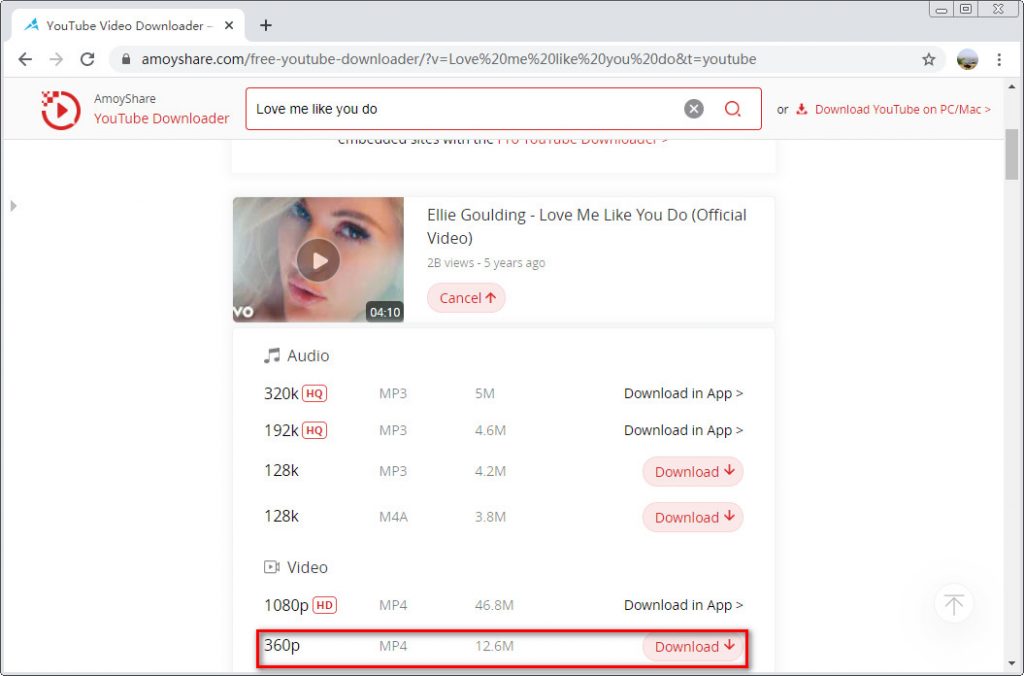 Easy right?
AmoyShare Free YouTube Downloader allows you to download and save an unlimited amount of free YouTube videos and music to MP3 or MP4 format files.
You can now have as many downloaded YouTube videos at your fingertips minus the buffering, lousy internet connection, and ads! Goodbye hassle!
Part 2. How to Download YouTube Videos for Free on Android Phone
AmoyShare YouTube Downloader is compatible with most web browsers, so Android users are free to use any browser to download YouTube videos.
Quick Tip: As for our iPhone users, make sure you use a browser with a built-in download feature as Apple Inc. can be quite strict with video downloading sites.
The following is how AmoyShare YouTube Downloader looks like on an Android phone.
Enter into the search bar either the keyword relating to your desired YouTube video or paste the direct YouTube URL.
You will see a list of search-relevant YouTube videos. Preview and select the desired YouTube video and then click on "download."
Once the drop-down menu is displayed, select "360p–MP4" to download the file. When the download is complete, you can find the downloaded YouTube video in your albums folder.
You might be looking to download a free YouTube video with a slightly higher quality resolution.
Well, we've also got you covered there.
You can now download a free version of the AnyUTube app, which enables you to download YouTube videos for free with high resolution. See below for more details.
Part 3. How to Download YouTube Videos on Laptop for Free
What are the Perks and Craze about AnyUTube?
The great thing about AnyUTube is the interface is smooth, quick, and secure.
What's the best?
It can solve your question about how to download HD YouTube videos for free.
This app can pick up and adapt to any rough keyword search you enter into the search bar without having to search for it first on YouTube. It also provides lists of the latest trending YouTube videos on sports, news, and gaming, etc. for you to freely download at your disposal. You name it!
AnyUTube
All-in-one YouTube downloader & converter
for Windows 10/8/7
for Mac OS X 14+
for Android
How to Download YouTube Videos Free on PC or Mac?
Once you've installed the free AnyUTube app and opened it, you can either enter into the search bar any keywords relevant to your video search or paste the video URL directly from YouTube.
After you've previewed the video you want to download, you can either select the "MP4" default button, (which is the default download option that will automatically provide you with a 360p YouTube video upon download). You can also click on "More" beside the "MP4" button which will give you a drop-down of more options.
When you've selected the desired video option you want to download, you'll notice a red dot fly over to the left corner and sink into the "Downloading" tab, which you will then click to view the downloading process. When the YouTube video has completed the downloading process, you can then view it in the "Video" tab. Next, select "Open Folder" and save your downloaded YouTube video in the correct folder on your PC. Now download away!
Conclusion
How to download YouTube videos free?
I hope that by now, you've tried and tested the solutions provided above by downloading at least one free YouTube video using either AmoyShare YouTube Downloader or the AnyUTube app .
Now that we've covered the best ways on how to download YouTube videos for free, we'd love to hear your experience and would appreciate any feedback you have to offer in the comments section below.
You May Also Be Interested in These Topics