anyutube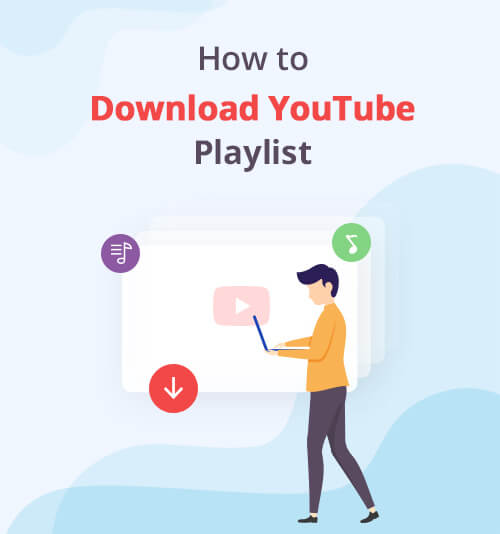 There are various methods for how to download YouTube playlist.
There is no doubt that you may choose one to save your YouTube playlist for offline watching.
However, you failed to download the videos from YouTube playlist due to the copyright protection of YouTube videos.
So, do you want to find legal ways to download YouTube playlist becomes critical.
This article will help you.
Now, I am going to show you the most comprehensive guide for how to download your complete YouTube playlist.
Without further ado, let's get started!
Part 1. How to Find YouTube Playlist?
What is YouTube Playlist?
YouTube, one of the largest online video-sharing platform in the world, brings lots of fun to your daily life. You may know the access to get YouTube videos, but you may not know how to download a whole playlist from YouTube.
YouTube playlist is a collection of videos or audio files that can be played on a media player either in order or in shuffled order. If you want to watch 2019 all-star games, there is a playlist for you. If you want to listen to the most popular country music, there is a playlist for you.
Find your favorite playlist now with the following methods.
Two Methods to Get YouTube Playlist
There are two common ways to get access to YouTube Playlist.
Method 1. Search Keywords on YouTube
For example, if you want to download the 2019 popular songs, you can:
Search keyword in YouTube.com.
Click "FILTER" and click "Playlist" in the drop-down window.
Then, you will get all results for the keyword and select the playlist you want.
Method 2. Create Your Own YouTube Playlist
Sign in your YouTube account, click avatar in the top right corner of the screen, and then select "Your Channel" from the drop down; Then, Click "CUSTOMIZE CHANNEL" to enter YouTube's video manager.
Switch to "Playlist" of menu and click "New playlist" and set playlist name to create your playlist. Then, click icon "…" and select "Add Videos" from the drop down to add videos to your playlist from methods of "Video search", "URL" and "Your YouTube videos".
You can add videos by searching keywords in the search bar, pasting the URL of videos or directly add the videos you saved in "Your YouTube videos".
Part 2. How to Download YouTube Playlist?
Best Way to Download YouTube Playlist Online
If you do not want to install any video downloading application to your PC, online tools are suitable for you. Although there are plenty of online tools, most of them have ads placement. You may accidentally click on the ads, and then some harmful software will be automatically downloaded to your PC. So, how to download a playlist from YouTube without software? Amoyshare Free YouTube Downloader will help you solve the problem.
Free YouTube Downloader is a safe and free YouTube playlist downloader without ads placement. You can download entire YouTube videos, audios and playlist in MP3 or MP4.
Only 3 steps, YouTube video playlist will be downloaded.
Open the browser and type amoyshare.com.
Copy the URL of a YouTube playlist and paste it into the search bar.
Click Download button and select "360-MP4" to download the video.
Safe Way to Download YouTube Playlist on Android Phone
How to download a playlist from YouTube on Android?
AnyUTube will tell you.
AnyUTube is the most capable YouTube playlists downloader for your Android phone among numerous video downloader apps. It is a powerful tool that allows you to save your YouTube playlists and channels in fast speed and high quality without sign-in.
AnyUTube
All-in-one YouTube downloader & converter
for Windows 10/8/7
for Mac OS X 14+
for Android
Let's started to download the YouTube Playlist with following steps:
Launch AnyUTube app, and then paste your YouTube playlist URL on search bar.
Select the videos of the playlist you want and press download button.
Select the formats and press "Start Download", the selected videos will be added to your downloading queue.
Legal Way to Download YouTube Playlist on iPhone/iPad
Have you ever failed in saving your YouTube playlist to your iOS devices, like iPhone 11, iPhone 11 Pro, iPhone 11 Pro Max, or iPad? That is because the YouTube's strict restrictions, the iOS browsers do not support online audio and video downloads. Just one neutral application, the problem will be solved.
Now, I am going to show you below how to download YouTube playlist to your mobile phone with the help of Documents and Free YouTube Downloader.
Documents by Readdle, a powerful iOS application, is a central hub for all your files, helping free save your YouTube videos on iPhone. Go to the App Store and install Documents by Readdle now.
Let's proceed to read the pretty easy steps on how to download all videos from a YouTube playlist to your iPhone!
Enter AmoyShare Free YouTube Downloader. Firstly, open browser in Documents. Secondly, type amoyshare.com in the search bar ofDocuments.
YouTube playlist download. Firstly, paste URL of YouTube playlist, select the video you want, and then tap "Download".Secondly, select video formats and tap "Download" to confirm downloading.
Set file's name and saved path, go to My Files of Documents to enjoy the download videos.
Conclusion
For the methods mentioned above, we introduce three different methods for how to download YouTube playlist.
Each has its own advantages.
If you do not want to install any application, AmoyShare Free YouTube Downloader is your best choice.
If you are afraid of the application security, AnyUTube is the safest APP for you.
If you are finding legal ways to save YouTube playlist on your iOS devices, method by Free YouTube Downloader and Documents is right for you.
Give it a shot!