anyutube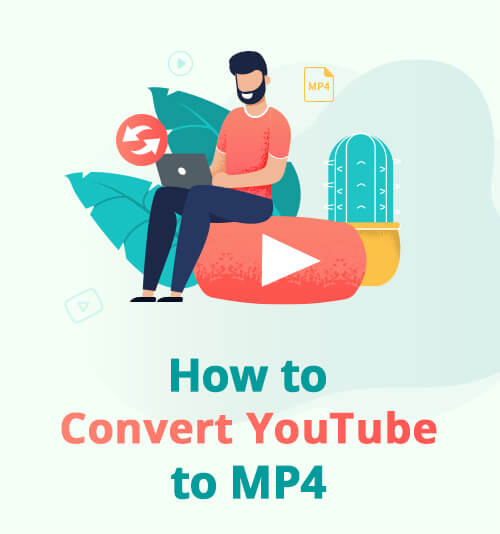 Today, let me tell you how to convert YouTube to MP4.
Watching YouTube videos is one of the most popular ways to learn new things from the internet or even for great entertainment purposes.
But what if you could convert the YouTube videos you want to watch to MP4 so that you can freely watch them offline at any given moment, anywhere?
You won't have to worry about buffering or slow internet connection. Not only that, but you can also save the converted files to USB and send and share as you please. It sounds like a good deal to me.
Now, allow me to show you two of the best methods on how to convert YouTube videos to MP4. So that you have the pleasure of watching or listening to these YouTube videos offline, whether it be at home, traveling, during your work lunch break, or walking on a treadmill.
Part 1. How to Convert YouTube to MP4 Online
What is MP4? For those of you who are more informed with MP4, keep scrolling till you find the method and guide most suitable for you.
Most of you are familiar with MP3 file formats and can easily confuse and liken it with MP4. However, there is a big difference between the two. MP3 can only store audio, whereas MP4 is mostly used to store video as well as audio. In this section, we will focus more directly on how to convert YouTube to MP4 online.
Method 1. Convert YouTube to MP4 by AmoyShare MP4 Converter
This free YouTube to MP4 online converter site is probably one of the best and easiest ways to get the job done. No software is needed for this method, and it's free!
If you're worried about viruses, spyware, or legal restrictions, worry no further. AmoyShare Free YouTube Downloader is safe and ensures a quick and smooth conversion process.
It only takes a few simple steps to get YouTube converted to MP4. Follow the guide below. Let's go!
Windows User Guide
Type amoyshare.com on the web browser. Once the page has loaded, you will find a search bar on the screen in front of you. Now enter the keyword related to the YouTube video you want to convert or directly paste the URL of the YouTube video.
After you've hit the search button, browse through the search results and preview the video you want to convert MP4.
Once you've chosen the right video, select "Download" to the right side of the video. A drop-down list will appear containing several download options. Choose the MP4 video "Download" option.
Once you've selected "Download", the video will open in full screen. Select the ellipsis button at the bottom right corner. Select "Download".
Once the download is complete, you can find the MP4 file in your "downloads" folder on your PC. You can rename the file and share it at leisure.
Android User Guide
Visit the online site. In your web browser on your Android device, visit the AmoyShare Free YouTube Downloader page. Once the page has opened, you will find the search bar.
Search or paste URL. This search bar will be one of your best friends on this site. Simply enter the keywords related to the YouTube video you want to be converted to MP4 or paste the video URL directly from YouTube.
Preview the video. Once you've hit the search button, you'll find the thumbnails of all search-related YouTube videos. This site allows you to preview the videos before downloading them to ensure you've selected the correct one.
Download your video. After previewing and choosing the correct video, select "360p – MP4" format and click on the download button. Then, it will jump to a new page. Hit the "Download" button located to the right of every video. Now tap "MP4" and wait until the download is complete.
When the download is complete, go to your "files" on your android phone and then "downloads". There you will find your converted YouTube video is saved as an MP4 file, which you can rename and share as desired.
You will find this process extremely user-friendly and quick. Now let's try it on Windows devices.
iPhone User Guide
How to convert YouTube to MP4 on iPhone/iPad? If you're an iPhone user, follow this link to get a full guide on how to convert YouTube Videos to MP4 as well as other formats such as MP3 and M4A: How to Download YouTube Videos on iPhone.
Part 2. How to Convert YouTube to MP4 with App
How to convert YouTube videos into MP4 format? The YouTube to MP4 converter App will tell you. For those of you who are looking to convert YouTube videos to higher quality MP4 formats, then this method is just for you.
Convert YouTube to MP4 by AnyUTube
I will show you a quick tutorial on how to use AnyUTube to convert YouTube audio and video to MP4. It's a great desktop software that you can use for downloading videos from YouTube and converting them to the highest quality possible. The best thing about this program is that it's free.
AnyUTube is a topnotch YouTube downloader app that promises a safe, smooth, and easy YouTube downloading conversion process.
AnyUTube
All-in-one YouTube downloader & converter
for Windows 10/8/7
for Mac OS X 14+
for Android
The process for Android, Windows & Mac devices is relatively the same give-or-take a few slightly different steps. Below I've provided you with a guide for each device. You can try out a free version of AnyUTube here.
Download and launch the AnyUTube app on PC. You'll find a search bar at the top of the screen where you can enter any keyword (e.g. song title, artist, or band) that matches the description of the YouTube video you want to be converted to MP4, or you can paste the YouTube video URL.
Once the search results are seen, you can first preview the YouTube videos to see which one you want to be downloaded. Then select either "MP4" or "More" located to the right side of the video you have chosen.
If you selected "More", a drop-down list will be displayed. Then tap the "MP4" download option of the quality type you want to download.
Conclusion
AmoyShare Free YouTube Downloader and AnyUTube solve the problem on how to convert YouTube to MP4.
Converting YouTube videos to MP4 files creates a world of convenience.
With the two methods provided in this article, you'll be able to watch (and listen) to YouTube videos offline in MP4 format, which you can then save and share at leisure.
I hope that you've tested at least one of the methods provided and that they have proven useful to you. Please leave us your feedback in the comment section below.
You May Also Be Interested in These Topics