anyvid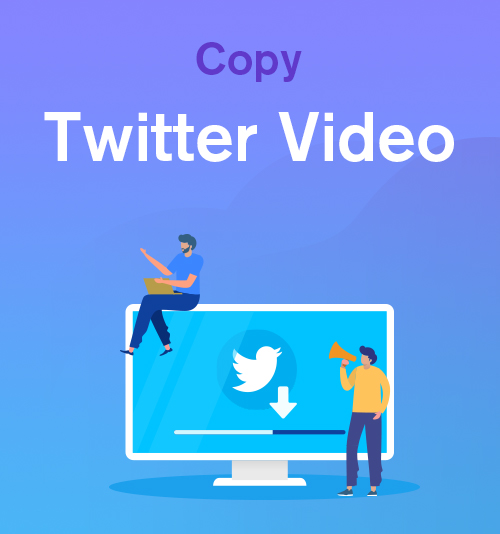 As Twitter said, "when it happens in the world, it happens on Twitter first."
On Twitter, see all sides of the story. From texts, photos to videos, and GIFs, some tweets really grab your eyes.
Sometimes you come across a video on Twitter, and you want to view it over and over again without using data every time.
To make it, use a video downloader to copy Twitter Videos for offline viewing.
Below is a guide on how to copy video from Twitter.
Without further ado, let's get started!
Method 1. Copy Twitter Video with Software [Recommended]
Copy Twitter video is that easy if you use the right tool.
Attracting more than half a million committed users all over the world is a one-stop and versatile video downloader – AnyVid. If you haven't used it before, let me explain to you why this is the video downloader you should never miss.
Top reasons to choose AnyVid video downloader:
● Copy videos from thousands of online video websites like Twitter, YouTube, and Vimeo with common-used formats, covering HD videos ranging from 360p to 1080p and higher.
● AnyVid video downloader has the search function that can accurately reach your results. This saves you from the case when you can't get the video URL.
Let's see how to copy a video from Twitter on the computer.
Copy Twitter video link. Click the share button on the right bottom of the video and choose "Copy link to Tweet."
Open AnyVid, and paste the URL into the text field in the middle of the interface.
You can preview the video firstly by clicking the button on the thumbnail or download the video directly.
Copy Twitter video to PC, done!
Quite easy, right? Let's install this excellent app now!
AnyVid
Download any video from 1,000+ websites
for Windows 10/8/7
for Mac OS X 14+
for Android
AnyVid is more than a Twitter video downloader. Aside from downloading videos from Twitter, you can also download videos from many other popular social platforms like Facebook, Instagram, and YouTube.
Method 2. Copy Twitter Video Online
AnyVid also has its online tool, AmoyShare Twitter Video Downloader. It's the most straightforward method by far because it doesn't require the installation of any additional software.
Take Chrome as an example. Let's see how to copy a Twitter video quickly.
Copy Twitter video URL.
Paste the Twitter URL to the search bar and hit the download button.
Great! Copy video from Twitter, done!
All in All
AnyVid is a specialized video downloader that has accumulated half of the millions of users worldwide!
What makes this tool particularly outstanding?
● What you watch is what you download. You can download online videos effortlessly from a number of websites such as Twitter, YouTube, Facebook, Vimeo, Viki, etc.
● With a user-friendly interface, novice and newbies can handle it without effort.
● Free technical support with the prompt response is dedicated to you from our professional team.
Try it, and you will love it!
One small request: Could you please share this post if you like it?