Download songs from YouTube with
AnyUTube
Rip songs from YouTube to 320k mp3
Batch download YouTube playlist
Inbuilt song player
Windows 64-bit
Windows 32-bit
macOS 10.9 and later
Android
YouTube Song Downloader – How to Download Songs from YouTube
---
Discovering a song on YouTube is easy, and listening to music on YouTube is free. What is inconvenient is that you have to get your screen turned on all the time.
What if the screen is locked while you are enjoying a music video? Interruption is annoying. Nothing you can do about it? If you think downloading songs from YouTube is a thorny issue, then you're wrong.
Here is the very first YouTube song downloader option that you may have never used. It is AnyUTube, an understated, all-in-one YouTube downloader, and converter.

As you can see from the interface above, AnyUTube is fully supported for downloading YouTube music, video, playlist, and channel.
The advantages of AnyUTube also include:
YouTube MP3 song download 320k
YouTube video song download to MP4
Batch download 600+ YouTube songs with 1 click
Inbuilt music player
Follow the instructions below, and you will learn how to download a YouTube song in Part 1, and a new way to explore YouTube in Part 2.
Part 1 - How to download songs off YouTube
---
To begin with, make sure you've installed the application on your device. AnyUTube is available for Windows, Mac, and even an Android device.
Windows 64-bit
Windows 32-bit
macOS 10.9 and later
Android
This tutorial is demonstrated on PC, and you can follow the same steps to download songs from YouTube on other devices.
Step 1: Search for the song you want to download
AnyUTube provides two ways to search for YouTube songs – keyword and URL, while other YouTube downloaders support URL search only.
You can enter any keyword about the song, such as the name of singer, song, album, and band.
What's more, you can even search with lyrics. As is shown below, "the scars of your love remind me of us" are lyrics of the song Rolling in the Deep by Adele. While searching for the lyrics, you can get the exact song in the search result.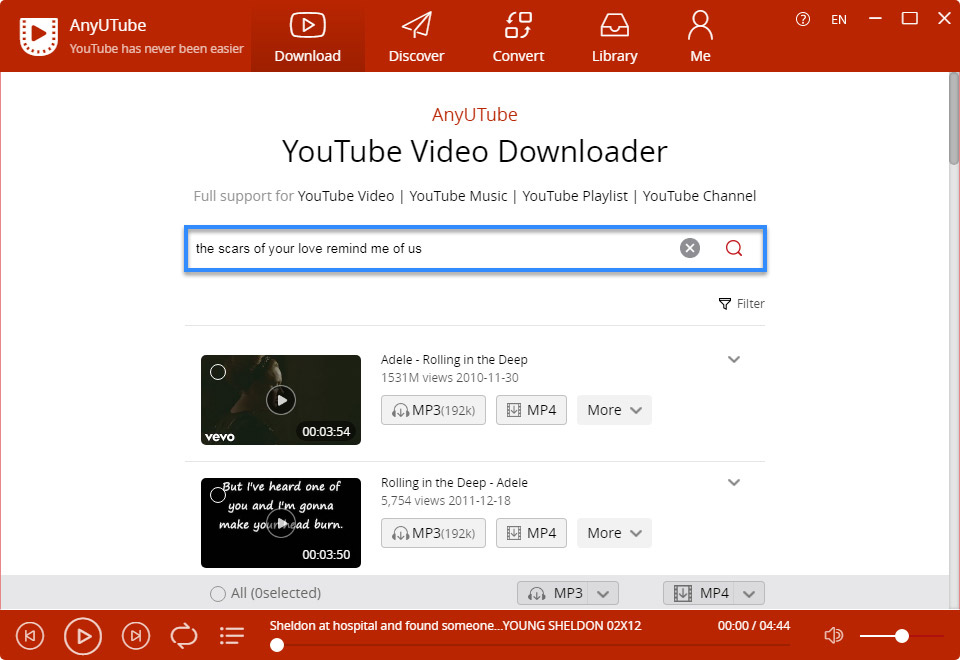 You can also paste a link of YouTube song, playlist or channel to the search bar.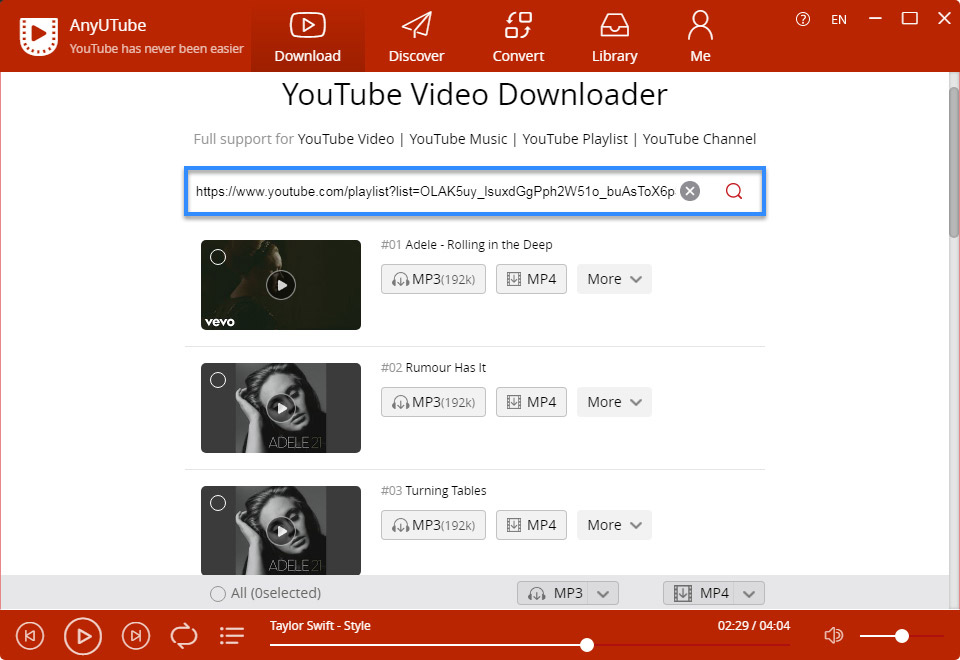 Step 2: Download songs off YouTube
Click the "MP3" button to download the song. If you want to download the YouTube music video, just click the "MP4" button.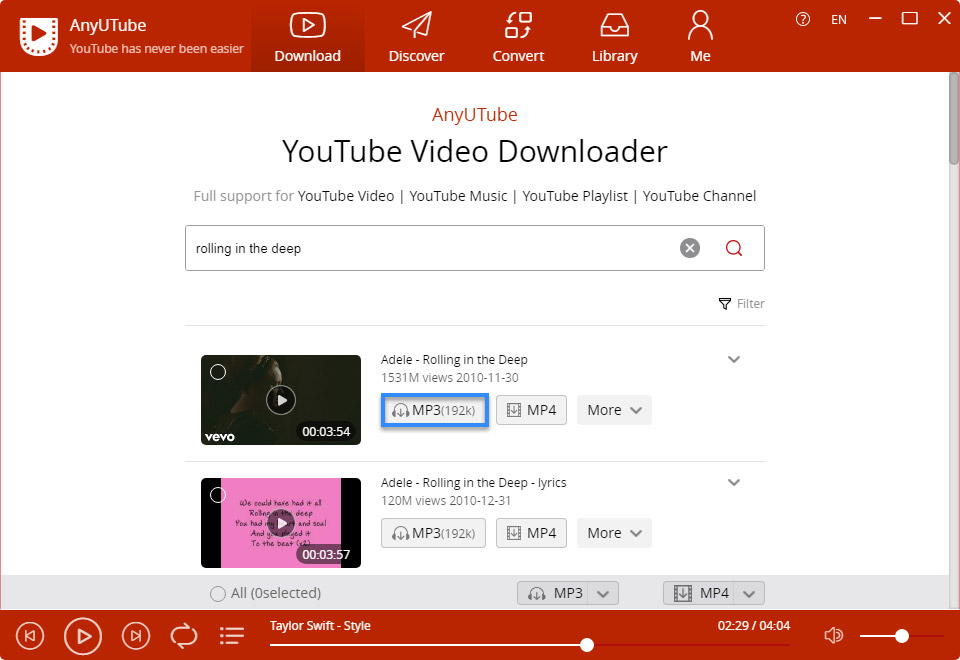 For more format or quality options, click on the "More" button on the right.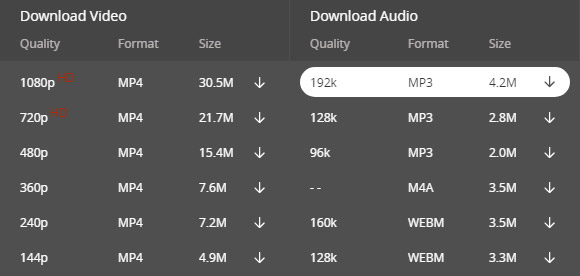 A highlight of AnyUTube is that you can download several videos or even an entire playlist or channel in batch, in one go.
Simply click "All" at the bottom, and click "MP3", you will have the MP3 files. If you want to set the MP3 quality, click the up arrow to choose among high, medium and low quality.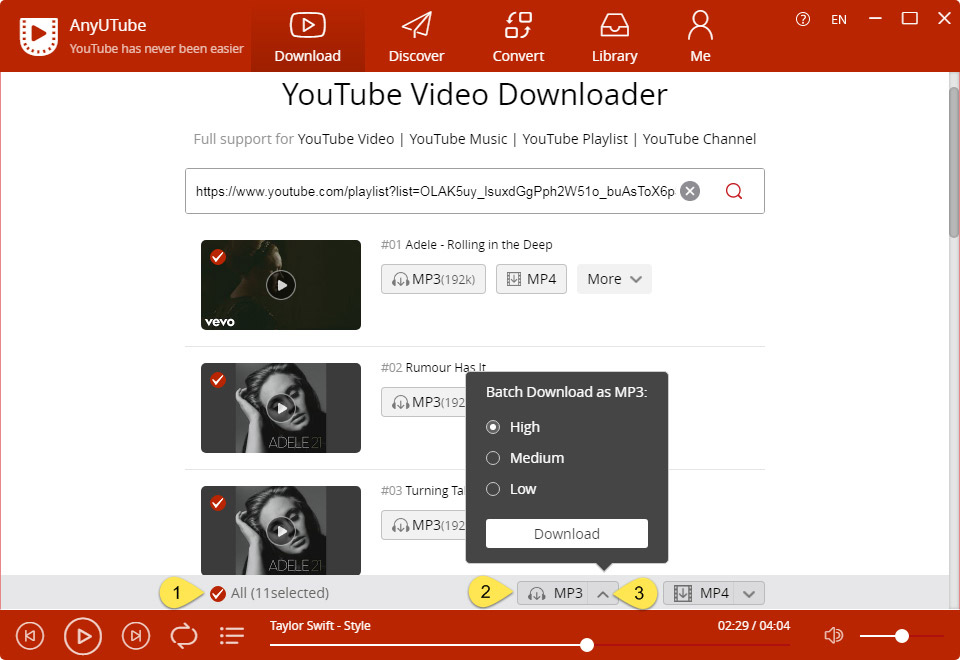 Part 2 – Explore YouTube better with AnyUTube
---
AnyUTube is more than a YouTube song downloader. You can take it as a YouTube assistant to enjoy YouTube in a brand new way.
The "Discover" feature enables you to watch videos just like on YouTube. As you can see, there're 3 entrances on the interface – YouTube Video, YouTube Music, and YouTube Gaming.

What are these 3 entrances?
When you click on each of the buttons, you'll go to the homepage of YouTube (www.youtube.com), YouTube Music (www.music.youtube.com), or YouTube Gaming (www.youtube.com/gaming/). All these 3 sites are embedded on AnyUTube, so you can directly visit YouTube without opening a browser.
The advantage is that you can download the YouTube video or music while you're browsing – the smart download button at the bottom right is available for downloading the audio or video on the page.
Take "YouTube Music" for example.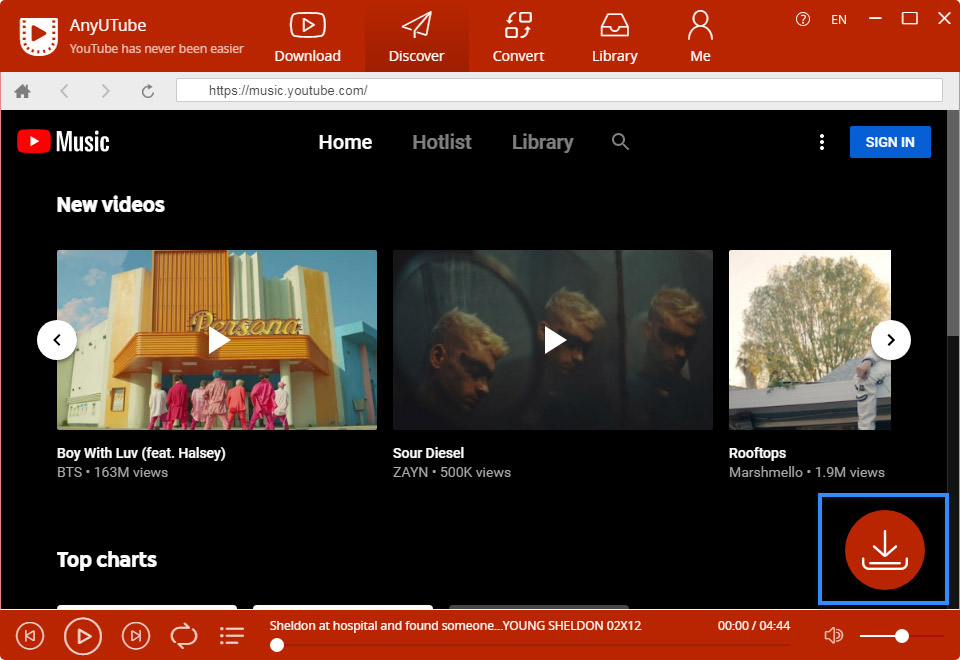 The site music.youtube.com is embedded on AnyUTube, so you can listen to official songs, albums, playlists, artist radios, remixes and live performance just on the application.
While watching the YouTube music video, you can save the song from YouTube with the red Download button.
Amazing right?
Now you've got how to download songs from YouTube with AnyUTube YouTube song downloader.
The instructions above are for PC and Mac. AnyUTube is also compatible with the Android device. If you prefer to listen to music on your smartphone, install the app to your device.
Windows 64-bit
Windows 32-bit
macOS 10.9 and later
Android
Dale Moore is a senior blogger who has a passion for exploring and sharing anything about YouTube over a decade. He is keen on helping users to discover the best YouTube videos and channels.