Most Popular Tik Tok Song List 2019 (Updated)
---
As we all know, TikTok is an app for watching short videos along with listening to background music.
TikTok is getting so popular for the whole past year.
Whether a TikTok video is fascinating or not mostly depends on its background music.
Don't buy it?
Then turn off music of Tik Tok videos, they will look silly than you thought.
So, to make good content in TikTok, songs selection is a vital part for uploaders.
If you have no idea which song to pick, you won't go wrong to use popular Tik Tok song that used by many other users!
You can directly search keywords in Free MP3 Finder to find our popular TikTok music.

Take this as an example: I searched TikTok meme song and the results would be shown as follows.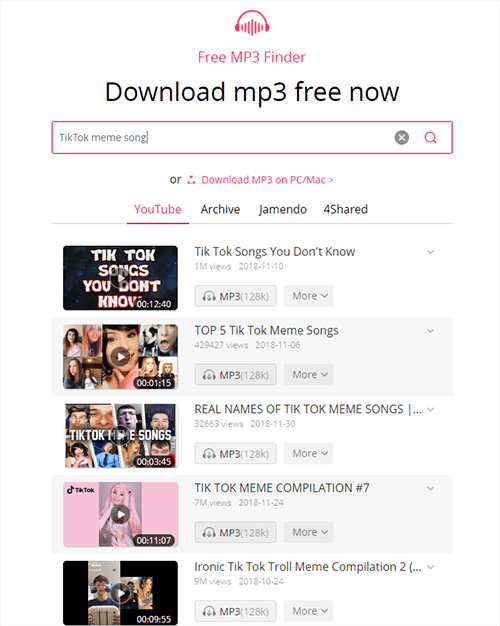 You can try other keywords such as popular Tik Tok song, Tik Tok song list to find more.
As a frequent viewer of TikTok, I just can't help being attracted by BGM. Most of time, I really want to know the TikTok song names but some users upload the songs as their own ones so there will now show audience the real song names.
You might have the same problem like me.
So, I pick out the most popular Tik Tok songs for you.
Tips: The list contains various musical styles, ranging from hip-hop, electronic music dance (EDM), to new songs. You may probably find out the songs you are looking for.
Now, come and enjoy the auditory feast! Click download icon and you can directly download each song.
For your convenience, I've already made a playlist on YouTube including all the popular songs. You can hit the Play button and listen to the songs directly.
Just a few easy steps and you can batch download the whole playlist with AnyMusic.
AnyMusic
Download any music via keywords or video URLs. Batch download supported.
Windows 64-bit
Windows 32-bit
macOS 10.9 and later
Android
Step 1. Copy playlist URL
Step 2. Paste the URL in AnyMusic search bar
Step 3. Select the music to download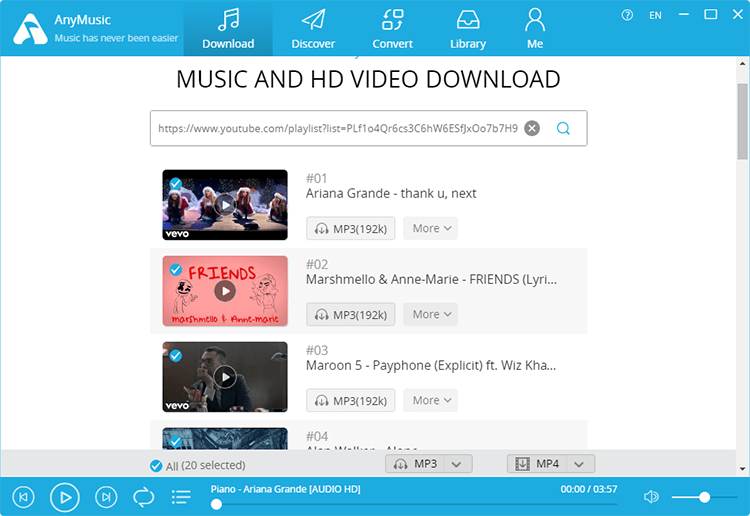 How about these TikTok songs today?
Is your favorite BGM in this list?
If you know the Tik Tok song which is not on this list, welcome to leave a comment to share with us!
Hi! I'm Sarah Pace from LA, and I am a freelancer. I like to explore the Internet and help users to fix problem, etc. So I create blogs on my
Google+
to share everything I got with you, follow me!