anyutube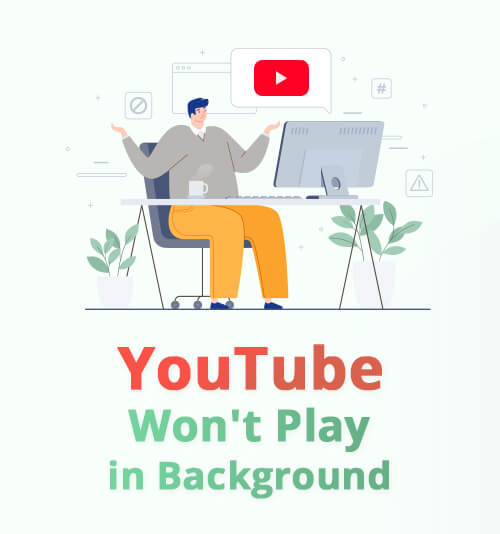 YouTube, as a big video content platform, provides us all sorts of movies, games, as well as the latest music. It is not just for watching. Some people get used to listening to YouTube in the background while busying themselves with other things on mobile.
All is good until you find YouTube won't play in background one day. It seems everything has screwed up, and you could not focus on what you are doing.
The most critical issue right now is how to fix it?
This post will focus on how to fix YouTube wont play in background. Besides, we will also advise on how to download YouTube videos without Premium.
Let's dive it.
Part 1. Fix YouTube Wont Play in Background
Either a browser or YouTube app can play YouTube in the background.
1) If you play YouTube in a browser, make sure the Desktop function has enabled. You can visit m.youtube.com and then click three vertical dots on the right corner and select Desktop. As the video starts playing, just exit to the home screen. You will notice audio stops. Don't worry. Just pull down android notification shade to resume playing the video in background.
2) Make sure no other audio apps are playing audio. If another app is playing audio right now, YouTube wont play in background. You need to turn off the app first.
3) Check your internet. Loading videos require a good internet connection. Make sure your device has connected to a fast Wi-Fi network or your mobile data.
If your YouTube Premium doesn't play in the background, you can further check the YouTube app.
4) Check background settings.
a) Click your avatar icon and further click on Settings on YouTube.
b) Find Background & Downloads, select Background Play.
c) Check your selection: select Always on, the videos play in the background all the time; or Headphones or external speakers, the video will play when connecting to headphones, speakers.
5) Restart YouTube app. If YouTube app has run for some time, there may not be enough space for background play smoothly. You can try to close the app and restart your phone.
6) Make sure your membership within its validity. YouTube only allows Premium members to play video in the background. If your membership is expired, you need to re-subscribe. It takes a few hours before you can play downloaded videos if you just re-subscribed.
Above is common methods to fix YouTube wont play in the background. You can have a try.
Part 2. Download and Play YouTube in Background without Premium
Play YouTube in a browser or app requires reliable internet unless you download the files in advance. In fact, you can download YouTube videos without Premium.
AnyUTube is such an app designed to download YouTube for free. You can visit YouTube directly in this app and download videos with one click. It allows you to convert YouTube videos to MP3 as well. Besides, AnyUTube serves as a music and video player. You can play YouTube music with the screen off in this app.
Now let's see how to download and play YouTube in the background without Premium.
Before we start, you need to install AnyUTube on your Android device.
AnyUTube
All-in-one YouTube downloader & converter
Now, Let's download YouTube videos for free:
Launch AnyUTube app, and click any item on the page to visit YouTube website directly;
Select the videos or playlists you want and click the red icon on the screen, or you can log in to your YouTube account and visit YouTube Library to download saved playlists and videos you want to watch later.
Press Download icon with your preferred format; it's better to download an MP3 form for background play.
The selected videos will be added to your downloading queue. You can find them in Library once file download completed. Now you can play music with the screen off.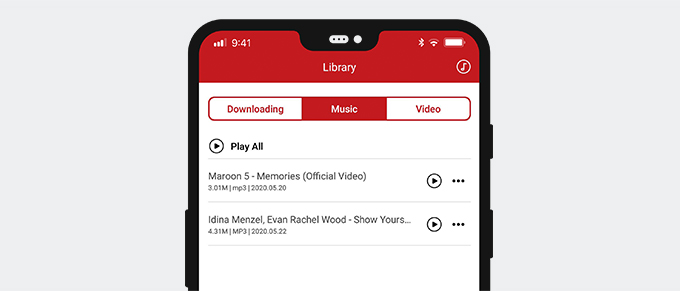 Conclusion
Solutions have provided to fix YouTube wont play in background. And AnyUTube is also recommended to download YouTube without Premium. In this way, you can play YouTube music in the background without limitation.
Let's download AnyUTube right now!
AnyUTube
All-in-one YouTube downloader & converter
You May Also Be Interested in These Topics