anyvid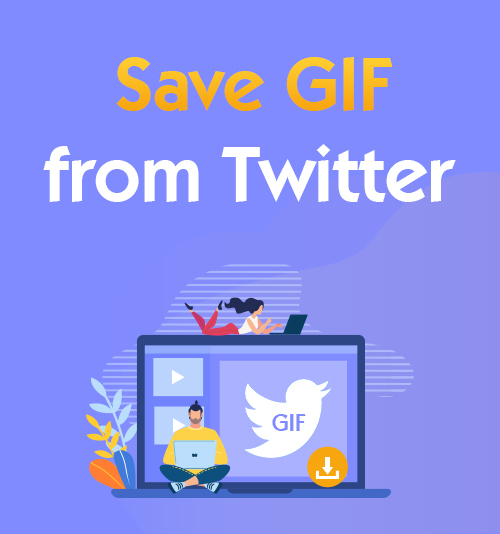 The whole social media universe is filled with GIFs.
If you are a frequent Twitter user, do you have the urge to save a GIF for your collection immediately?
However, when it comes to Twitter GIFs, it can become a little tricky. Twitter GIF isn't GIF at all, but a small video file converted to a proprietary format by Twitter.
To save GIF from Twitter feed, you need a downloader to download and save it on your phone or PC.
Be relaxed! This guide is here to help you know about saving GIFs from Twitter.
Let's get started!
Part 1. How to Save a GIF from Twitter
Method1. Using a Third-Party App
AnyVid is one of the most useful Twitter GIF downloaders I've ever used. Most of us use it not only as a downloader for GIFs but also for videos.
With AnyVid, you can download any GIF you want from all the tweets you like.
There are a lot of Twitter GIF downloaders in the market. But what makes it fascinate me so much?
The three following bread-and-butter features will tell you.
● Cross-platform compatibility. No matter you use Windows, Mac, Android, or iPhone operation systems, AnyVid can do its part.
● No ads and malware. The developer has designed AnyVid as a clean, safe, and anti-virus GIF downloader, which gives you a better user experience.
● Availability of HD GIFs. AnyVid brings you varieties of GIFs with different resolutions. Using GIFs in our chats can activate the chatting atmosphere.
AnyVid
Easy but powerful video downloader & converter
Quick-tip: The optional resolution depends on the original quality of the GIF.
How-to Guide:
Install AnyVid on your computer and go to your Twitter feed. Select the GIF that you want to save and copy its link address.
Now open AnyVid and paste that link to the search bar and click on Search.
Click on the Download button to save GIF from Twitter.
Method2. Using Online Twitter GIF Downloader
AmoyShare Twitter GIF Downloader is the online version of AnyVid. They have nearly the same features and downloading process in common.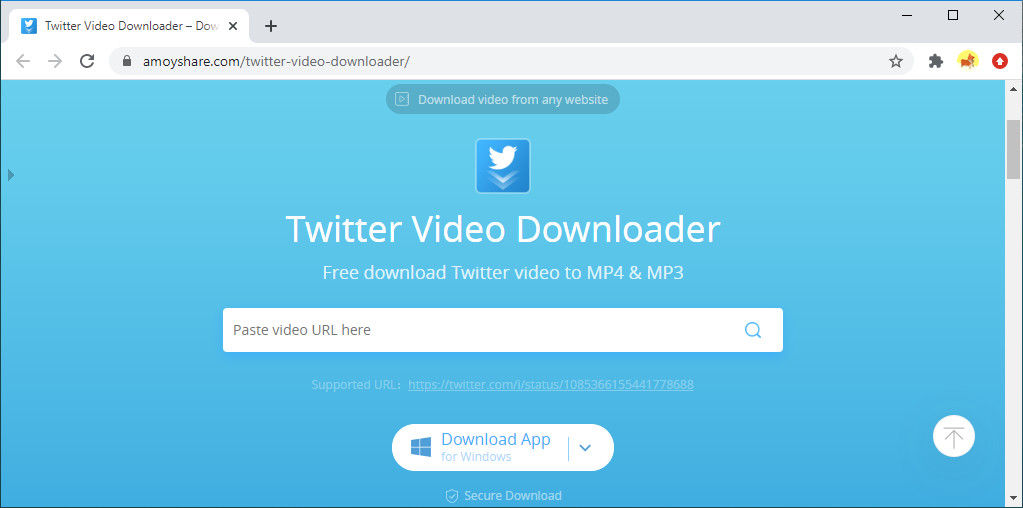 As an online Twitter GIF downloader, it is compatible with every popular browser. Open it on your browser, and follow my steps.
Find the GIF you want to save and copy the tweet link from Twitter.
On the browser, open AmoyShare Twitter Video Downloader and paste the GIF URL to the text field.
Press the Download button.
Part 2. How to Convert Video to GIF?
Now that you have saved Twitter GIFs as .mp4 format, I will show you how to convert it to .gif format.
Kapwing is a free and trustworthy online tool you can use to save the Twitter GIF in .gif format immediately. You'll need to know just 2 steps to get the job done.
Upload the GIF to the Kapwing Studio. Head over to Kapwing.com and sign up for free. Then go to Kapwing Studio, where you can use all of Kapwing's editing tools in one place.Now, choose the Click to upload field.
Process & Download. After your Twitter GIF has been uploaded to the Kapwing Studio, there is one thing you must do. The default output file is in MP4 format, so you need to change it to GIF. Click Settings on the top right corner of the interface, and then you will see a pop-up. And make the change.Now just click the red "Export GIF" button in the top right corner. Your GIF will be downloaded in a few seconds.
Try It and You Will Like It
Have you found this post useful?
If you are looking for a GIF downloader for Twitter, I do recommend you to use the tools I have tested above.
AnyVid – the professional app for saving HD Twitter GIF.
AmoyShare Twitter Video Downloader – the convenient online tool for saving Twitter GIF quickly.
Kapwing – the handy online editor to convert video to GIF.
They can work quite well and smoothly to save GIF from Twitter.
What are you waiting for? Give it a shot and voice your opinions below.
AnyVid
Easy but powerful video downloader & converter