anyutube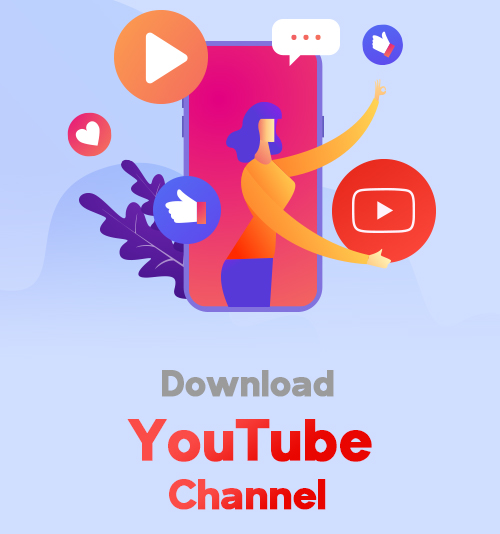 YouTube has tons of channels in different categories. Some videos must fascinate you!
For some reason, you may want to download YouTube channel for offline viewing or self-editing but you are impeded by YouTube.
Luckily, you can seek help from YouTube channel downloader to save videos as your local files for self-use legally and intuitively.
AnyUTube is an excellent software for downloading all videos from YouTube channel you must know.
I will walk you step by step to get selected, or entire YouTube channel downloaded. Let's get started!
To begin with, you can download AnyUTube and follow my guide. AnyUTube supports downloading YouTube channel on Android, Mac and Windows.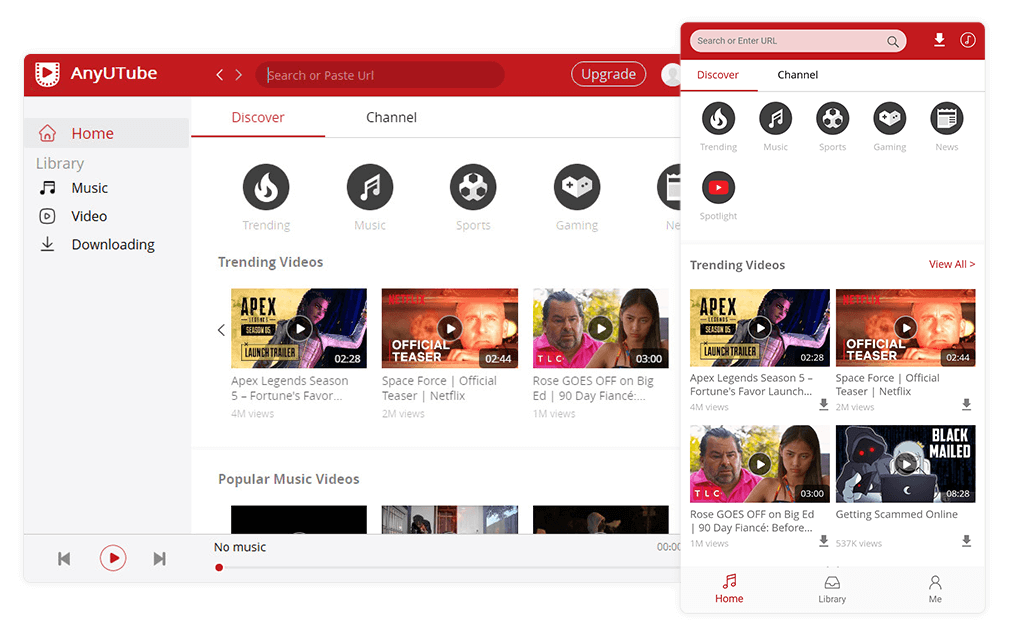 AnyUTube
All-in-one YouTube downloader & converter
Or you can watch my step then make a choice. You'll love this Youtube channel download software.
Firstly, you need to copy a link from a YouTube channel. To make this, go to your subscriptions and select a channel you like on YouTube. On the homepage of the channel, you can find some popular playlists and click "PlAY ALL."Or you can go to the page of "PLAYLISTS" to find all the selected episodes then enter into one of them.
After you enter the broadcasting interface, you can see the whole playlist on the right side of the page. Right-click the title of the playlist and copy link address.
Paste the link to AnyUTube and select the video you want to download. By clicking the first small circle under the search link, you can choose the whole channel to download. Or you can select some of the videos to download.
Click the big red button on the right bottom of AnyUTube and choose the format.
Great! Now you can watch your favorite YouTube channel without the annoying interruption of unstable internet.
AnyUTube has gone through several updates to help you download any YouTube videos smoothly and safely. Batch download YouTube videos at a fast speed right in AnyUTube. Don't hesitate! Download AnyUTube and have a try.
AnyUTube
All-in-one YouTube downloader & converter
There is another way to download all videos from YouTube channel by using the built-in YouTube browser. Let's see how to download YouTube channel on Android phone.
Tap any video on the homepage of AnyUTube to enter into YouTube. Then tap the YouTube logo at the left top of the screen to reach the homepage.
After that, you can choose to log in YouTube to synchronize your history or directly search a channel you want. Do the same as the way on the computer to select a playlist then tap the playlist you want.After entering into the playlist you have selected, hit the big red download button at the right bottom of the screen. Then you can choose to download an entire YouTube channel or just some videos.
Amazing! AnyUTube has a built-in media player for Android. Start watching your downloaded YouTube channel on your mobile phone now!
Conclusion
After reading the guide, you definitely can download YouTube channel with AnyUTube without effort. It's not just about that. You are able to download an entire YouTube channel.
Download AnyUTube and start your downloading now!
You May Also Be Interested in These Topics