anyutube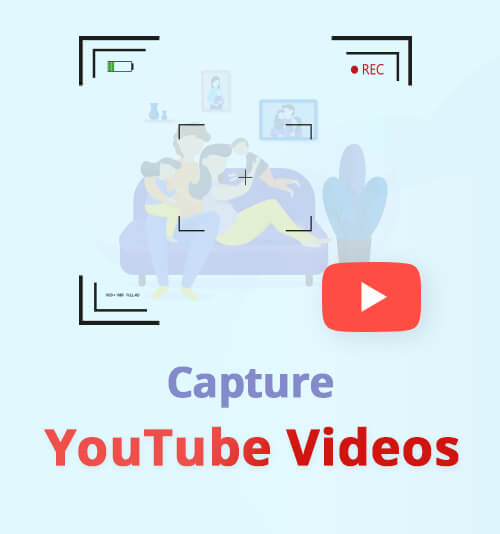 Watching YouTube videos always provides us with a good experience. However, inconvenient or unstable Internet may influence our watching experience badly. Capture video from YouTube as your local files could perfectly fix this problem.
Here comes the best way to download and capture YouTube videos by Amoyshare Free YouTube Downloader online or AnyUTube for Android, Mac, Win. It's legal, simple to do, and free!
Watching the funniest YouTube videos anytime when we are sad, keeping your kids quiet with paw patrol YouTube when you are driving or recording Eckhart Tolle YouTube for personal elevation. It's all attainable in this way.
Wanna have a try? Let's dive in!
Part 1. How to Capture YouTube Video
When you want specific clips of YouTube videos, you need tools to help you with it. However, for most YouTube video capture tools, it's required to import local files first. And if you need to capture YouTube videos from the beginning to the end, just use a YouTube video downloader is enough. Amoyshare Free YouTube Downloader online or AnyUTube for Android, Win, Mac could help you capture video from Youtube by extraordinary easy and quick steps.
Capture YouTube Video Online
Want to capture video from Youtube directly online? Amoyshare Free YouTube Downloader could spare you from downloading apps. I bet you'll love it! Let's see how to do it.
Search or paste a YouTube URL in the search bar on the top.
Preview the video to see if this is what you want.
Hit the download button.
It's an amazing way to capture YouTube video, right? Mind that you can only download 360P videos online and without batch download function. If you have more requirements of video capture for YouTube, AnyUTube could be a powerful software for you.
Capture YouTube Video to Computer
AmoyShare's YouTube video capture tools have gone through several updates to offer you with better user experience. Try our YouTube video capture software – Free AnyUTube for Android, Mac, Win right now, you can:
● Have rights to capture Youtube video free for five videos everyday
● Enjoy 720P+ video quality
● Be accessible to 1000+ popular sites
● Be able to download videos in batch Let's see how to do it.
Let's see how to do it.
Open AnyUTube and search for any video you want on homepage.
Preview the video or just hit the apparent red download button to download the video. (You are even able to skip Ads!)
Quite easy, right? You can also search or paste a YouTube URL in the search bar on the top and download the video.
What are you waiting for?
AnyUTube
All-in-one YouTube downloader & converter
for Windows 10/8/7
for Mac OS X 14+
for Android
Part 2. Best 4 YouTube Video Capture Software
AnyUTube (Recommended)
AnyUTube is a video downloading and capturing software for Android, Mac, Win. Aiming to make you have a better digital life, AnyUTube has made several updates since it has published. Through AnyUTube, you could have five free screen capture YouTube videos everyday. Video quality in 1080P is attainable. You could also enjoy 1000+ popular sites. AnyUTube provides you with a better user experience in allowing you to download videos in batch with 3X faster speed.
Camtasi
Camtasia, created and published by TechSmith Corporation, a software company found in Michigan in 1987, has complete function as a screen recorder on Windows and Mac. It supports recording various kinds of videos, including Webinar recordings, YouTube videos, presentation recordings, and so on. The powerful audio function could help you to make the perfect video you want. It is also a professional video editing software but easy to learn. A featured module like built-in video editor allows you to add many effects. Camtasia provides a free 30-day trial. The quick start guides or tutorial videos on YouTube will help you master this tool fast.
ScreenFlow
ScreenFlow is a video editing and screen recording software for the macOS operating system. It was created by Telestream, Inc., a computer software found in 1998 in California. ScreenFlow provides professional video making for educators, marketers, vloggers, or online training. The multiscreen recording function can improve your efficiency by allowing recording all your monitors.
Movavi
Movavi is a software for capturing and editing videos. You can try free with windows 10/8/7/Vista/XP or Mac version. Movavi can record any source all at the same time. As a screen audio recorder, you could input your sound through the connection of a microphone. The Volume, frame rate, and other settings are adjustable. Movavi Screen Recorder supports many formats, including MP4, AVI, MOV, MKV, GIF, MP3, PNG, BMP, JPG.
Conclusion
I hope this article helps you to capture YouTube videos smoothly. Don't hesitate. Select one and try it now!
For quick and straight YouTube video capture online, try Amoyshare Free Youtube Downloader.
For high definition screen capture YouTube video, try AnyUTube.
You May Also Be Interested in These Topics