AnyUTube Converter
The powerful YouTube to MP3 converter with advanced features.
YouTube to MP3 high quality 320kbps
Convert YouTube playlist to MP3 in batch
Surprisingly fast download speed
Windows 64-bit
Windows 32-bit
macOS 10.9 and later
Android
Best YouTube to MP3 Converter Online 2019
---
Summary: Looking for a free YouTube to MP3 converter online? AmoyShare Free YouTube Converter is always my first choice. I usually use it to convert YouTube music to MP3. Even though there're so many alternatives out there, for me, it's the best YouTube to MP3 converter.
I bet you prefer to try AmoyShare YouTube Converter by yourself. Just enter something to the search bar and click on the search icon below.
Now, let's take a quick look at what you can expect for AmoyShare Free YouTube Converter.
Now, you can enter something to the search bar above, or go through the detailed features with me.
Easy to search and convert YouTube to MP3
---
Everybody knows how to search on YouTube, right?
Here we go, just use the same way to search on Free YouTube Converter. Whatever you enter on the search bar, you can get the exactly same result as you do on YouTube.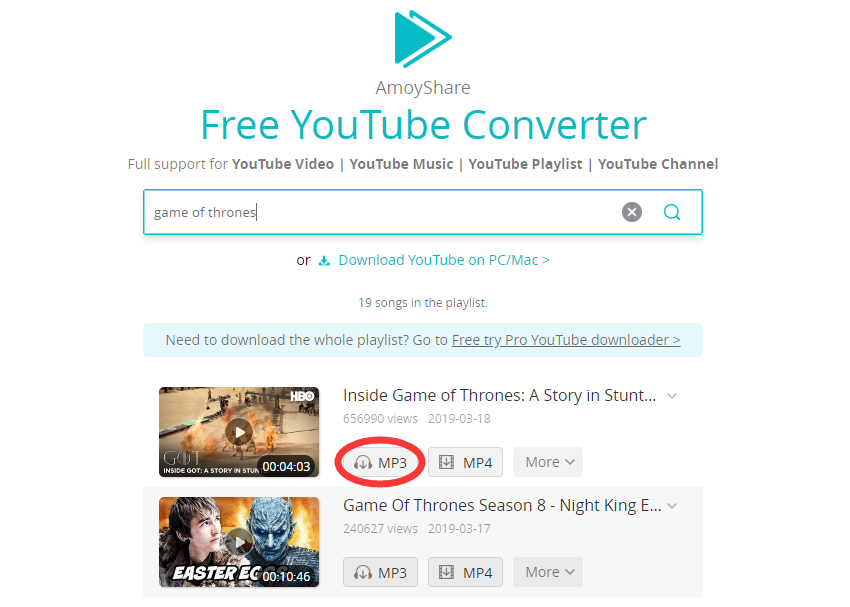 For each result, the convert buttons are right beside the video thumbnail – you can convert the YouTube video to MP3 or MP4. If you want more options, click on the button below and there're other audio and video formats. Moreover, the video without sound is also available for downloading.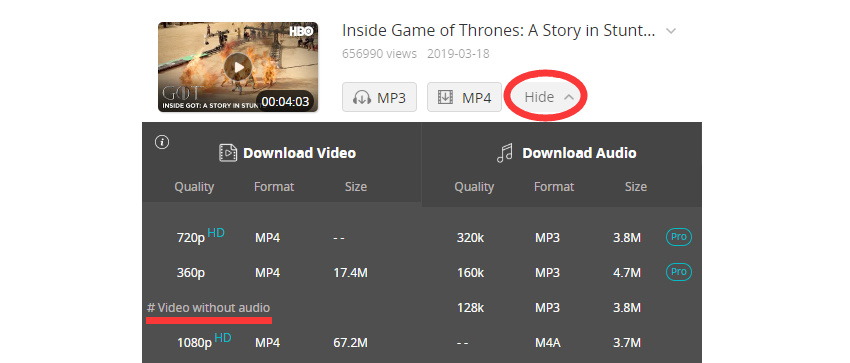 Fast conversion within 3-5 seconds
---
For most YouTube converters, it usually takes 2 steps to convert YouTube to MP3. First, choose the MP3 with the quality you want to convert and click the "Download" button. This step is only the beginning of conversion, and you need to wait until the conversion is completed. Next, you can download the converted file. As you can see, the whole conversion takes a long time.
Instead, with Free YouTube Converter, you can directly download YouTube to MP3 and MP4 without waiting for the converting process. It takes only a few seconds to get the conversion done.
YouTube playlist and channel download supported
---
Have you thought of downloading the music from the YouTube playlist or YouTube channel?
With Free YouTube Converter, you can easily get this done. For example, when I search "Bruno Mars" on YouTube, the first one in the search result is a playlist and the second one is Bruno Mars' channel.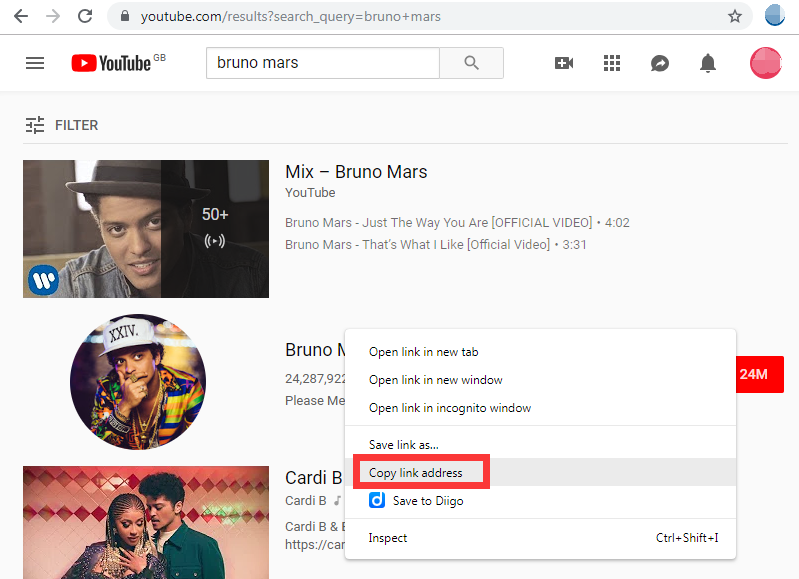 Next, you only need to right click on each of the item, copy the link address, and paste the URL to the search bar of Free YouTube Converter. Then you can get the entire playlist as follows.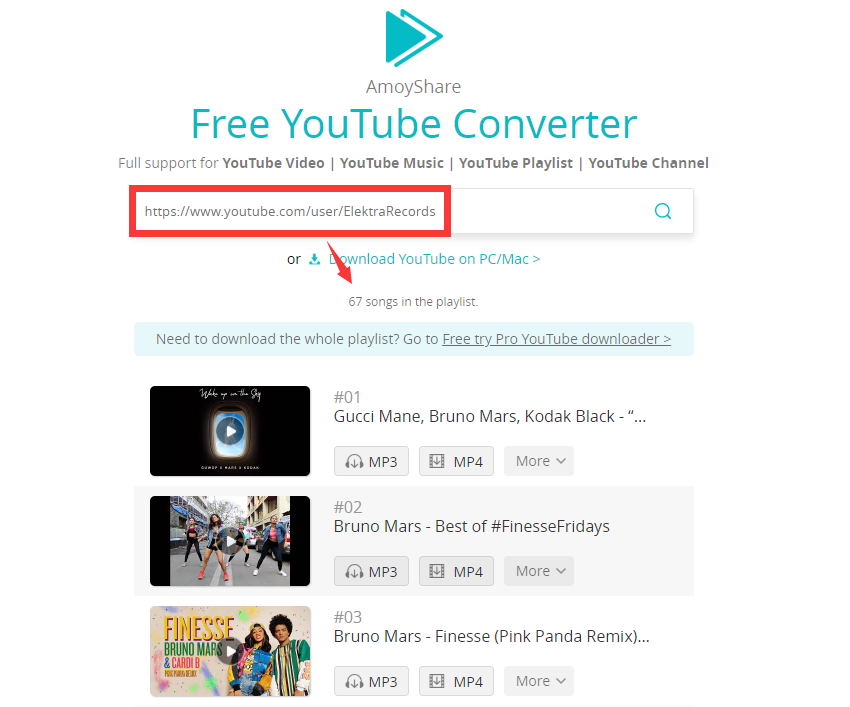 Now, you can convert the YouTube video of the playlist to MP3 or MP4 one by one. If you want to convert the entire YouTube playlist with one click, you can turn to the desktop version of Free YouTube Converter – AnyUTube, which provides more powerful features.
Watch YouTube videos without ads
---
I've got quite a few questions from readers about how to block ads on YouTube. The official suggestion is paying $11.99/month for the YouTube Premium.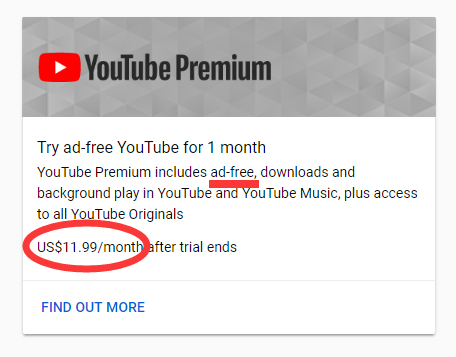 If you want to save the money, then you'd better try AmoyShare Free YouTube Converter. It's not only a free YouTube to MP3 converter online, but also a great tool to turn off ads on YouTube.
In the search result, click on any of the video, and you can watch it without the interruption of annoying ads.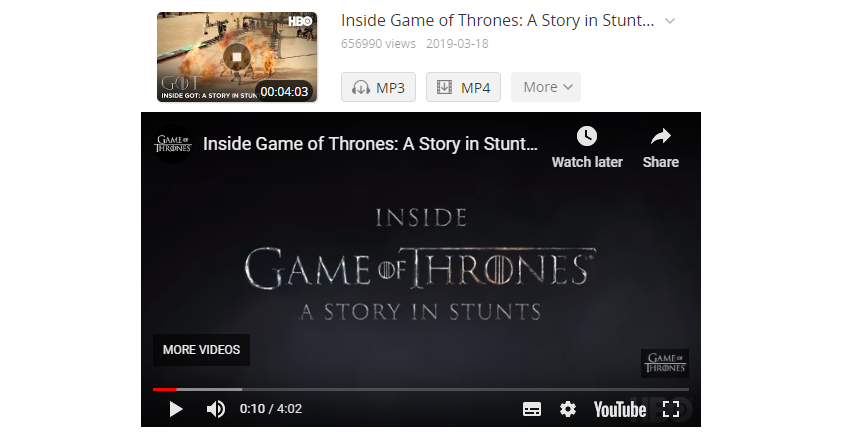 Compatible with all devices and operating systems
---
Free YouTube Converter is a site that fully compatible with desktops, tablets, and phones. The publisher takes the responsive web design seriously, that's why Free YouTube Converter looks good on all devices. No matter you're using Windows, macOS, Android, or any operating system, the only thing you need is a web browser to visit the site.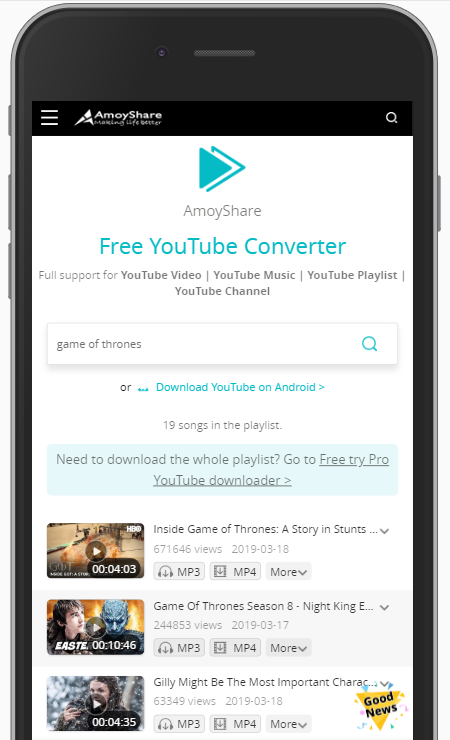 Ad-free and registration-free
---
The publisher AmoyShare values user experience the most. That's why the interface is so neat and you won't see any ad on the site. Meanwhile, there's no registration required, hence your privacy can be guaranteed.
Conclusion
---
Well, you've learned everything about the best YouTube to MP3 converter online.
Why not start with downloading a playlist?
I've enter a playlist link for you, and you only need to click on the search icon. Try it now!
Dale Moore is a senior blogger who has a passion for exploring and sharing anything about YouTube over a decade. He is keen on helping users to discover the best YouTube videos and channels.