Summary of this article: During the wonderful Labor Day, it's usually jam packed with weddings, and the large budget is one sticky thing that new couples will face. Here helps you to save budget from the beginning of wedding invitation cards. Free wedding invitation templates are provided for you here.

Labor Day, as we all know, is a well-deserved holiday for hard working persons. In this special day, we can just sit back, relax and have some fun. Besides, we can also throw a Labor Day party during the holiday to get together with friends. What's more, it is also a popular time to get married!
For the long weekend and mild temperatures, it is no wonder that why many people choose to get married on Labor Day. And it always happens that the ceremony site and reception venues book up quickly. So in this day, people on the one hand should be sure to secure the settings as early as possible, on the other hand, they should try to keep an elegant and creative but budget-saving wedding party.
Planning a wedding party requires many elements including wedding cards, decorations, food and participants, etc., so the large budget is always taken into first consideration. Furthermore, among the budget of wedding cards, wedding invitation cards are only the beginning. Beyond them, there are still reply cards, save the dates, reception programs, seating cards and thank you notes, etc.
To keep costs in check, some couples may choose to print their own invitation cards. But after all, the wedding invitation cards set the mood for the whole event, so how to find creative and elegant ones without sacrificing the style?
To solve this problem, saving your budget most during your wedding of Labor Day 2015, AmoyShare here provides you some free wedding invitation templates in the latest wedding trend, which is guided by Mindy Weiss, the famous stationery designer.
Take two styles below as example, you can enjoy and download.
Related article: 2015 Wedding Trends from Mindy Weiss with Free Wedding Invitation Templates
If you want to get more other free wedding invitation templates, click here.
1. Formal Labor Day Wedding
If you are having a little formal summer wedding, you will want your invitations to be as elegant as your lacy gown. For invitations as elegant and romantic as your gown, opt for a lasting lace design as below. This design pays homage to the classic fairytale love story and all things romantic – and what says romance more than lace?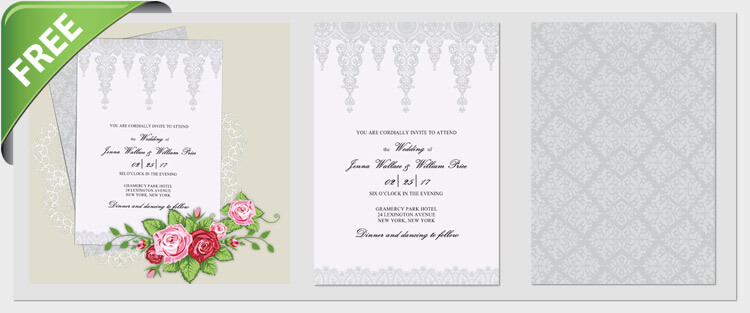 Wanna customize your own one? Download and unzip, then open the project by Photo Collage Maker.
2. Outdoor Labor Day Wedding
Summer weddings are often less formal than winter affairs. If this is true for you, let your invitation cards be fun and relaxed too. For an outdoor wedding during the Labor Day, the attractive outlook with natural border would be pretty for you. The elements of nature and green living walls will definitely stand out among many wedding celebrations this holiday.
Wanna customize your own one? Download and unzip, then open the project by Photo Collage Maker.
Wanna customize your own creative wedding invitation cards like above ones? Download AmoyShare Photo Collage Maker below to try free now!
Download Trial
Green Software with NO Plug-ins.

Download Trial
Green Software with NO Plug-ins.