YouTube Converter to MP3 for Android (Free Download)
By
Andrew
| Last updated: Jan 09, 2019
---
Over 5 billion videos shared on YouTube to date, and there's a great amount of music videos.
Right, YouTube is a great way to access free music.
For music buff, you may not happy with purely stream YouTube music online. Well, you also want to download music to listen offline, especially for smartphone.
I've got the same question from readers many times – how do I convert YouTube videos to MP3 on my Android?
Well, you should have a YouTube converter to MP3 for Android.
AnyUTube is such an app to convert YouTube to MP3.
It only takes 1 step, let's see!
Before getting started, make sure you've installed AnyUTube on your Android device.
AnyUTube
YouTube video downloader and converter for Android
Generally, you are not able to get any YouTube to MP3 app from Google Play due to Google's policy. You know, the copyright concern. Though AnyUTube is not on Google Play, this Android app is 100% safe and virus-free.
Now, open the app, and you can see the interface like below.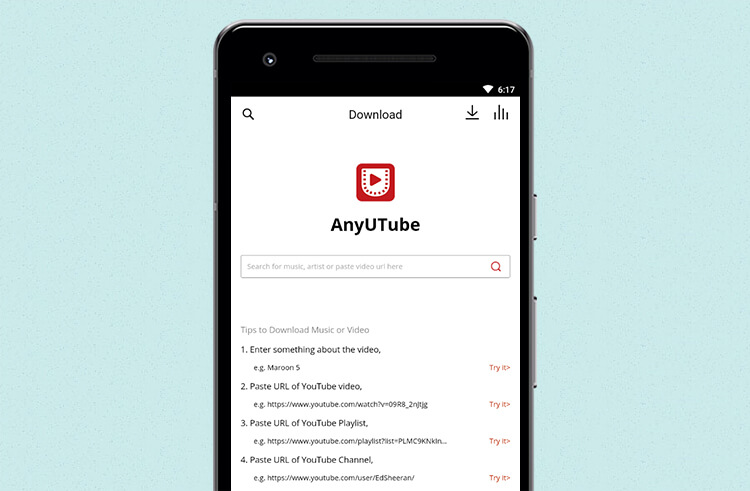 Now, enter song, artist, speech, just anything about the video to the search bar. For example, I entered Faded by Alan Walker, and clicked on the MP3 button of the first search result.
That's all!
The YouTube to MP3 conversion process begins at once, and all the downloaded files can be found in the Library.
So easy, right?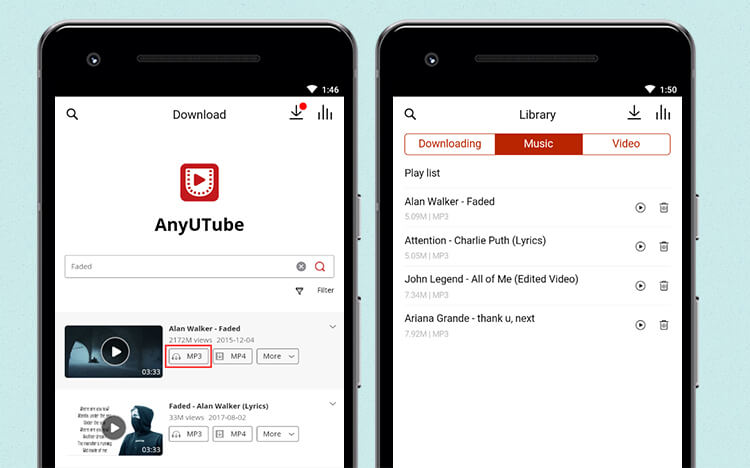 Here're 3 more tips:
1. Make good use of the filter
When you search YouTube video on AnyUTube, the whole process is exactly the same as YouTube. You can filter search results by upload date, duration, relevance, view count, rating, and more.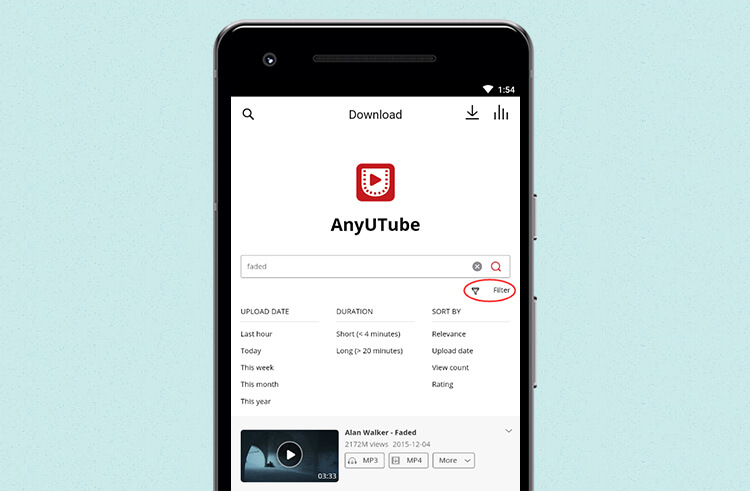 2. Search video via link
You can also search the YouTube video by copying and pasting the video URL from YouTube to the search bar.
3. Play the video before downloading
In case that you're not sure whether the YouTube video is what you're looking for, you can preview the music video by clicking on the video thumbnail.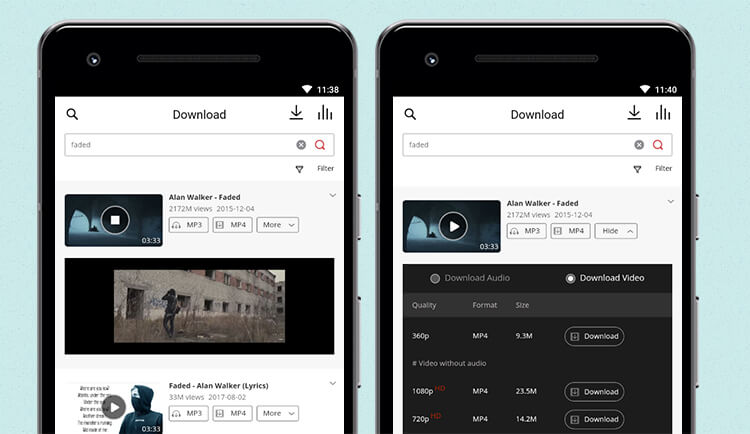 4. Download YouTube video to different formats
If you want to download YouTube videos, simply click on the MP4 download button. For other formats, you can click on the More button to discover more.
Impressed by AnyUTube?
It's the best YouTube to mp3 converter for android. I bet you'll agree with me after trying.
Now, free download the YouTube to mp3 converter app for Android!
AnyUTube
YouTube video downloader and converter for Android
(P.S. AnyUTube is not only a YouTube converter to MP3 for Android, but also available on Windows and Mac. If you need a YouTube converter for computer, get AnyUTube for Windows or AnyUTube for Mac for free now.)
Whatever question you've got, feel free to let me know in the comments. I'll get back to you as soon as possible.
Hi! I'm Andrew, a blogger who has a passion for sharing anything about YouTube for 10 years, also help others to solve problems, you can follow me on
Google+
for more information.