MP4 Video Download | Download HD MP4 Video with AnyVid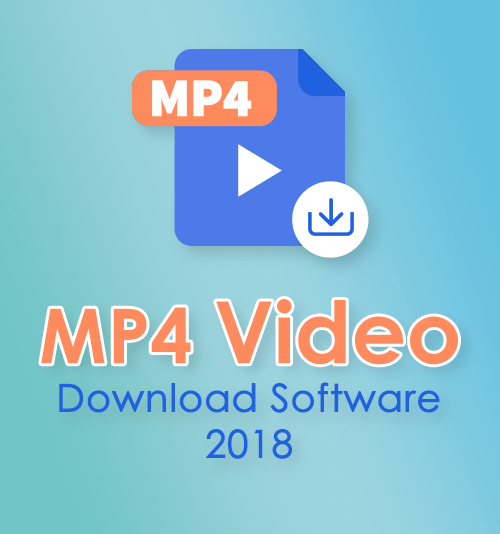 How to get MP4 video download to your devices?
When I search 'MP4 video download', there are hundreds of online MP4 video downloaders.
It seems that people tend to download MP4 videos on free online service.
However, most the MP4 video downloader comes with ads even virus.
So, where and how do you download mp4 videos safely?
Luckily, we will share a complete guide on MP4 video download today, including anything you want to know about MP4 format and the easiest way and safe way to download video in MP4.
Keep reading…
Part 1. What's MP4 Video File Format?
As a popular video format, Mp4 always be the first for watching videos because MP4 has the widest range of compatibility with devices.
So what is an MP4 File?
MP4, also known as MPEG-4 Part 14, is a multimedia container. It can be used to store video, audio, subtitles and even images. MP4 has been widely used in wide range, including devices like smartphones, tablets, computers as well as TVs.
To make it more clear:
MP4 container (.mp4) = MP4 format video (audio + subtitle)
Then what's the advantage of MP4 video format:
1. The higher degree of compression and less loss of quality.
2. Better quality and smaller file size.
3. Suitable for video streaming over the internet.
With the brief introduction on MP4, you may have a deep understanding of it. Next, let's move to the highlight of today's post.
Part 2. MP4 Video Download Software – AnyVid
AmoyShare AnyVid is an HD MP4 video downloader. It is powerful and easy-to-use mp4 video downloader app for you to download any video from websites among 1000+ supported sites including YouTube, Facebook, Dailymotion, Vimeo, etc.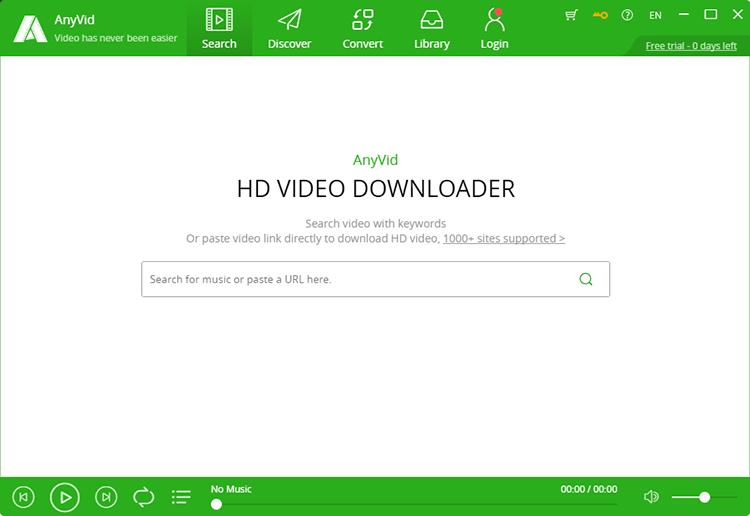 More features of AnyVid:
1. It provides multiple ways to discover video
There are 3 ways to discover video and get the video downloaded as MP4 with AnyVid.
Approach 1: Paste the URL of the video to the search bar of AnyVid
Like the other video downloader, you can download MP4 videos with URL. You can simply paste the URL of the video to AnyVid. AnyVid will help you fetch the video in seconds.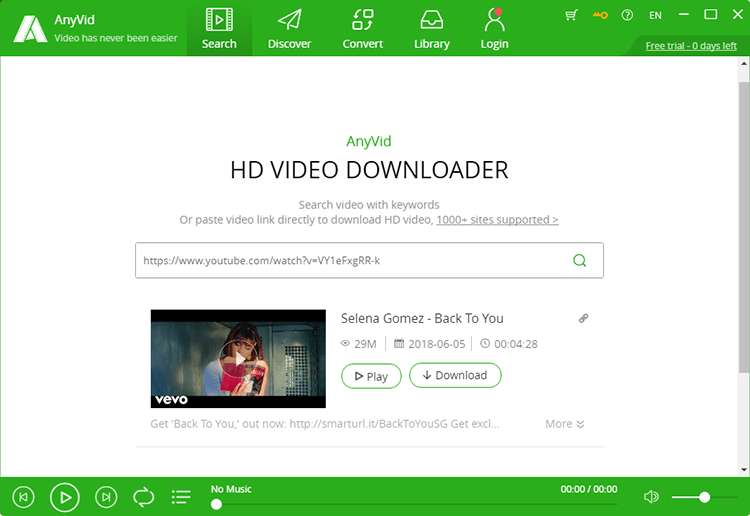 Approach 2: Type keywords into the search bar of AnyVid
AnyVid features a search engine, which makes discover videos easier for users. You can enter keywords like music video name, movie name, artist name to the search bar of AnyVid. It will fetch the video for you shortly.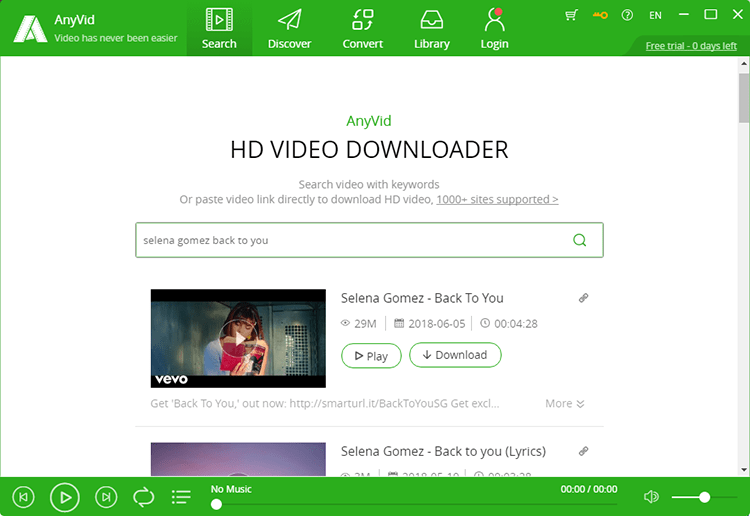 Approach 3: Browse video within the app
The third one, which is the coolest one. This MP4 video downloader owns a 'Discover' function. With it, you don't need to open any other windows. You can search any video within the app and save it with just one-click.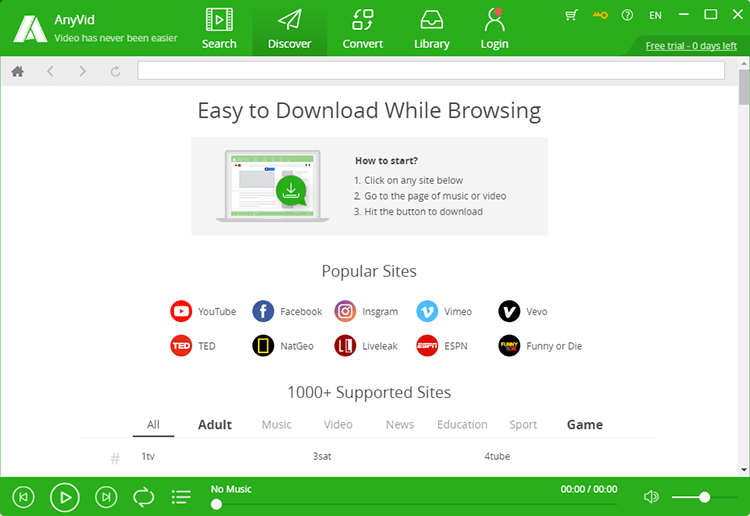 2. It allows you to download the full playlist from YouTube in HD MP4 at once
What if you want to download all videos from a YouTube playlist or multiple videos of a playlist? How to make it simpler and efficient? Let's see how AnyVid works.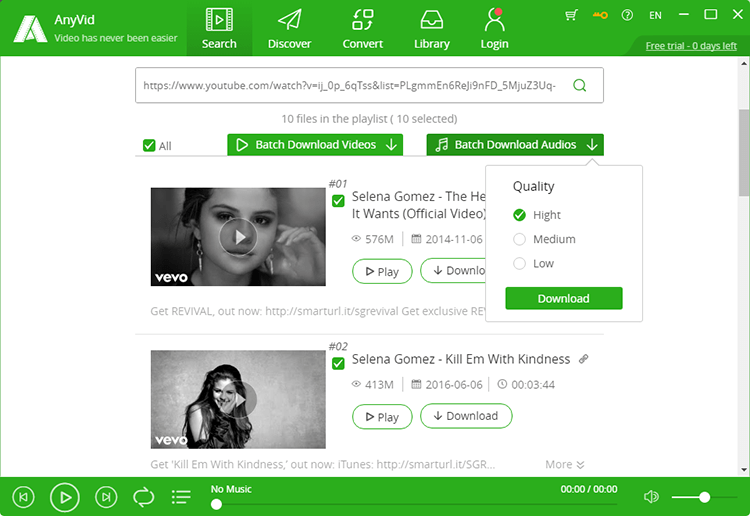 3. It supports multiple formats video downloads
Except for downloading the video as MP4, you can also download a video in many others video (3GP, WEBM, etc.) or audio (MP3, M4A, WEBM, etc.) formats. Besides, there are different qualities of a video for you to choose, ranging from.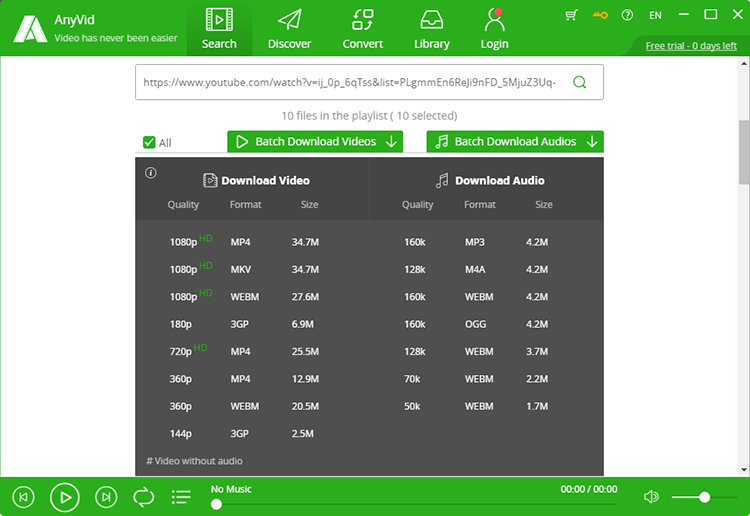 4. It features a video converter and cutter
AnyVid is not just an MP4 video downloader but a media converter and cutter. It allows you to convert any local files to other formats you need. Besides, it also makes cutting media file very easy. You just need to input the start time and end time. Then, AnyVid will deliver the file to you in seconds.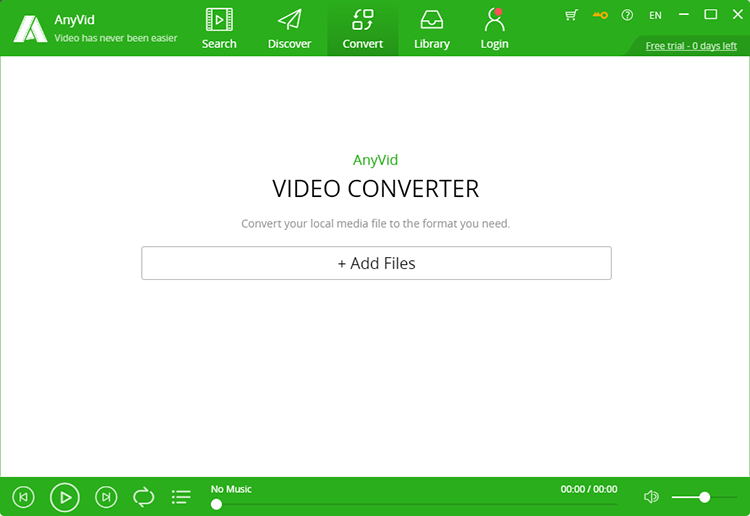 5. It's very easy to manage files
We have all couldn't find where the downloaded files located. While with AnyVid, you can easily find all your downloads within its Library. Besides, it also enables you to rename or delete files within it.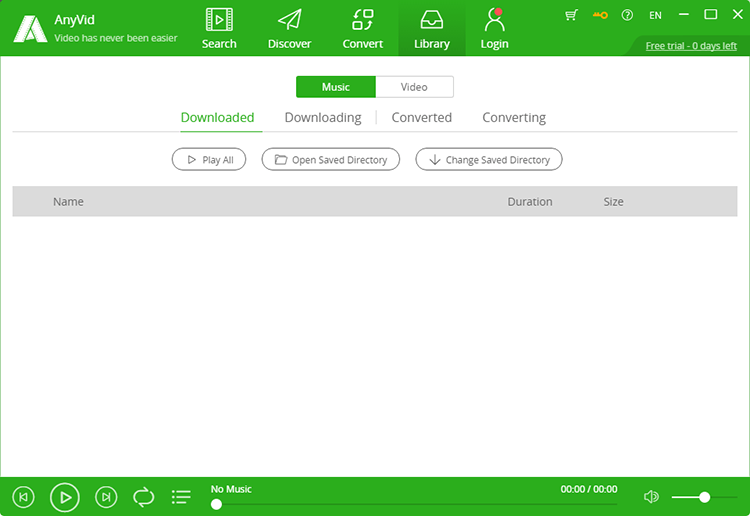 Part 3. How to Download HD MP4 Video with AnyVid
AnyVid simplified steps to download HD MP4 video. Now, it only takes 3 steps to download any MP4 videos. Now, let's take download YouTube videos MP4 as an example.
Step 1: Find your target video
As I mentioned, there are 3 ways to download an MP4 video with AnyVid. I prefer to paste the URL of the YouTube video to the address bar of AnyVid. After pasting the video link, I will need to click on the search icon. Then AnyVid will fetch the video in seconds.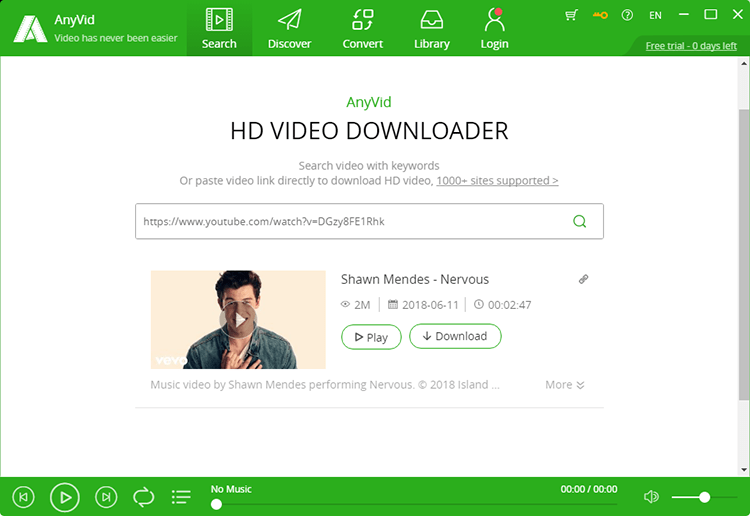 Step 2:Preview the video before downloading
In case of downloading a wrong video, it's necessary to take some time to preview video before downloading.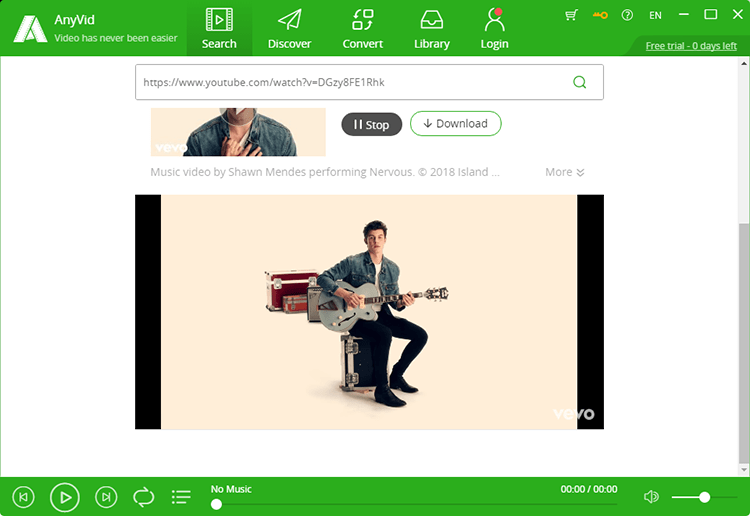 Step 3: Download MP4 videos
After AnyVid displaying the video, I can click on 'Play' to preview it. Then, select a downloaded file format and quality.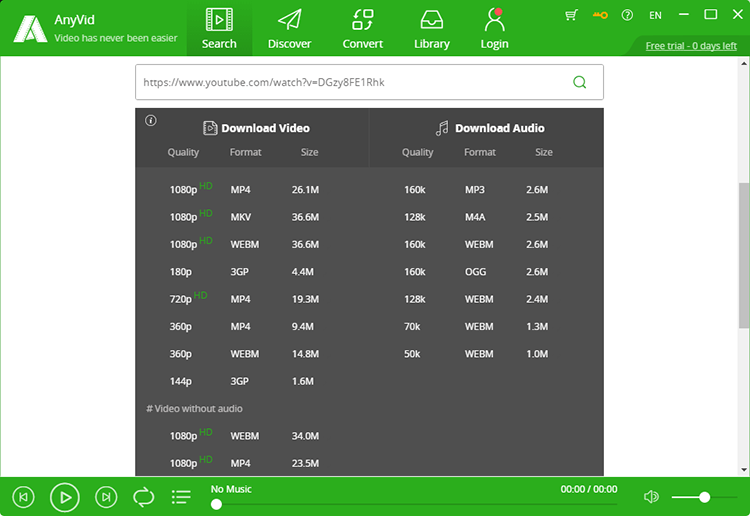 '
Conclusion on MP4 Video Downloader App
That's all for today's sharing. If you're still looking for an MP4 video downloader, you should never miss AnyVid. With AnyVid, you can download MP4 video from more than 1000 sites, including YouTube, Vevo, Facebook, Vimeo, Dailymotion and more. Besides, except for MP4, you can also download the video in many other formats, such as 3GP, WEBM. In addition, you can batch download a complete YouTube playlist at once. There are more highlights of AnyVid will need you to find it out by yourself. So don't hesitate to give it a try.
If you have any other concerns or questions, don't hesitate to leave comments below. Thanks for your reading.
How to download mp4 videos: