How to Download Instagram Videos with AnyVid?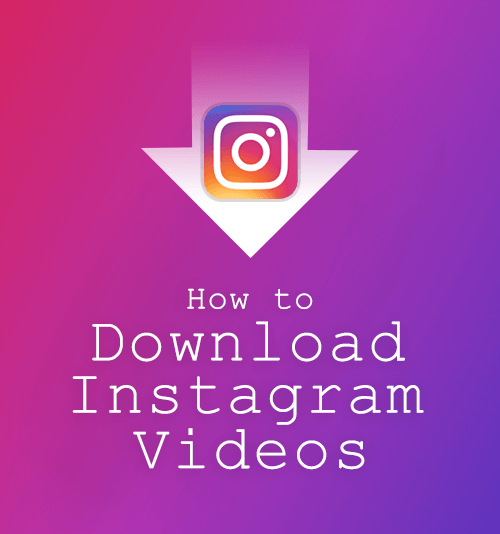 Do you often use Instagram during your spare time?
As an Instagram super lover, I almost use it every day to get the information from people I follow or share my life.
At first, I was puzzled about how to download Instagram videos until I got one great video downloader by coincidence.
It's named AnyVid, the best video downloader in my opinion.
Easy operations and powerful functions are the reasons why it attracts me.
I'm absolutely sure that it will live up to your expectation!
Can't wait?
Let's go and know more details about how to download Instagram videos with AnyVid!
Follow me!
Part 1. The Most Outstanding Instagram Video Downloader.
In your mind, what advantages should a good Instagram video downloader have?
Whatever your requirements are, AnyVid will meet you all the time.
First of all, AnyVid is not complex at all so that everyone can use it with ease.
Secondly, it is safe enough because of no ads and virus.
Also, you don't have to worry about whether the page is concise.
AnyVid provides a more comfortable video downloads experience for you.
Thirdly, its high download speed saves your priceless time.
Then, with regard to the formats, you have lots of choices.
You can always find what you like.
It supports over 1000 websites like popular sites YouTube, Facebook, Dailymotion, Twitter etc. Any videos can be found and downloaded on AnyVid. You can download videos from websites and convert video to mp3 or any formats you need on AnyVid.
Last but not least, what makes AnyVid stand out is that you can stream Instagram video and download it directly on Anyvid. How? You will know in the following passage.
If you need, you can even download a video playlist with one click by AnyVid.
So, how do you save a live video from Instagram with AnyVid?
Next, let's see how to make it!
Part 2. How to Download Videos From Instagram with AnyVid?
Only a few simple steps, you can download Instagram videos easily with AnyVid. Let's break them down and download Instagram videos on your PC.
Step 1. Get Your Target Video
Open Instagram.
You can search for the video by entering keywords.
Or you can find the video directly from who you are following.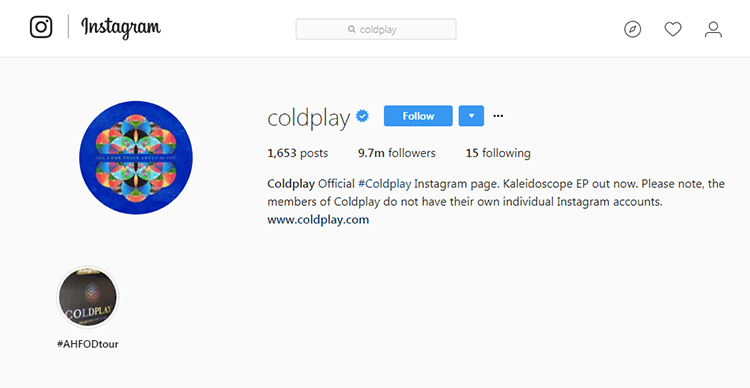 Step 2. Copy the Video URL
You can copy video link directly from the address bar.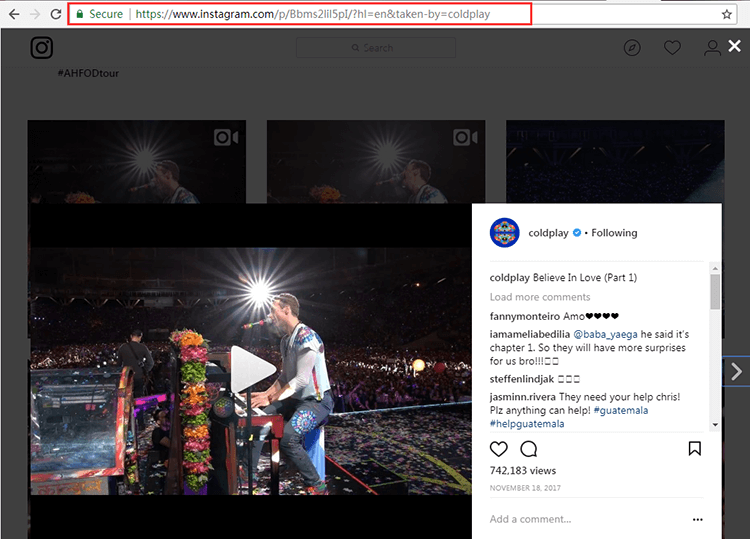 Step 3. Paste the Link on AnyVid
Go to AnyVid.
Paste the link copied from Instagram on the search bar.
Click on the search icon.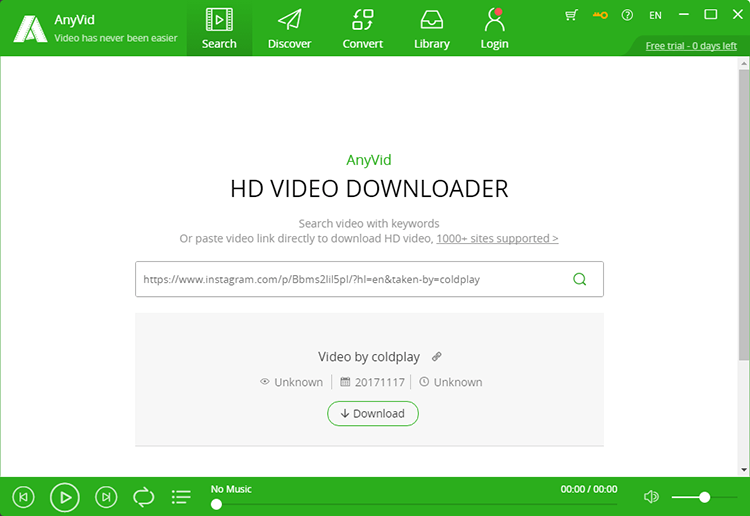 Step 4. Select video formats and download
After you hit the "Download", you'll see different formats.
Make a choice and download now!
All downloaded file can be found in "Library" bar.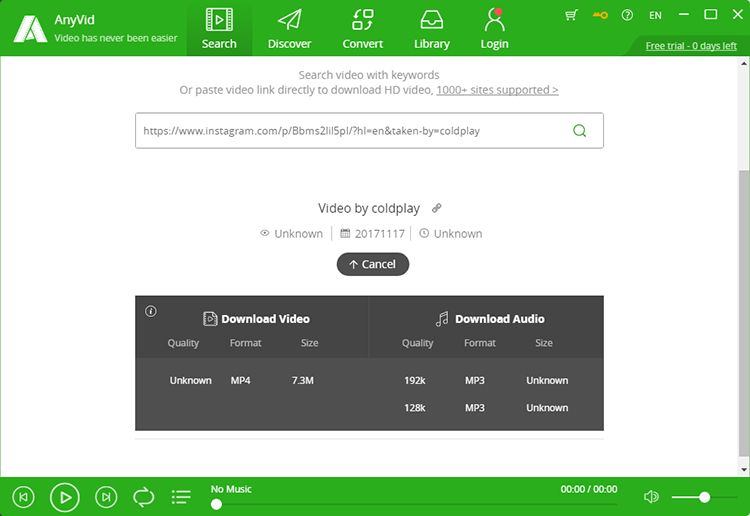 Till now, you can download Instagram video successfully with AnyVid.
Then let me tell you how to download Instagram videos directly on AnyVid.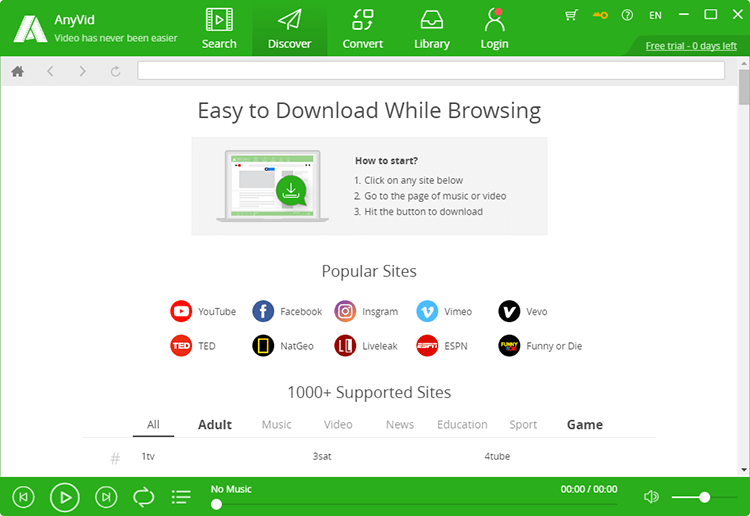 AnyVid embedded 1000+ sites in the app, you can explore the websites and download videos directly on AnyVid without copying video link.
When you watch Instagram videos on AnyVid, you can click that green download button to save a Instagram video on your device.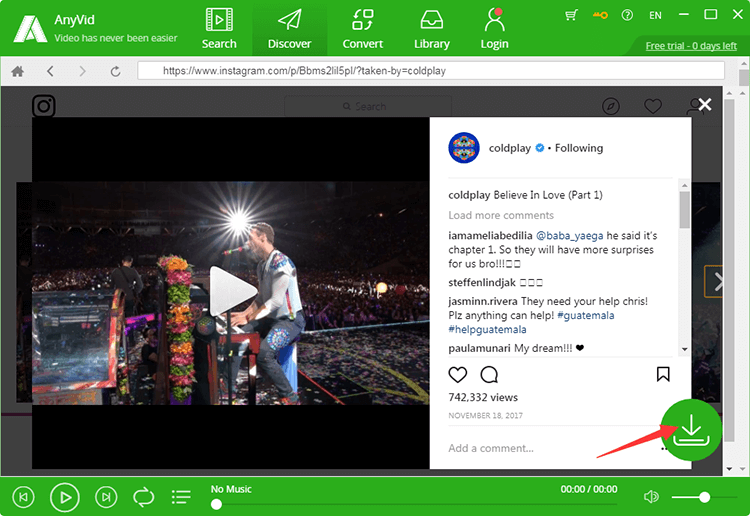 It's pretty easy and convenient to download Instagram videos, right?
Ok, that's all the about how to download Instagram videos on your computer.
Part 3. How to Download Instagram Videos Free Online
What if you want to download Instagram videos to your mobile? Such as download free Instagram videos to iPhone, to Android? Don't worry about that, we still have the best solution for you. Try Free Video Finder!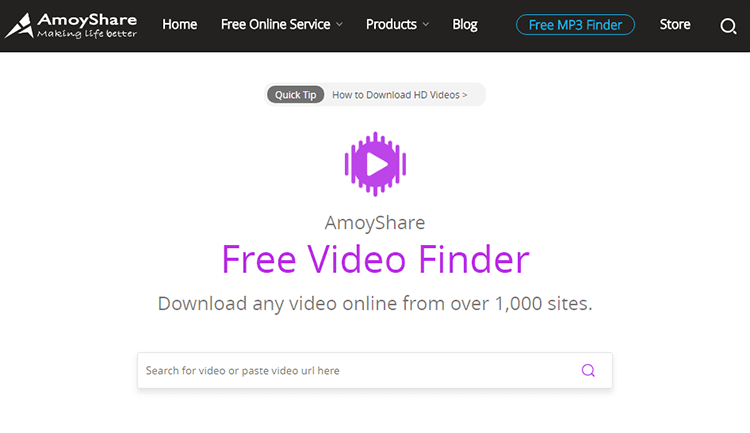 Free Video Finder is an online free video download site which enables you to download any videos from over 1000 sites including Instagram, YouTube, Facebook etc. You can use this video download service on Android and iPhone mobile phone, so when you need to download Instagram videos on Android and iPhone, you can try Free Video Finder.
How to download videos from Instagram with Free Video Finder?
3 simple steps as follows:
1. Copy video link from Instagram.
2. Search video on Free Video Finder by video URL.
3. Choose video format and download in fast speed.
It's quite easy to use just like when you use AnyVid to save Instagram videos. Can't wait to try? Now it's your time!
Conclusion
That's all about today's recommendation.
Do you agree that AnyVid is one of the best Instagram video downloader?
Hope you will be pleased with it!
Perhaps you still have questions about how to download Instagram videos,
Or any other trouble and advice,
Drop comments below, we'll reply to you as quickly as possible.
Wish you a lucky day!
See you next time!
How to download Instagram videos: