Download SoundCloud Songs (Free & Super Simple Way 2019)
By Ivy Ross | Last updated: Jun 04, 2019
Try to download SoundCloud songs: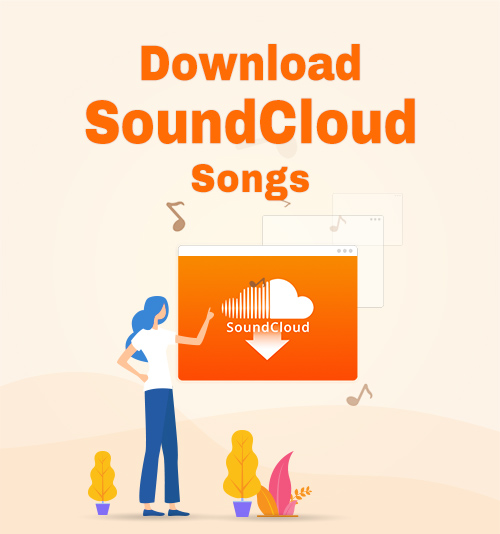 As one of the most loved music streaming sites, SoundCloud has been an open audio platform for millions of users.
It's always true that where there is demand, there is a market. Due to the growing popularity, the demand for a SoundCloud downloader to download SoundCloud songs has never waned.
I guess you have Googled for a solution on how to download songs from SoundCloud, and have got a bunch of similar services in the results.
Definitely, you won't test them out.
But how do you choose the right SoundCloud music downloader? That's why we are here to write this post.
Here is a big takeaway – the SoundCloud Downloader for anyone seeking for the right service.
The SoundCloud Downloader is a 100% ad-free and virus-free online music service. You won't be troubled by any annoying ads or virus.
Of course, you can download SoundCloud songs with it.
It is totally free, too.
Let's dive into the "nitty gritty" details about how to download songs off SoundCloud. To help you understand better, the following is divided into three parts:
Part 1 – How to download songs from SoundCloud
---
Step 1 Find your favorite SoundCloud content and copy the URL
You can choose a song from the website's recommendations.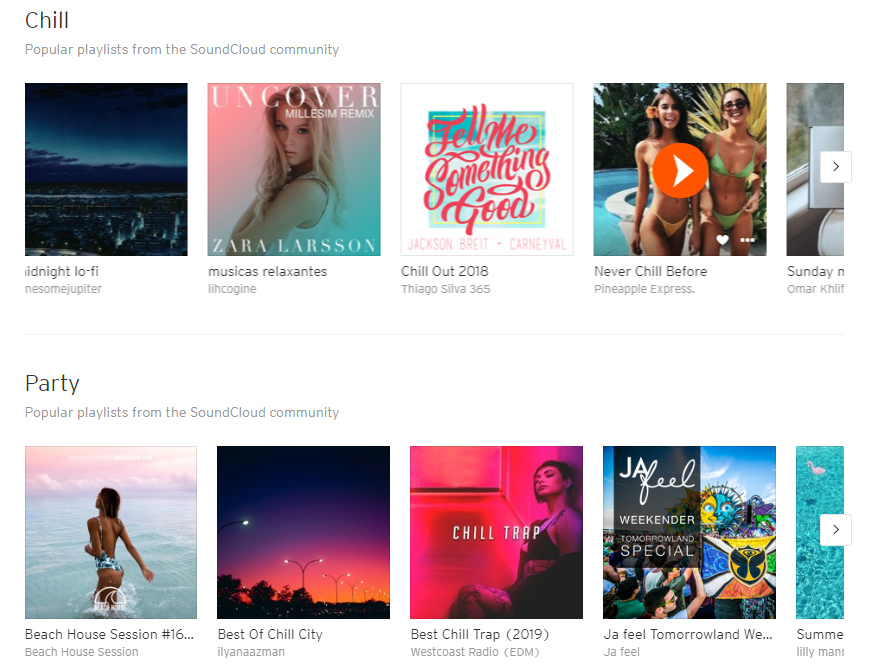 Alternatively, you can search for bands, artists, tracks or podcasts by entering keywords. For example, enter "Uncover" to the search box.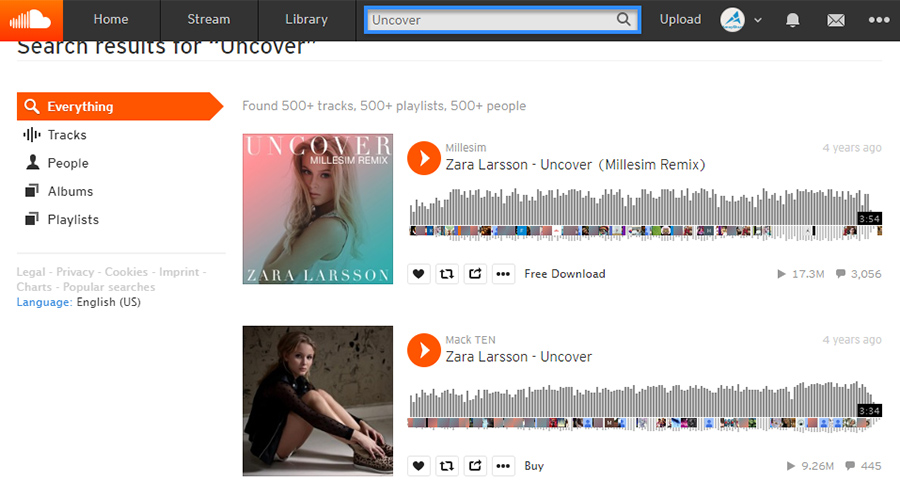 Choose the first one and play the song online. Copy the URL of the song from the address bar.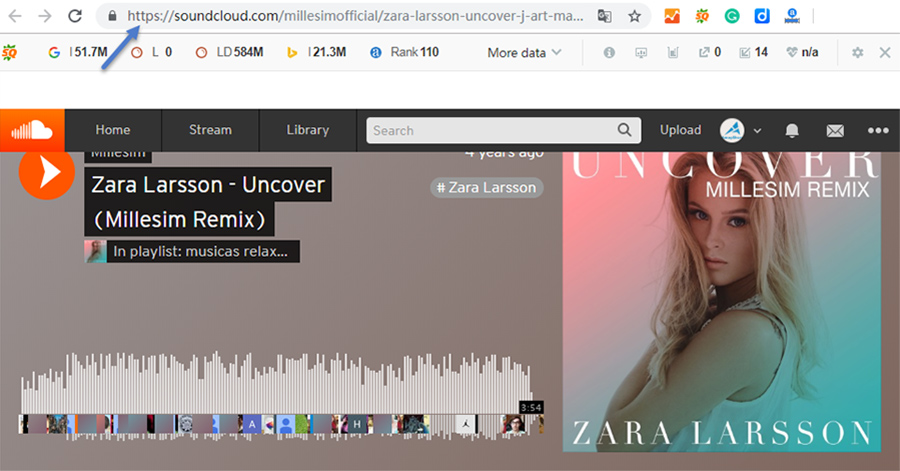 Step 2 Paste the URL and download the track off SoundCloud
Visit the SoundCloud Downloader on a new tab. Paste the URL to the search box. Click on the search icon for the search results. Hit the audio thumbnail to check whether the result underneath is what you need. A second click on the thumbnail will disable the preview mode.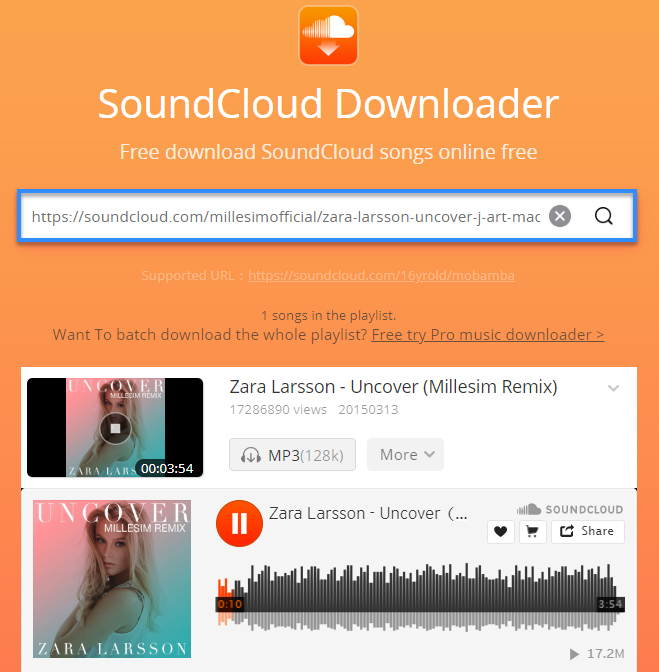 See the MP3 button? Click on it to download.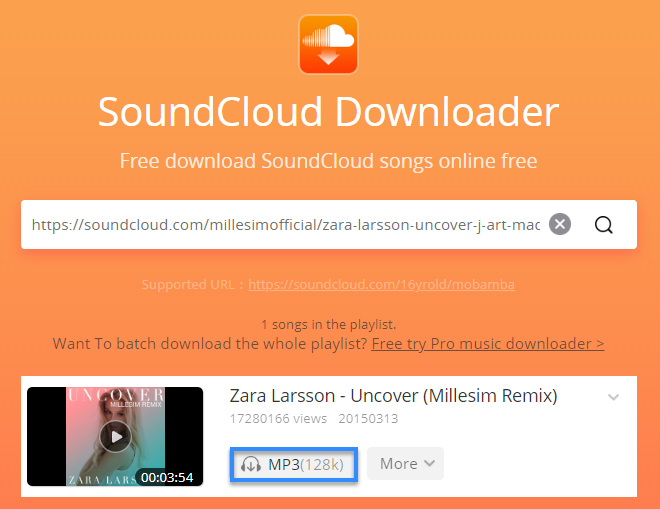 Once you hit the MP3 button, you will be directed to the page which shows it's playing. Here you can check the progress, set Pause/Play and adjust the volume. Click on More on the right to download the track.

Open the local folder to find the downloaded track. You can move or import the audio file to another folder or a media player.
There you've got how to download from SoundCloud.
Part 2 – An alternative to SoundCloud Downloader
---
Chances are you want to download songs from other music streaming sites. For example, you need to download a song off YouTube. What will you do?
Obviously, it's troublesome to use some service for YouTube download and come back to SoundCloud Downloader to download SoundCloud songs.
Fear not! The problem can be solved by the all-in-one tool – Free MP3 Finder. SoundCloud is not the only source site. YouTube, Archive, Jamendo, and 4Shared are also available for you to download songs.
It supports URL and keyword search. The keyword can be the song, lyrics, or the name of the artist. For example, enter "Hello" and you will get results as below: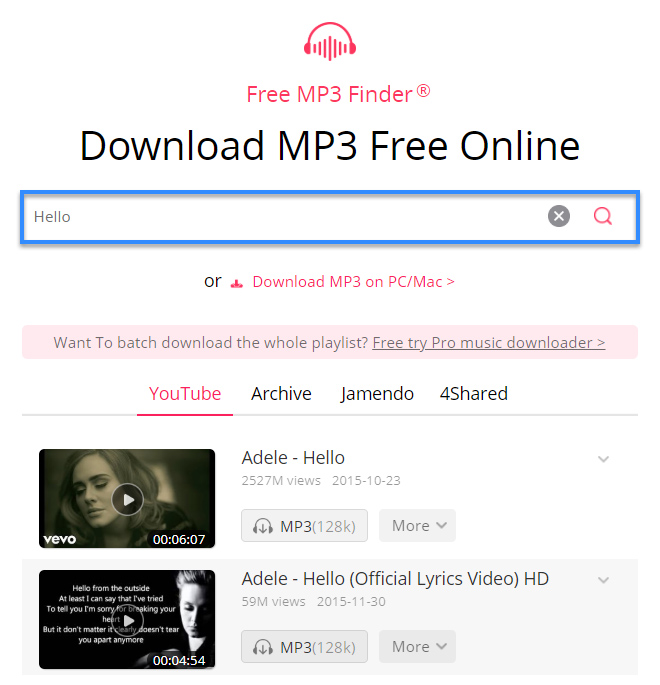 The results are from YouTube by default. You can also switch between the sources. Click on MP3 to download the song. What's amazing about this service is that you can find more options in More – more quality options, MP4 format, and video without sound.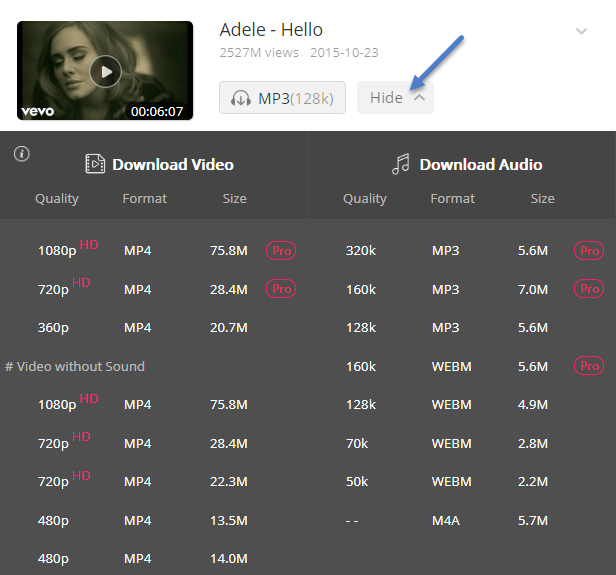 You can also find a song by pasting the URL. For example, you want to download the remix named Summer Mix 2019 – Chillout Lounge Relaxing Deep House Music. Choose the song to copy the URL in the address bar. Paste it to the search box.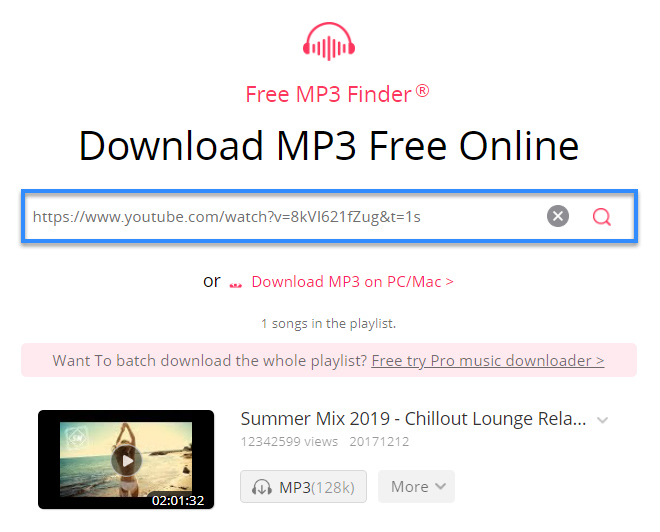 The rest is the same as above.
In terms of downloading tracks from SoundCloud, the operations are completely the same as you use the SoundCloud Downloader, so I'm not going to repeat it. Both of them fit perfectly with the web browser on any mobile device (tablet and smartphone).
Time for you to have a try!
Super easy, right?
What if you want to look for a song on SoundCloud?
I will give you a brief introduction about how to find a SoundCloud song. Let's move on to the last part.
Part 3 – Explore on SoundCloud
---
Well, you may often stream music on SoundCloud, but do you really know how to explore on SoundCloud?
To kick things off, you need to visit the SoundCloud homepage. Be sure to sign in as a member, because you will have features such as uploading your own tracks, making your own playlists and managing your library. If you don't have an account, create one right away.
Once you've logged in, the Home section shows various kinds of music. You can search for an artist by entering keywords in the search box.
For example, type in "Maroon 5" and hit the search icon. There comes a list of results. Too long? Don't worry. The results can be filtered by categories such as people, tracks, albums, and playlists. You can also filter by tag. Filter the results by tracks and select the favorite one.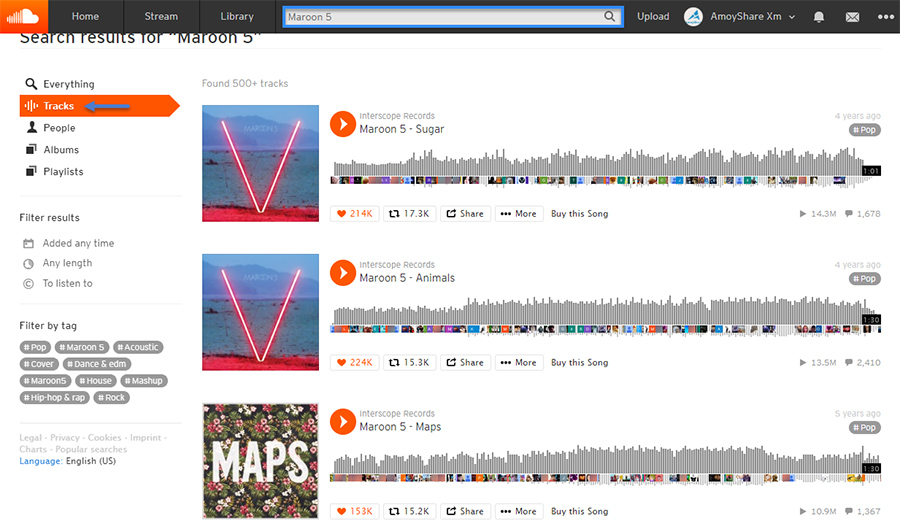 Similarly, you can find a band, track, and even a podcast. For the complete guide to searching and exploring on SoundCloud, the Help Center of SoundCloud will help you. Have a go!
Conclusion
---
The SoundCloud Downloader and Free MP3 Finder are not only free of charge but also virus-free. There are no plugins. You won't be bothered by the annoying virus when you download SoundCloud songs.
Are you going to test out?
Do you have any suggestions to make it better?
I'd like to hear what you have to say.
Leave a comment below.
Ivy Ross is a blogger and music hunter for 5 years. She is dedicated to discover popular music all over the world, and she has made 100+ playlist which is spread among 1 million users.