Summary of this article:Valentine cards sent to your beloved one should have your personal touch. It is vital for you to consider how you can achieve that; for this kind of cards you choose to give on the special day of love really matters. Here offers you some useful valentines day ideas.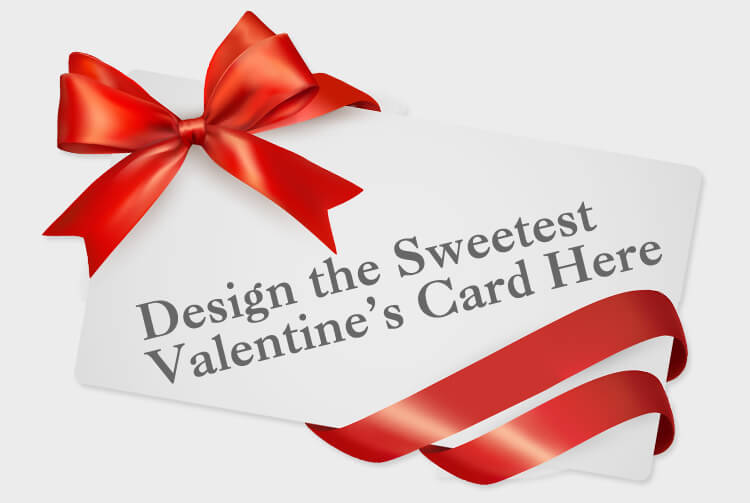 The Legend of Valentine Day
As we know, February has long been celebrated as a month of romance. We regard February 14th as the St. Valentine's Day, which is not only celebrated across the United States but also in other places around the world. It's a day to exchange gifts between loved ones, expressing how much you care about him or her. But do you know where did the tradition come from?
There are several versions about the history of Valentine Day, but all related to the vestiges of both Christian and ancient Roman tradition.
One of the legends suggests that Valentine is a person who may have been killed for attempting to help Christians escape harsh Roman prisons, where they were often beaten and tortured. In the prison, Valentine actually sent the first "valentine" greeting himself after he fell in love with a young girl–possibly his jailor's daughter–who visited him during his confinement. Before his death, it is alleged that he wrote her a letter signed "From your Valentine," an expression that is still in use today. So some people believe that Valentine's Day is celebrated to commemorate the anniversary of Valentine's death.
Valentine's Day Cards
Valentine day symbolizes the gesture of respect, admiration, and love. Every year, there are approximately 150 million Valentine's Day cards are exchanged in the USA, making Valentine's Day the second most popular card-sending holiday after Christmas. On this special day, people often send loved ones with Valentine's Day Cards and candy, flowers or other gifts. Today, there are literally thousands of cards on the market to choose from, but sometimes it would be better to give your special someone a more personalized card made just for them. So where to start? Below are a few Valentine Card Ideas to inspire you.
Valentine's Day Ideas
1. Your color scheme.
Traditionally, Valentines Day cards are red and white, but other colors like pink, gold or black are also creeping into the mix as crafters push the boundaries.
For a truly unique Valentine card idea, try a completely different selection of colors like brown and blue or green and blue. Using your special someone's favorite colors to make your card can help make them feel extra special.
2. Your embellishments.
Whatever you choose, make sure it matches your color scheme and is something the recipient of your card will appreciate. If your special someone hates teddy bears and roses, do not use them. If you are struggling for Valentine card ideas, think about what the recipient loves to do. If he loves to fish, perhaps you could use a fishing hook with a heart on the end or if he likes football, you could feature a football with a heart in the middle. Featuring your special someone's favorite hobbies and activities will help express just how much you care about them.
3. Choose a card maker
It will be a little tricky to work out how to arrange everything on your card. I like to use a nice card maker whenever I am making a card. One card maker I use is AmoyShare Photo Collage Maker
Download Trial
Green Software with NO Plug-ins.

Download Trial
Green Software with NO Plug-ins.

With AmoyShare Photo Collage Maker, the process will be so much quicker and less stressful, which shows you just how to arrange everything without cramping your style. Besides, there are many free card templates, making your Valentines Day card more colorful. To see is to believe, below are the Valentines Day cards made by AmoyShare Photo Collage Maker.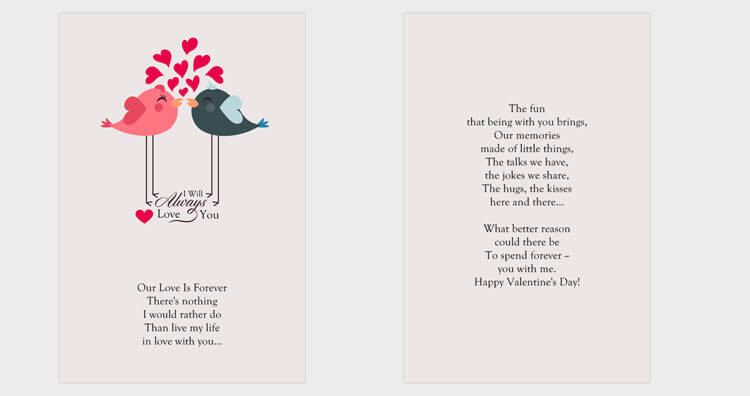 Wanna customize your own one? Download and unzip, then open the project by Photo Collage Maker.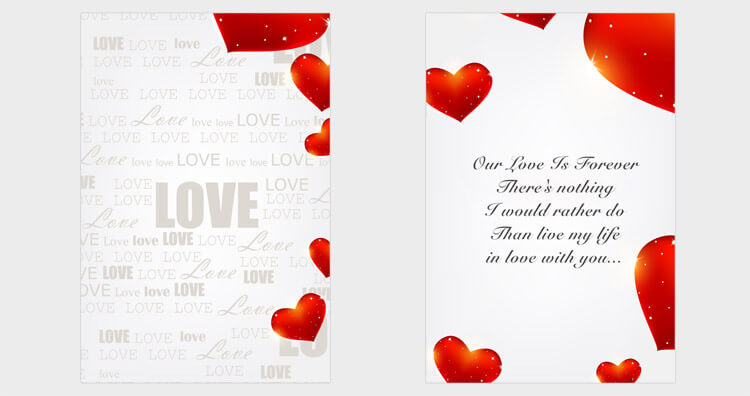 Wanna customize your own one? Download and unzip, then open the project by Photo Collage Maker.
4. Add your unique text.
Add your personalized loving words to your Valentine card. AmoyShare Photo Collage Maker can help you to manipulate font size, color, and the background of the text. The text can be resized, rotated and moved. There are plentiful options for rich text editing. Have a try!
Have fun creating your own Valentine's card with these Valentines card ideas. And I do believe your special someone will love your Valentines Day card because you took time out of your busy day to make it just for him or her.