Summary of this article: Have you ever scrapbooked your kid's childhood? Do you want to keep your child's scrapbook as a beautiful keepsake? Here shows you how to create a unique collection of your scrapbooking.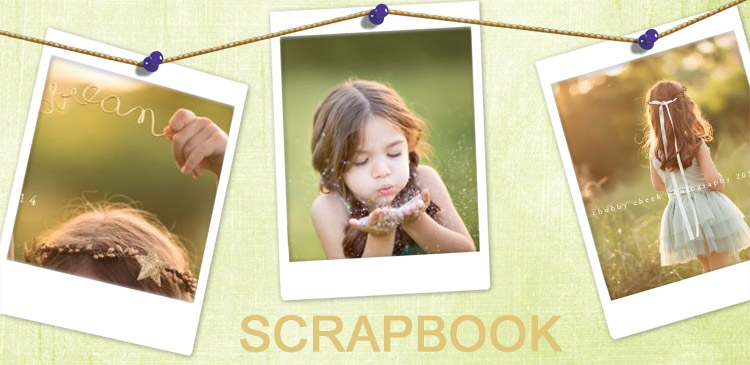 Have you ever scrapbooked your kid's childhood? Maybe the answer is "yes" for all parents. Children are a family's legacy, it's really a usual that for a family to preserve and document those precious moments during a child's growth. For childhood passes by too fast, scrapbooking can help parents to capture kid's special growth milestones.
Then What Indeed is a Child's Scrapbook?
A child's scrapbook is a picture collage that depicts those momentous occasions. It can be displayed in chronological, spatial or logical order. The whole tone of scrapbook designs is various, warm, funny, humorous, etc., all is ok. Indeed, scrapbooking is a creative way to capture the essence of child's growth, incorporating the child's unique personality. It starts with the photos; you get a set number to work with and then an order to put them in. Of course, you can write something on each page.
How to Make a Scrapbook Creative?
Today it's simpler than ever for anyone to scrapbook. The children's scrapbook designs can be various with only the photos you take, a computer and a powerful collage maker. Compared with traditional paper-and-glue scrapbooks, nowadays a digital scrapbook aren't vulnerable to loss and damage, and it can be reprinted with the simple click of a mouse. Here recommends a collage maker, Photo Collage Maker. Photo Collage Maker has many editable scrapbooking templates, by which you can have an endless array of creative possibilities.
Below is the free trial download button, you can enjoy it to make your creative one.
Download Trial
Green Software with NO Plug-ins.

Download Trial
Green Software with NO Plug-ins.

Some Scrapbooking Ideas:
1. Organize your scrapbook designs like a story
There are various scrapbooking ideas online, but when it comes to scrapbook designs, you should pay attention to make your whole scrapbook more natural, thinking of which as a story. It has a beginning and also an end, perhaps the first day of kindergarten or just a simple spring outing. Plan your pages well in advance, give your each page its own theme, and think about what journal text and images, which will help the beautiful memory into a fully realized story.
2. Give eye-catching titles on scrapbook designs
Another great way for scrapbook designs is to give them clever, concise and eye-catching titles. The titles can emphasize the milestone during childhood, such as birthdays, growth, new experiences, special achievements, outdoor activities and so on. With the well-designed titles, you can plan out the scrapbook more meaningfully. Maybe it will take years to develop the full scrapbook contains these milestones, but it's really worth that.
3. Capture the special moments
During a child's growth, there are many sweet or moving moments. It can be something of school, which is easy to document in scrapbook designs. It can also be some outdoor activities, displaying your child's personality. Just think out more and more scrapbooking ideas during your child's every growth stage; you will find much fun in this process of scrapbook designs.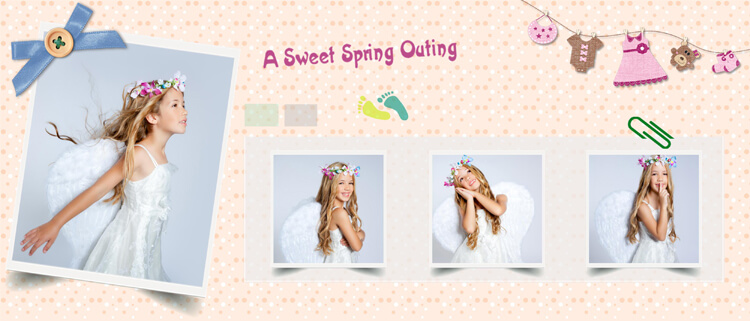 Wanna customize your own one? Download and unzip, then open the project by Photo Collage Maker.