Summary of this article:We always hold back those precious moments in life by capturing them in reel. And photos, the images in reel are a real companion in lonely times, an emotional boost in happier times. If we frame our photos properly, we can relive every single moment of our life. Here is a photo frame guide helps you bring your picture to life with a useful photo editor.
Below are the subtitles included in the screen:
How to utilize photo frame to make a greeting card?
1. Launch AmoyShare Photo Collage Maker and Select Create Blank Collage.
2. Set the collage size, including the DPI resolution.
3. Drag and drop the father's photo you prepared into the template.
4. Adjust the photos to different positions roughly.
5. Double click a background as you prefer.
6. You can choose to stretch your background image.
7. Select all the photos on the template and add the frame you prefer into them.
8. There is a huge collection of built-in frames in AmoyShare Photo Collage Maker, you can replace at your will.
9. Select a photo frame you like and then adjust each photo by aligning tops.
10. Now it's time to add your text.
11. You can edit your every text separately, making them more vivid and colorful.
12. Select a suitable font and color. There are plentiful options for rich text editing.
13. Adjust every word properly, including the size and position.
14. Select Create From Blank Collage again to add a template as the back of your greeting card
15. Similarly, select a suitable font, size and color.
16. You can save the greeting card as picture, sending it to your friends via e-mail or through Facebook. Of course, you can print it out directly!
17. You can also select the collage as a project, which facilitates to edit next time.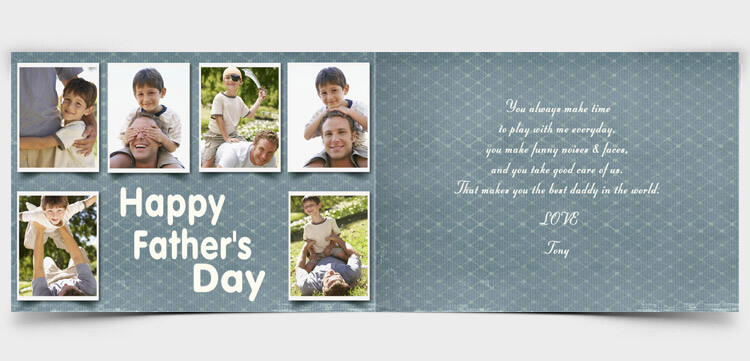 Wanna customize your own one? Download and unzip, then open the project by Photo Collage Maker.
Thanks!
Download for free trial now!
AmoyShare Photo Collage Maker
Download Trial
Green Software with NO Plug-ins.

Download Trial
Green Software with NO Plug-ins.

Contact us: support@amoyshare.com