Summary of this article: Figuring out how to make a comic book is not that easy, at least for those who have little level of writing and drawing talent. Here offers you an easy way to depict your life interesting in comic book. No complicated technical skills required by using a wonderful comic creator.

Comic books also called comic magazines or simply comic, they are pretty popular all around the world, which tell bold and exciting stories with a combination of colorful characters, speech bubbles and bright colors. The first modern comic book, Famous Funnies, was released in the United States in 1933 and was a reprinting of earlier newspaper humor comic strips, which had established many of the story-telling devices used in comics.
Today, creating a personalized and funny comic book is a great dream that many young authors and illustrators want to make it come true. However, it can be done regardless of age or skill level. All you need is a powerful comic maker that enables you to make your own unique comic book, illustrating with pictures of your own families or your friends and depicting real life stories in an interesting way.
So you want to make a comic book? But you're not sure which to begin with? Well don't worry; here choose for you a comic maker called Photo Collage Maker as your top pick, which can meet all your needs. It helps you make a wonderful comic book and take your stories to a whole new level through the form of animation. Now, check the following guide on how to make a comic book step by step.
Download Trial
Green Software with NO Plug-ins.

Download Trial
Green Software with NO Plug-ins.

Step1. Choose a Template
Launch AmoyShare and click Create From Template to get access to your favorite comic book template. Just select one to begin your successful photo design. There are many free and delicate templates in Photo Collage Maker.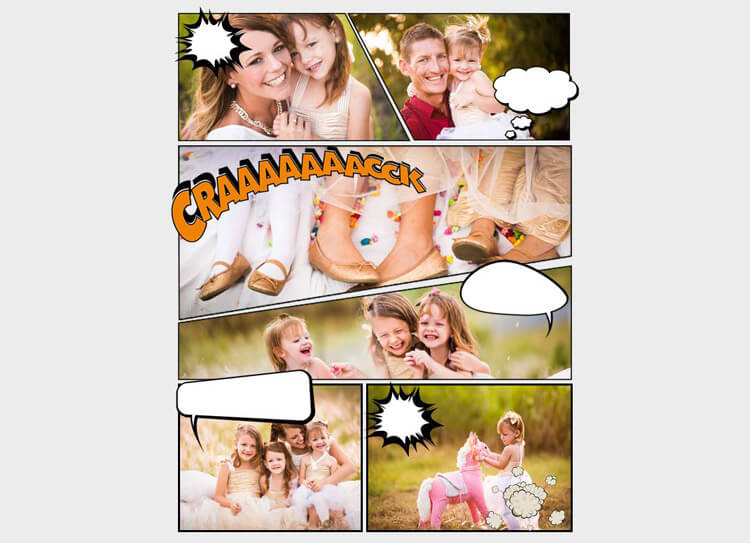 Wanna customize your own one? Download and unzip, then open the project by Photo Collage Maker.
Here is one of the samples for you to customize. You can choose to personalize it or just follow the next steps.
Step 2. Tell Your Tale.
Use Photo Collage Maker to flesh out your frames first, and insert text into them. Do this for every page that is going into the next issue, and establish any inks or colors that are involved with the frame. Also make sure to do any dialogue boxes or text boxes for your book.
What you do is in Photo Collage Maker is to click Add →Add Text button on top of window to type your words into each pre-designed text box accordingly. To make your story more attractive, you can set the font size and bright color at will.
Step3. Add Photos
One important thing to note here is that photos should be added in the plot order according to your story. Directly click Photo button on left to add photos related to your story. In addition, you can click Photo pane on top of window or directly click related icon button on top of the edit area to add shadow, set layer, crop, etc.
Step4. Add Clipart
Included in this software are abundant of cliparts, allowing you to create your comic book in a vivid way. Click Clipart button on left and then double click or directly drag your favorite comic type clipart to depict stories. Besides, a good option for you is that you can resize it freely.
Step5. Save
Click File->Save Collage as Picture button on top and then you can save it as JPG, PNG, BMP, GIF and TIF format for permanent use.