Summary of this article: Wanna make a unique happy birthday card for your friend or your loved one? This article shows you how to make one-of-a-kind birthday greeting cards with AmoyShare Photo Collage Maker.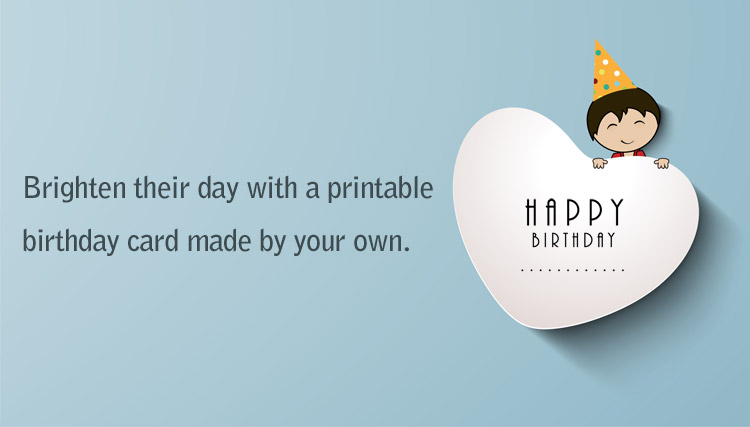 Would you like to celebrate your friend or your family member's birthday in a big way by sending a personalized happy birthday card?
Enable you to show your deep sincerity on your loved one's birthday, I suppose, making a unique birthday greeting card by your own would be the preferred choice.
Of course, you may choose to go out and buy happy birthday cards from the grocery store, but don't you think it will pay off more when your friend or loved one receives a card made just for them?
If you agree me, then read more and below I will show you the process to make unique and printable birthday cards with just a simple card maker-AmoyShare Photo Collage Maker (below abbreviated for AmoyShare PCM).
(Other card making that you may have interest: How to create wedding invitation card with AmoyShare PCM?)
Preparations:
1. Decide the style
Happy birthday cards can have different styles, when putting your effort to make one; you should first take the person you want to congratulate into consideration. Is it a card for a child, a teenager, or an adult? Are you wishing a friend or a family member happy birthday? All of these will help you to decide make the card in serious and sophisticated style or just funny and goofy style. So, after consideration, choose a distinct style you like.
2. Gather your picture materials
If you want to add some photos or pictures that can share the special life moments on the happy birthday cards, you can gather them on your computer before the card making.
3. Download and utilize AmoyShare PCM
Praised highly by most of users, AmoyShare is popular for designing the creative cards for virtually any occasion to people you care for. With hundreds of card templates and premium graphics, various decorative tools, exclusive fonts and much more, the creative possibilities are endless by AmoyShare PCM.
Have a free try; it's amazing what you and this simple card maker can do together!
Download Trial
Green Software with NO Plug-ins.

Download Trial
Green Software with NO Plug-ins.

Process - 3 easy steps
Step 1 After downloading AmoyShare PCM, just launch it and select either the four entrances (eg. Choose Create Blank Collage) with setting the card size, now it's time for your artwork's design.

Step 2 Tailor the card's decorative details.
Front card: Add your own unique theme style message and personal photos prepared before into the blank template.Then tailor your card based on who the happy birthday card is for and the materials you have available with the decorating instruments inside AmoyShare PCM.Template, background, photo, mask, frame, Clipart, whatever picture effect you want, you can achieve it here.
Furthermore, you can also add text to change fonts, colors or direction, etc. as below.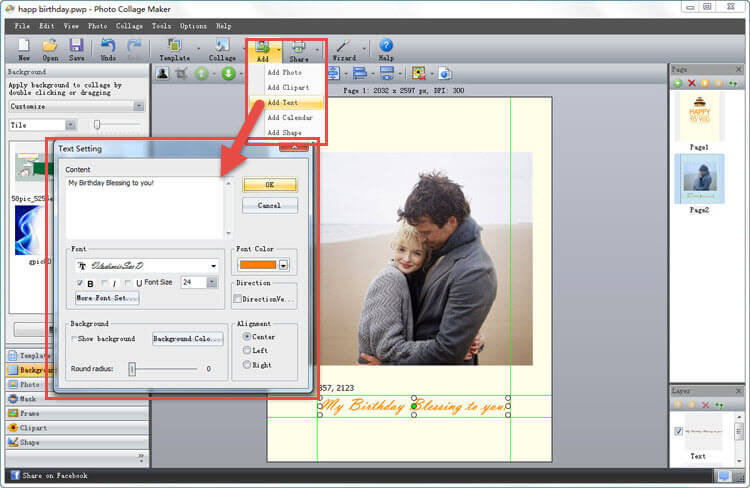 Back card: The back card creating is similar as front card above. You can have some images on both sides of the card. But keep in mind that you can have some more personal or detailed texts in the back to include. Feel free to add your personal messages here, you can choose a quote or saying based on a personal moment with the person or you can choose a phrase, or joke that the recipient will appreciate on their birthday.
Of course, you can finally add the person's name to the card to make it more special and personal.
If you'd like to know more card making details, visit here.
Step3 Print, email or save as a picture of your one-of-a-kind creation.
After finished your artwork, you can send your loved one the happy birthday card via e-mail or just directly print the card (all our cards created with AmoyShare PCM are printable) at your home. Even you can share it on Facebook.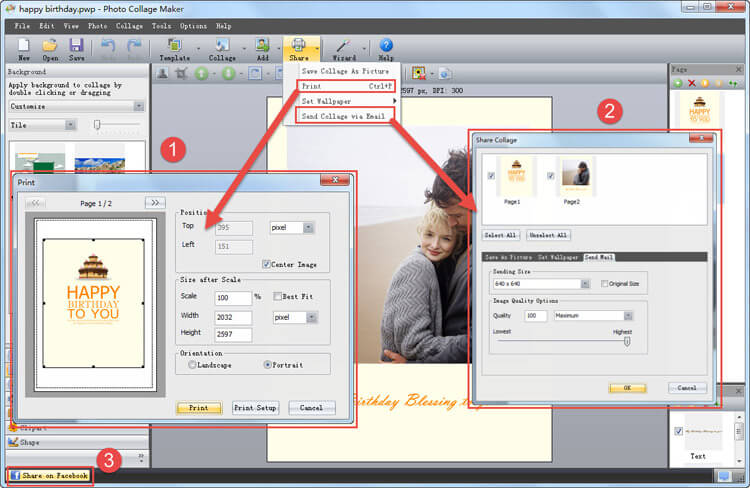 Enjoy your artwork! Your personalized happy birthday cards will not leave anyone untouched!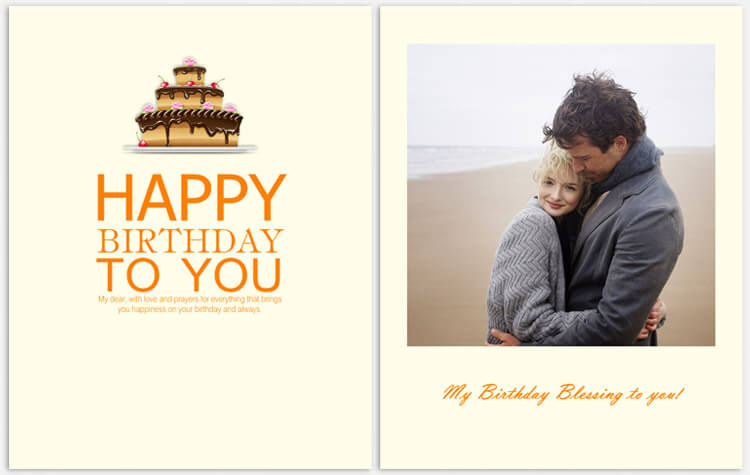 Wanna customize your own one? Download and unzip, then open the project by Photo Collage Maker.
Wanna celebrate the big day in a big way to your loved one? I suppose more amazing cards created with AmoyShare PCM by your own will definitely stand out! Try once and wish your dear ones a Happy Birthday with our user-friendly card maker!