Summary of this article:All of us are looking for ways to make our near ones and dear ones happy during Christmas Day. This is a time when people come together and celebrate this occasion with joy and delight. When it's about sharing our joy as well as expressing love and care to our dear ones, merry Christmas cards can help a lot. This video tutorial helps you exhibit your creativity and love to the recipient with the help of a simple card maker.
Below are the subtitles included in the screen:
How to Make a Merry Christmas Card?
1. Launch AmoyShare Photo Collage Maker
2. Find one of the Christmas Card templates and double click it to start.
3. Double click on a blank space outside the template, a dialogue box will appear. You can set the collage size, including the DPI resolution.
4. Drag and drop the photos you prepared into the template; and then adjust their size and position properly.
5. Now it's time to add your text. Double click the text to edit. Select suitable font, size and color.
6. You can also add text that prepared before and set the effect as you prefer.
7. After done, you can save your Christmas Card as picture format.
8. You can also set the quality of your output collage. Then just share it via e-mail or through Facebook.
9. Of course, you can select your Christmas Card as a project, which facilitates to edit next time.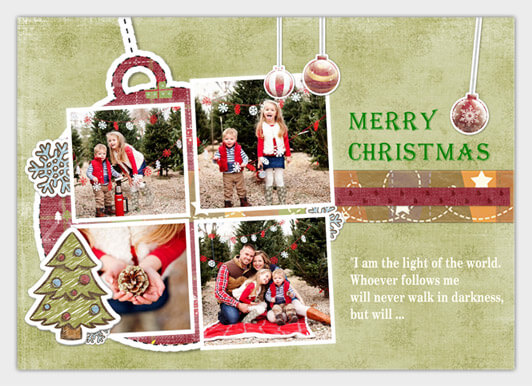 make-a-christmas-card-project.zip
Download
Wanna customize your own one? Download and unzip, then open the project by Photo Collage Maker.
Thanks!
Download for free trial now!
AmoyShare Photo Collage Maker
Download Trial
Green Software with NO Plug-ins.

Download Trial
Green Software with NO Plug-ins.

Contact us: support@amoyshare.com