Summary of this article: AmoyShare Photo Collage Maker, as one interesting and easy-to-use Facebook cover maker, provides Facebook lovers with smart ways to design their own Facebook cover. You can create your amazing Facebook timeline cover by using it!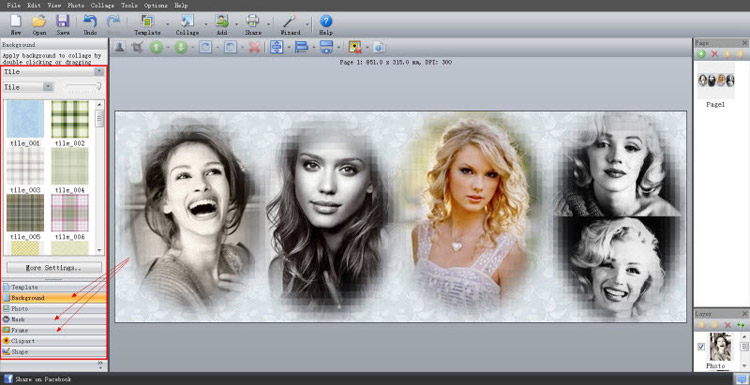 I'm a Facebook crawler. I like to visit Facebook pages of my friends to keep updated. Some Facebook pages are more readable and attractive, while some seems boring and urges you to move on to another Facebook page. After comparing the two kinds of pages, I found that the contents in their timeline didn't vary too much. The Facebook cover is the crucial one. Some just use a plain photo as the cover, which implies the page is just another boring Facebook page with a boring Facebook cover photo. But if there is a well-designed Facebook timeline cover, things will be totally different. The first sight impression will make your Facebook page outstanding.
Facebook covers, you could see, positioned as the "promotion" banner of your timeline page available for personal customization. There are mountains of gorgeous pictures for downloading to replace that ugly default blue one. But for me, I'll do the unique Facebook covers by my own photos! It's not that difficult to turn out great pieces of them. It requires only a dozen of your photos and crazy imagination and simple cover maker software rather than professional Photoshop. So today, I want to also share with you about this enjoyable tip that could surprise your friends and attract more people to be your fans. After asking some fancy-facebook-cover friends, I tried the software they mentioned as Facebook cover maker. The one I feel obliged to recommend is AmoyShare Photo Collage Maker.
AmoyShare Photo Collage Maker, allows you to edit and layout your photos exactly as they will be displayed in Facebook Timeline. Use this simple picture drawer and finally turn out your amazing artwork. Get started now!
Step 1: Download and open Photo Collage Maker on your computer. Make sure you have any photos you want to use already saved on your computer.

Download Trial

Green Software with NO Plug-ins.

Download Trial

Green Software with NO Plug-ins.



Step 2: Our Collage Maker will ask you if you want to create it from a blank page or from existed templates. The customized size for Facebook timeline is 851*315, choose the option of Create Blank Collage and set up the customized size for width as 851 & height as 315. Then click OK to start.






Step 3: Photo Collage Maker allows you to design and layout your photos exactly as they will be seen in the Facebook timeline cover. Use Classic and Montage to make personalized Facebook cover photo that are fit and sized perfectly. Choose the photos you want to design and drag them to the blank page.



Step 4: Photo Collage Maker provides several options to customize your uploaded photos. Right click the mouse and use the practical design tools to assist you with further decorations.



Step 5: on the left side column lists multiple interesting options for creating the image. Design your Facebook cover with different backgrounds, colors, masks of your photo, etc. You can adjust their location, size, tilt, etc. to get it just how you'd like. Try it and you will find so much fun!



Step 6: Edit your photos further, if desired. You can replace photos, crop or add frames and masks, add decorations, adjust text elements (change font, size, color, etc.), and more. The sky's the limit!



Step 7: Save you image to local folder. One customized Facebook cover photo is finished. Just upload it to your timeline page right now! You can also share it with someone else by email!



See? Is it quite easy to complete your own artwork? Make your dream Facebook cover right now!
JUST DOWNLOAD IT TO FREE TRIAL NOW BY CLICKING BELOW LINK:
Download Trial
Green Software with NO Plug-ins.

Download Trial
Green Software with NO Plug-ins.